U.S.A. –-(Ammoland.com)- Recently we added a threaded barrel to our SIG Sauer P220 in 45 ACP so we could use it to test out more silencers without relying on a 1911 and our HK USP Tactical pistols. We have lost count of other threaded barrel hosts we have access to and noticed our 45 ACP selection was getting low.
Rather than review one of our own 45 ACP cans, we reached out to Silencershop.com to lay hands on a model we have had our eyes on for some time: SIG Sauer's SRD 45.
What better to test out a SIG threaded barrel host than a SIG Sauer silencer?
The Good
SIG uses a high grade of Titanium to build the tube of the SRD 45. Titanium is expensive, but it is lightweight, strong and we find that it provides a superior tonal quality when used in silencer construction.
The baffles are stainless steel which make for easy cleaning and provide for a potential long life for this suppressor.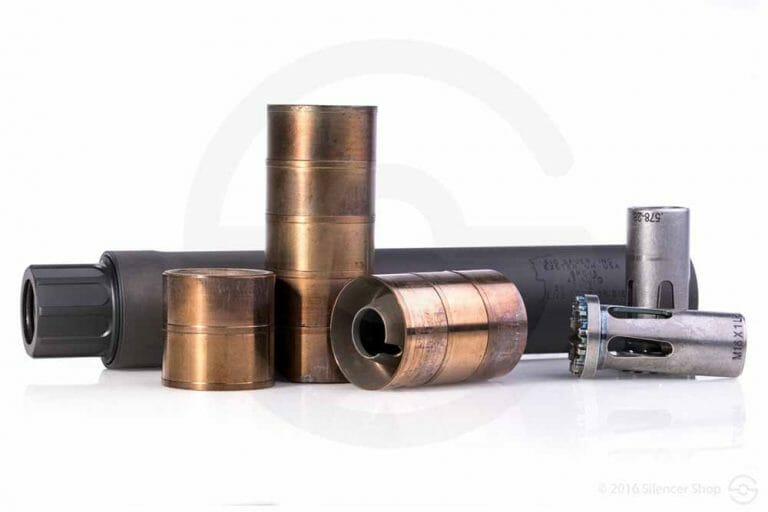 One thing that we like about SIG Sauer's pistol silencers is that they come with a very generous amount of "extra stuff" and we don't mean just patches and stickers. We are talking usable components and parts.
SIG provides a take-down tool, two pistons and a fixed barrel spacer. Most suppressor manufacturers supply a take-down tool if needed and a single piston for their pistol cans, requiring you to order additional pistons and fixed barrel spacers should you want to move the silencer to another host.
Before firing a single shot, SIG is already giving its customers a leg-up with regard to versatility.
The included pistons are threaded in .578"x 28 tpi and M16 x 1 mm LH. The latter allows you to attach the SRD 45 to your HK Tactical models chambered in 45 ACP while the former is set up for the SIG P220, most 1911 pistols and the Glock 21. Pistons in the 9mm and 40 S&W barrel thread patterns can be ordered to use with the SRD 45 as well.
Should you wish to run this suppressor on a pistol caliber carbine such as the SIG Sauer MPX or your latest AR build, Kriss Vector and the like, you simply remove the spring from the piston and install the fixed barrel spacer. This will prevent you from potentially damaging the Nielsen Device that allows your Browning style pistols to function with the silencer.
At the range, the SRD 45 was a performer both wet and dry.
Running a suppressor "wet" refers to shooting it with a small volume of a liquid agent to serve as an ablative. As the hot gasses from the fired round contact the ablative they convert to steam and by losing energy in this manner, they help further quiet the suppressor (especially a cold one) by a few decibels.
For example, the SRD 45 typically meters dry at 132 dB and a bottle cap full of water poured into the suppressor before firing will take this down to the 128 to 130 dB range.
The Bad
Some folks might object to the weight of the SRD 45, but we did not find it overly heavy at all. Another complaint may be that the large diameter of a concentric suppressor makes using the sights a challenge. We simply "sight and shoot through the can" after superimposing it on our target. A higher mounted optical sight or slightly taller aftermarket suppressor style sights can help shooters overcome this.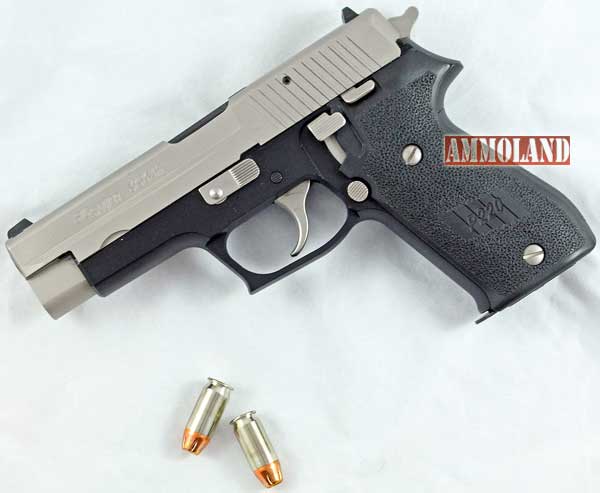 We found the SIG SRD 45 to be quieter on our SIG P220 than we did on our SIG Sauer Tac-Ops Carry. Much of this has to do with the speed at which the pistol unlocks after firing a round. If it's too fast, noise will escape through the open chamber. This unlocking time is measured in micro seconds, so it can be hard to pinpoint on most handguns. Sometimes a stronger recoil spring can reduce it if you find it to be problematic.
The Reality
As we have mentioned in the past, Silencershop.com has played a huge role in lowering ATF wait times,although ATF's NFA wait times are shrinking, it is still far from a 30-day process. For this reason, we make recommendations on silencers based on versatility. In the case of the SIG SRD 45 that comes down to the number of hosts in different calibers available for this suppressor.
A full-auto rated pistol can such as the SRD 45 can mount to any semiautomatic pistol, rifle or carbine chambered in 9mm, 40 S&W, 45 ACP, 300 Blackout (subsonic) and if you had to: 22 long rifle.
We have tried various centerfire suppressors such as the SIG SRD 45 on various rimfire hosts, but do not recommend it as rimfire silencers are cheaper and do a better job at it.
When you compare pistol silencers across the board at this price point and higher, they all seem to be about the same. The modular cans may be a bit higher, but the real versatility we see here is due to the two pistons and fixed barrel spacer included with the SRD 45, which represents a $75 -$250 cost savings vs. the competition.
Specs
CALIBER: 45 Auto
WEIGHT: 12 oz
DIAMETER: 1.38"
OVERALL LENGTH: 7.9"
THREADS:  .578"x 28 tpi   M16 x 1 mm LH
ATTACHMENT TYPE: Direct Thread
MSRP: $700
More Information here.
---
About Mike Searson: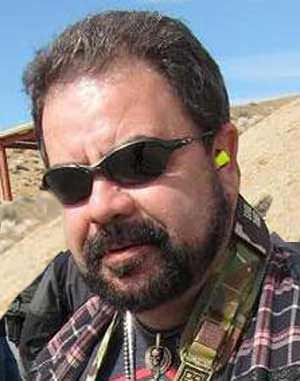 Mike Searson's career as a shooter began as a Marine Rifleman at age 17. He has worked in the firearms industry his entire adult life as a Gunsmith, Ballistician, Consultant, Salesman, Author and was first certified to teach firearms safety in 1989.
Mike has written over 2000 articles for a number of magazines, websites and newsletters including Blade, RECOIL, OFF-GRID, Tactical Officer, SWAT, Tactical World, Gun Digest, Examiner.com and the US Concealed Carry Association as well as AmmoLand Shooting Sports News.