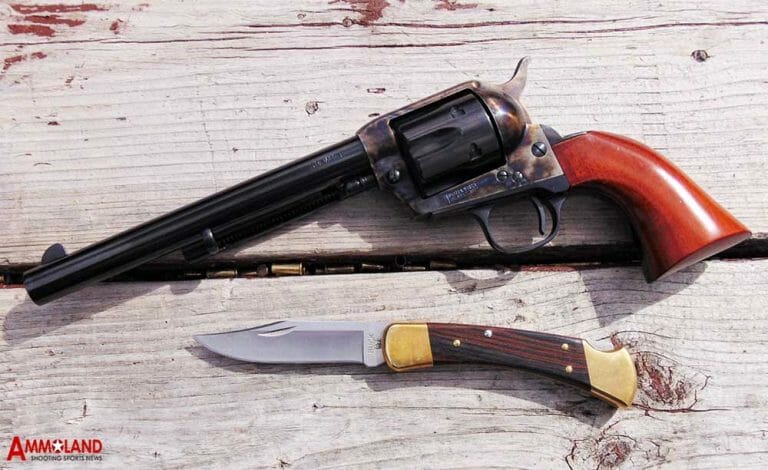 USA – -(Ammoland.com)- If the Winchester Model 94 is considered the most popular rifle in America and the Colt Single Action Army the most well known handgun, then certainly the most recognized knife in the nation is the Buck 110 folding knife. For more than fifty years it has been at the forefront of what an affordable and quality made, every day knife should be.
Buck 110 Folding Knife
The Buck knife company started out with Hoyt Buck, who learned to make knives when he was a teenager. In 1941 he began making knives, one by one and by hand at his home. These early knives were known as "Four Strike" knives because each letter of Hoyt's last name was struck in the blade. After World War II Hoyt moved to California and started the business of H.H. Buck & Son. This lasted until Hoyt Buck's death in 1949. In that time company started changing and marketing more through dealers and began producing more than the twenty five knives a week.
In 1963 the company board decided they wanted a new folding knife that would be good for hunting but also used for daily chores and work. It had to have a very sturdy lock and a clip point blade that made it very handy for field dressing.
In 1964 Buck unveiled their new knife, christened the Buck Model 110 Folding Hunter, it had a 3 ¾ " blade with a very easy release and a strong lock. The handles were wood with attractive brass bolsters. The 110 was the first folding knife that was considered to be as strong as a fixed blade. It became an instant hit with hunters and outdoorsman everywhere but also anyone he needed a decent knife that could hold up where other knives wouldn't.
I first became acquainted with the Buck 110 when I worked for a paper mill when I was 21 years old. One department handed them out to every employee to cut the bands on bails of pulp that came in.
Sadly, before they were given out, the first inch of the blade was snapped off so there would be no point to worry about. Most of those knives had been circulating through that mill for a couple of decades from what I was told. I saw more than one that had been used over and over again, but the blade would still lock open like it was supposed to and did not move or loosen at all.
One night I was making my rounds and in the bowels of the basement surrounded by old pipes and steam I spotted the tell tale brass bolsters of a Buck 110. I picked it up and opened it and was surprised to see that the blade was intact, having somehow escaped from getting the tip snapped off. It had obviously been there for a while and no one apparently was missing it. So I took it home. I used for it a time, and then one day I too lost it, I wish I could remember where. I just hope whoever found it is still making good use of that knife, it has earned its keep and then some.
I bought a new Buck 110 a couple of years ago. The one thing I noticed about them is that the price of it varies wildly depending on where it is purchased. The standard Model 110 sells for $82.00 on Buck's website, which considering what you're getting, is a pretty good deal. I have seen them sell for prices all over the map, but the big box stores are a pretty good bargain. I got my Buck 110 for around $30 from my local Walmart. It came with a nylon sheath instead of a leather one, but to be honest, I have read enough reviews of the leather sheath having some issues that I didn't mind the nylon.
From day one I was impressed with the Buck 110. The blade is extremely sharp, better than knives I have paid double and even triple the amount for. As for the lock, it's sturdy and very positive. I have used the knife now almost daily since I bought it, and it is as positive as when it was new. It locks up as tight as a bank vault and does so with a very resounding "click". Some say the Buck 110 is too heavy to carry around every day, I have never had that complaint. Even as wore out as the nylon sheath has gotten, it's never given me a problem on my belt or cause for concern.
In all of the use I have gotten out of my Buck 110 Folding Knife, and that's been a lot, more chores than I can think of and write about. It's only needed to be sharpened once. The current 110's have blades made from 420HC steel, which was implemented in 1993. From 1981 to 1992 the blades were made from 425M and prior to that they were 440C. If you find yourself looking at an older Buck 110, there is a symbol on the blade right under or beside the name and model number. Each year is different and goes back to 1986. Prior to that, there is no such symbol and if you see what looks like a Model 110 but it just says "Buck" on the blade, then you have one of the earlier knives made before 1972.
There have been an estimated fifteen million Buck Model 110 knives made since they were introduced, which says a lot about the quality of the product you're getting. It also says a lot about the service and the company, while many other companies have sold out and are making their knives cheaper and somewhere else, the Model 110 is still made here in America. Buck offers their Forever Warranty on their knives in case for some reason something does break. Buck also has a service to sharpen your knife for you if you choose.
Buck has also improved on the classic design with the 110 Folding Hunter Pro Knife with an S30V Vanadium blade but perhaps the biggest leap forward for the knife is the 110 Auto Knife and the Buck 110 Auto Elite which opens the blade with a simple push of a button. By adding the automatic opening feature, the Buck 110 can compete with any spring assisted folding knife on the market.
I have owned a lot of knives over the years of several different styles and manufacturers, and I still have most of them, but the one knife that goes everywhere I do is my Buck 110. I haven't found anything that will even compare to it, and with the cost of a new one, you can't beat it and if something does go wrong, the warranty behind it and Buck's customer service are second to none.
The Buck 110 Folding Hunter will go down as one of the best inventions for sportsman, it's iconic and brought the term "buck knife" to the common vernacular even when the knife in question wasn't. Here's hoping that while other classic icons of outdoorsman like the Winchester 94 stopped being made here in the states, that the Buck 110 stays just the way it is for another fifty years.
---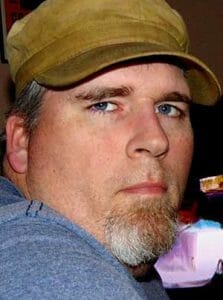 About David LaPell
David LaPell has been a Corrections Officer with the local Sheriff's Department for thirteen years. A collector of antique and vintage firearms for over twenty years and an avid hunter. David has been writing articles about firearms, hunting and western history for ten years. In addition to having a passion for vintage guns, he is also a fan of old trucks and has written articles on those as well.