U.S.A. –-(Ammoland.com)- One of our most anticipated firearms that made its debut at the 2018 SHOT (Shooting hunting and Outdoor Trade) Show was the Ranger 2 by North American Arms. We had been waiting on this little revolver since the original Ranger debuted 7 or 8 years ago and then seemed to vanish immediately. Thankfully, North American Arms tweaked the design and brought out this long awaited pocket rocket. They were kind enough to send us a sample for review.
Confession: I have a guilty pleasure when it comes to collecting firearms, especially top-break pocket revolvers.
Often overlooked as relics of a bygone era, for the most part they are chambered in small calibers from 22 Short to 38 S&W. To me they represent a key period in arms development for personal protection and today they are often cheap enough that as a collector you can specialize in style, caliber, manufacturer or caliber.
As you appreciate these pocket guns of yesteryear you may wonder, "Why doesn't anyone make a modern version of these little guns?"
Wonder no longer. At SHOT Show 2018, North American Arms rolled out their Ranger 2, a top-break revolver based on their successful and iconic line of mini revolvers with interchangeable cylinders in 22 lr and 22 Magnum.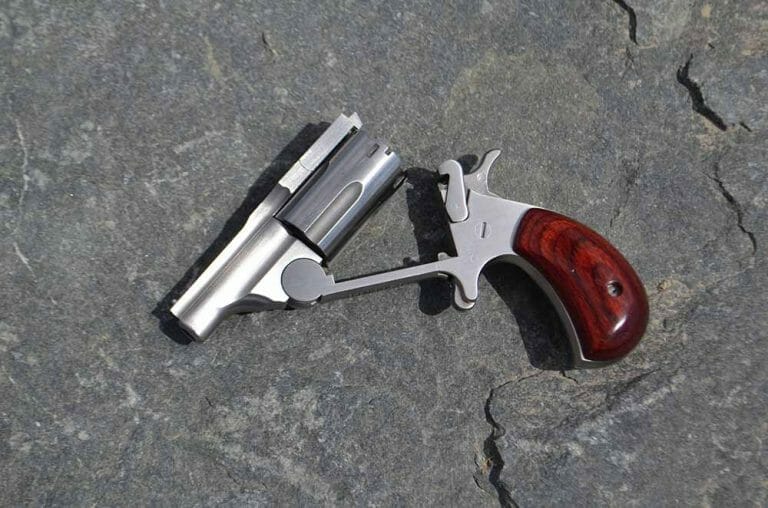 The Good
Fit and finish on North American Arms revolvers is nothing short of superb. They remind me of fine watches in this regard. In the looks department, the Ranger 2 has it in spades. However there is more to this revolver than its outward appearance.
A few years ago, North American arms ditched their miniature plastic MTM pistol cases for a small steel lock box. It may add a bit of shipping weight and cost to their revolvers, but it's an accessory upgrade that we find to be a smart one.
Perhaps the best part of a top break revolver from a shooter's perspective is that by thumbing open the latch, you can eject fired cases or live rounds all at once, rather than poking each one out individually after you remove the cylinder from the revolver.
The top-break action also allows the shooter to easily align the notches between each chamber with the hammer for safety. That was probably the only part about the original solid frame guns that gave us anxiety. After owning and carrying those for over a decade we still load and set the hammer outside with the barrel pointed in a safe direction, just in case.
NAA offers two versions of this revolver. One with the 22 lr conversion cylinder and one as a "Magnum Only" revolver without the extra cylinder. The difference in price is about $95.
The Bad
The small grips and sights do not lend themselves to great accuracy. At 10 feet we were averaging a 3″-4″ group with Hornady's Critical Defense ammunition. Changing out to the boot grip seemed to make for better accuracy, but still does not make one of these little revolvers a match grade target model.
Our only real complaint with the NAA Ranger 2 is the front sight. NAA went with a brass bead. For concealed carry we would have preferred the big dot tritium sight as found on the NAA Pug model. For historical purposes, we would have preferred a blade type of front sight as found on many of the 19th century top-breaks.
The grip is a bit small for a top-break and we prefer the slightly larger boot grip on this revolver to give us more to hold onto while shooting, particularly with regard to cocking the hammer. Although it did not happen to us, personally, we have read and heard of others accidentally opening the cylinder latch while trying to cock the hammer in rapid fire. We imagine under a stressful situation like fighting for your life, the loss of gross motor skills could cause the same mishap.
To repeat for the cheap seats: This did not happen to us in the firing of more than 200 rounds, but we can see it being a problem for some, so be mindful of it and try not to do it if you decide to pick up a Ranger 2.
We did suffer a malfunction that had nothing to do with the NAA Ranger 2.
On our third box of ammunition (140-145 rounds in) as we opened the revolver to extract and eject the 5 spent casings of Hornady Critical Defense 22 WMR ammo we had a stuck case. In fact it bulged so much that we could not even remove it manually. Luckily this happened at the range and not in a gunfight so we removed the cylinder and pushed it out with a 22 brass cleaning rod. Again, this was a freak occurrence, but without the use of a tool the bulged case would not go back in nor come out meaning that the cylinder would not close and keeping the revolver from going back into action.
After clearing the bulged case, the revolver functioned fine for the rest of our testing.
The Reality
Small rimfire revolvers can come in handy beyond self-defense. You can humanely put down a wounded animal with one and play havoc against an army of tin cans and water jugs. We consider these to be the Barlow knives of the firearms world and think everyone should keep one in their pocket "just in case". The NAA Ranger 2 represents not just a last-ditch self-defense gun, but one that is a welcome addition to the toolbox, tackle box or whatever you carry with you when you enjoy the outdoors.
It is pricier compared to the company's other offerings, but it's quicker to reload or clear than the company's other models. Plus it's a top-break!
Hopefully, this model does well enough to stay in production and future models come out with improved sights, bigger grips or even a longer barrel.
For now, though, it represents the smallest top-break revolver that we have ever seen and chambered in 22 Magnum.
| | |
| --- | --- |
| Caliber: | 22 Magnum / 22 Long Rifle Capacity |
| Capacity: | 5 |
| Length: | 5.16″ |
| Height: | 2.81″ |
| Width: | 1.06″ |
| Weight: | 6.9oz. |
| Barrel Length: | 1.63″ |
| Sights: | Bead Sight |
| Action: | Single Action |
| Grips: | Rosewood Bird's Head |
| MSRP: | $479 (Magnum only) – $574 (w additional22 lr cylinder) |
For more information visit their website here.
---
About Mike Searson: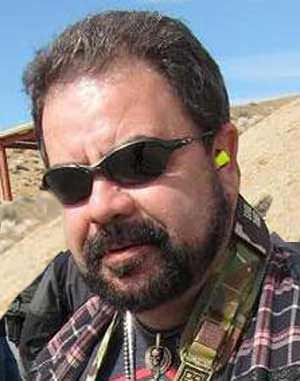 Mike Searson's career as a shooter began as a Marine Rifleman at age 17. He has worked in the firearms industry his entire adult life as a Gunsmith, Ballistician, Consultant, Salesman, Author and was first certified to teach firearms safety in 1989.
Mike has written over 2000 articles for a number of magazines, websites and newsletters including Blade, RECOIL, OFF-GRID, Tactical Officer, SWAT, Tactical World, Gun Digest, Examiner.com and the US Concealed Carry Association as well as AmmoLand Shooting Sports News.