Bob Shell reviews the Ruger American Ranch Rifle in 7.62×39 and does some comparison testing of 7.62×39 ammunition in this Ruger bolt action rifle.


USA – -(AmmoLand.com)- Of all the assault rifle rounds the AK 47 in the 7.62 X 39 is with a doubt the most successful.
While the idea wasn't new, a tank mechanic designed it during WW ll. The AK-47 was intended to be reliable, so tolerances were not tight. It has a well-deserved reputation for reliability. During the Viet Nam war, some American soldiers dropped their AR rifles and used the AK 47 as they were more reliable during that time.
There have been 30 or 40 million of AK variants produced, and it is still widely used today by various countries. It was designed by Mikhail Kalashnikov who was a tank mechanic and while recovering from some injuries designed the AK-47. Today in spite of some nations calling them obsolete they are still widely used. Since ammo is cheap and plentiful why not use them. The rifles are rugged and reliable not to mention handy to carry, and they will be around for a long time.
There are some commercial versions available including a few bolt action rifles. I am a fan of the bolt action rifle so when Ruger brought out the Ruger American Rifle Ranch in 7.62×39, I obtained one since it should be more flexible especially with reduced and lead bullet loads. I have worked with the AK's in the past and was surprised at how well they worked, and the bolt action rifle should be even more flexible. For info on the Ruger rifle go to http://ruger.com/ for info. The original AK rifles have loose tolerances which is one of the reasons that they are so reliable. Accuracy may suffer, but all of the AKs that I have shot gave at least decent accuracy some more.
The rifle is FDE ( flat dark earth ) colored with a 16.12" barrel and has a threaded cap to allow a silencer to be installed where legal. There are no sights but has a scope rail which makes it convenient to mount a scope. The barrel has a 1 in 10" twist which will allow using heavy bullets. Without a scope, it weighs 5.9 LBS. There are extra 10 and 20 round magazines which can be purchased on the Ruger website. The magazine that comes with it is a 5-round model, and it leaves something to be desired. You can't close the bolt on an empty magazine unless you push the plate down much like the old Mausers. It is an easy fix, and I am puzzled as to why they made such a magazine. With ammo, it works ok, but if I were going to use it for serious purposes, I would buy extras. The trigger is adjustable. The bolt has a 70-degree lift and has the usual extractor and ejector both proven designs. It has power bedding and a soft recoil pad as well as a sling and swivels. It has a convenient tang safety. Suggested retail is $599.00 ( less online )
We have shot it over a period with no mechanical issues. It has digested bullets from 78 to 220 grains. Like various other guns, the Ruger American Ranch Rifle is flexible and can have many uses for someone who handloads and isn't afraid to experiment. Of course, that doesn't mean that you can make a 308 out of it as it doesn't have the powder capacity. With a scope accuracy is reasonable, some large game can be harvested. Like any firearm it has limits, and as long as you keep that in mind the rifle will give good results.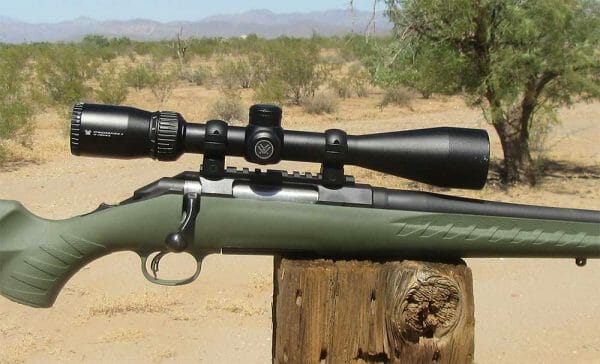 I received a Trijicon Accupower Scope 3-9X40mm for the rifle which should be a great addition. Trijicon makes a good variety of sights and scopes including iron and archery sights. The Trijicon riflescope is an excellent choice as it offers excellent optics with a clear picture in good or poor light. With that combo hog hunting would be good at night with a good shot placement getting game should be relatively easy. I have used a number of their products including night sites and they always work well.
---
Inceptor 7.62×39
The Inceptor company makes both loaded ammo and bullets for reloading. They are unique as they are a composite mixture of copper and some resin.
They are lighter than standard and produce higher than average speeds. They have various uses, and I have written about them elsewhere.
If you are looking for something unique, I would give these a try. For instance, a 90-grain ARX is the same size as a typical 150-grain spitzer. The load for the AK fed flawlessly and cycled which might make that a good home defense rifle.
For info go to https://www.inceptorammo.com/inceptor-product/sport-utility-ammo/
---
I have shot many more loads than are listed below because of space. Sierra sent me some of their .311 bullets, and as usual, they are among the most accurate slugs available. With the Ruger 5 shot 1" groups at 100 yards are pretty easy to obtain.
Careful load development and a good shooter will reduce that group size even more. There are many brands of quality bullets available, but if accuracy is my primary goal, then I usually look for a Sierra bullet if available.
For info, you can go to www.sierrabullets.com/index.cfm for a listing of their many products.
There is a good selection of ammo and reloading components, and of 7.62x39mm military ammo is still relatively cheap.
Since this can be a real handy utility rifle, I included some reduced loads and some of the new powders available. With good handloads, you are ready for deer size game and plenty of pests and small game. One thing I found that some cases have small rifle primers while most have the larger variety. For consistent loads, they should be separated. Hodgdon Powder Company has introduced some new powders from IMR. They own the company, and they brought out some new Enduron and Flake powders some work well in this and similar rounds. I would suggest giving them a try. With proper loads, they perform very well and burn cleanly. For info on their products and loading data go to www.hodgdon.com.
The 220-grain cast bullet can give surprising penetration because of its high sectional density and won't expand much in most materials. It would be a nice load for a suppressor. If you want a real light bullet to try, the 71gr FMJ meant for the 32 autos. I put a cannelure in it to hold it in place and since it is a jacketed slug high velocity are obtainable. The cast is used for small game and pests and can work well at moderate speeds. A 125 or 150-grain soft nose would be useful for deer at medium ranges. I wouldn't use it on large deer or bear through a correctly placed bullet do the job.
A couple of examples on what the 7.62×39 can do. A 123-gr spire point at the muzzle is 2000 FPS and at 100 yards will still be doing 1850 FPS giving 935 FT-LBS of energy which puts it at nearly 1000 FT LBS which some shooters consider at the minimum amount of energy to reliably harvest a deer successfully.
A 150-grain spire point at 1900 muzzle velocity will still be traveling at 1720 FPS at 100 yards. Muzzle energy at the muzzle will be 1202 while at 100 yards will be 985. Therefore, you will have a 100-yard deer gun. If you go for a flat point or round nose a 170 grain at 1600 FPS at the muzzle will be going at 1450 at 100 yards. Muzzle energy will be 966 while at 100 yards will check in at 779. That would be minimal for deer. You might get more expansion, but you would be pushing it. Before going hunting with any rifle, you should be able to understand its limits to avoid wounding instead of harvesting it successfully.
You can go to most bullet websites and get recommendations on weight and type of bullets for the game you are hunting. In spite of what you might hear the 7.62×39 is not the equal of a 30-30.
Double Tap Ammo provided some samples for this test, and as usual, it was accurate and gave the advertised velocities. I have used their ammo in many calibers and always had good results. If you haven't tried it, I would suggest giving it a try. They have many calibers and selection of loads for more info go to www.doubletapammo.net. If you don't hand load and want some excellent high performance with Double Tap, you are in luck.
In the Ruger American Ranch Rifle in 7.62×39 you have a versatile rifle in a compact package. You can cover a lot of territory, and you can put a 22-caliber bullet on the plastic sleeve. I haven't tried it in this gun, but if you can develop an accurate load, then you have a nice varmint load. It may take some work, but the most worthwhile projects do.
The Ruger American Ranch Rifle in 7.62×39 is a handy carry around truck rifle much like the Ruger model 77 in .357 which is another neat gun while versatile doesn't have the range of the 7.62 X 39 round. Based on quite a bit of shooting I would give this and the Trijicon scope a thumbs up. This setup will always have a place in my rack.
---
About Bob Shell
A Custom Reloader of Obsolete and Antique Ammo. Bob Shell, writes about the subject of Guns, Ammo, Shooting and Related Subjects. Visit: www.bobshellsblog.blogspot.com.
Some of the links on this page are affiliate links, meaning at no additional cost to you, Ammoland will earn a commission if you click through and make a purchase.