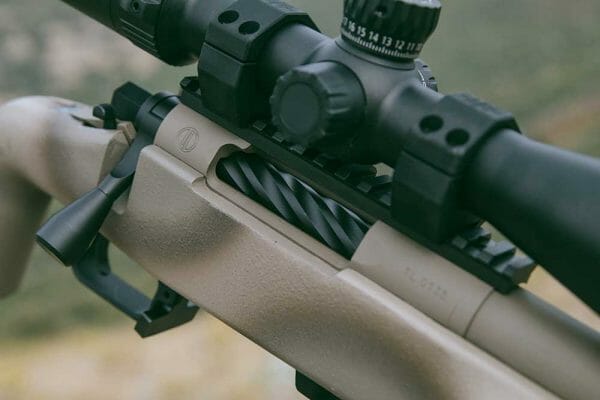 Hurst, TX –-(Ammoland.com)- Alamo Precision Rifles, Leader in affordable high-quality custom precision rifles announced the release of the APR action. The APR action is an economical feature rich custom action that fits the Remington 700 footprint, with runout tolerances rivaling the top-tier custom actions currently available in the market.
"For years the availability of Remington 700 actions has made them a cornerstone for those seeking to build a true precision rifle on a limited budget. However, many folks view them as a compromise and the variability of their quality in recent years has become an issue. Some are pretty straight, some take a lot of work to get trued and timed, and others are so far out that they simply can't be used". said Robert Waggoner, owner Alamo Precision Rifles "Until now, the bigger problem was other options automatically add at least $500 to the price of a build and that's a deal- killer for folks trying to work within a budget."
The new APR action far exceeds the quality, standard features, and tolerances of any factory action, while maintaining a similar all in cost of a trued factory action. The APR is a game-changer for those who are considering using a factory action as a means of controlling the costs associated with building a custom rifle. Customers now have access to a full featured custom action at a substantial savings over comparable actions on the market.
APR Features:
Remington 700 footprint
Consistent tolerances
Mechanical ejector
Side bolt stop release
Threaded bolt knob
Spiral fluted bolt
Pinned recoil lug
Tool-less fire control removal
Controlled round feed
20 MOA Picatinny rail
8 – 40 Base screws
The APR is available from select dealers and directly from www.aprifles.com
MSRP: $799
---
About Alamo Precision Rifles
Alamo Precision Rifles is a custom rifle builder located in Hurst TX. All APR custom builds are made to the spec of our clients and come with a 100% satisfaction guarantee. APR uses state of the art equipment and are committed to creating the highest quality custom rifles available. If you aren't completely satisfied with any purchase you make from Alamo Precision Rifles, contact us and we'll do our best to make sure that you are.