U.S.A. –-(Ammoland.com)- Hunters today may choose to walk when they stalk. Others trust a friendly horse as a form of transportation, while still others choose to travel via all-terrain vehicles (ATVs). While all forms of hunting — traditional or modern practices — let humans interact with nature on their terms, ATVs have become a viable option for many. Their off-road abilities, outstanding surefootedness in bad terrain and overall conveniences and capabilities alter their status from a pleasure vehicle to one viewed as a necessary resource. It's understandable, then, why so many hunters select these powerful 4x4s — like the all-new Can-Am Outlander XT — to take them to their favorite locations, and also why the owners also customize them to fit their needs. Here are nine ATV accessories from Can-Am that are sure to satisfy hunters both before and after the chase for game.
LinQ LOW PROFILE BASKET
With its low-profile setup, this basket increases onboard cargo space and ease of access without limiting the rider's vision of the ATV's front end. Tools, supplies, game ropes and cargo are easily accessible because of the open-air design. Multiple tie-down and bungee cord anchor points let owners secure the cargo, but still maintain quick ease of access. Best of all, the basket, made from impact-resistant injected polypropylene (plastic), is easy to clean and quick to remove / install because it connects to the ATV with the exclusive Can-Am LinQ quick-connect system. MSRP: $159.99 USD (715004282)
RACK EXTENSIONS
Rack extensions are just what they sound like, they extend the height and cargo holding (side, rear) potential of ATV and side-by-side vehicle racks. Although the Can-Am rack design, with its high-quality fit-and-finish and state-of-the-art LinQ quick-attach accessory mounting system, are commended for both their cargo capacity and versatility. The LinQ-ready Can-Am rack extensions take carrying abilities to new heights. Available in silver or black finishes and lengths from 4- (10.2 cm) to 6-in. (15.2 cm), they can be placed on the front and rear racks to keep cargo secure. For Can-Am vehicles with tubular racks, extensions can go from 5-in. (13 cm) to 8-in. (20 cm) and are made from carbon steel. The rack extensions fit front and rear racks (ATVs) and include tie-down points. For long-lasting protection, all rack extensions get an anti-corrosion coating and durable powder coat finish. MSRP: Starting at $104.99 USD.
715001711          LinQ 4″ Rack Extension (Silver)
715001665          LinQ 4″ Rack Extension (Black)
715001712          LinQ 6″ Rack Extension (Silver)
715001671          LinQ 6″ Rack Extension (Black)
715001913          5″ (13 cm) Rack Extension
715001914          8″ (20 cm) Rack Extension
GEAR GRIPS
Let's face it, when it comes to work, we just don't have enough hands. It makes little sense to attempt to carry tools while you ride or wrap items with multiple bungees, hoping to keep them secure. That's where Gear Grips come into play. Think of them as an extra set of multi-talented super-grip hands that easily attach to the ATV / side-by-side vehicle's rack(s), giving you piece of mind when toting gear. Can-Am offers both Gear Grips by Kolpin and also LinQ compatible Gear Grips by Kolpin for easy on/off use. Both Gear Grips by Kolpin feature a durable and flexible design that offers a cushioned-but-strong hold, even on the trail! The heavy-duty grips open from 1- to 4-in. (2.5 cm to 10 cm) in diameter, offering owners a sizeable opening for carrying all sorts of items, from shovels, fishing poles, farm tools, bows and more. A simple quick-release button opens the grips to remove the gear. The durable base system is purpose-built for rugged adventures and can be attached to tubular racks, brackets and even bumpers. The LinQ System Gear Grips by Kolpin offer the exclusive Can-Am LinQ quick-attach system for nearly effortless installation / removal for Can-Am vehicles with composite racks. They also offer 360-degree rotation for a more creative hauling. Both grip kits are sold in pairs. MSRP: $69.99 USD, Gear Grips by Kolpin (715001421); $104.99, w/LinQ System (715001351)
MULTI-FIT HOLDER
Can-Am accessories designed the Multi-fit Holder, available in a single- and double-mount design, to give ATV owners even more gear-carrying options for both work and recreation. The u-shaped bracket can safely and securely hold tools and hunting equipment, but also keep them readily available for quick access. The holders fit tubular racks, Can-Am composite racks, rack extensions, baskets and bumpers. They are also sold in pairs, starting at $49.99 USD for a single Multi-fit Holder.
SOFT STORAGE BAG (CAMO)
While it's certainly enjoyable riding in wet conditions while you head to your favorite hunting blind or during a pre-hunt scouting trip, its more enjoyable knowing your electronics and extra wearables are safe and dry. The weatherproof Can-Am soft storage bag offers three sections for up to 11.8 Gal. (45L) of versatile storage. The bag was designed by Can-Am engineers to fit perfectly with the storage rack to maximize storage potential. One additional feature is the cargo bag comes in Mossy Oak Break-Up Country camouflage for a great look. MSRP: $169.99 USD (Mossy Oak Break-Up Country camo; 715001935). It's also available in black (715003759; $139.99)
LinQ PREMIUM STORAGE BAG BY OGIO
If you're going to carry tools, supplies and other hunting-related products with you on the ride to the cabin or blind, do it style AND purpose. The new premium storage bag by Ogio features easy installation and removal without tools because of the unique Can-Am LinQ System. With a full 17.2 Gal. (65 L) capacity and convenient three-section lid allowing quick access to the separate internal compartments, this bag is super versatile on the go. The buckle and elastic closure system includes a rubber seal to keep annoying dust out. Will require the purchase and install of other LinQ components prior to install (Check vehicle specs). Available in black (715002923; $379.99 USD) or Mossy Oak Break-Up Country camo (715003248 – $449.99 USD)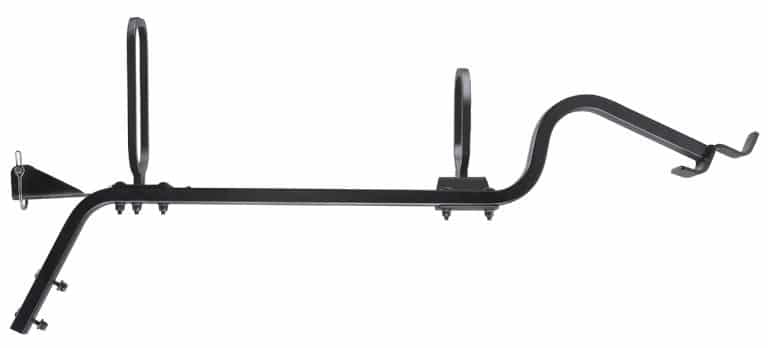 Gun Boot Rack
Can-Am accessories offers a few steel Gun Boot Rack systems — LinQ or traditional — to keep rifles and shotguns safe and secure. The accessories team offers several choices, including gun boot racks for tubular racks (G2L) and composite racks (G2) with the LinQ quick-attach system. The rack can fit on either side of the ATV for versatile mounting options. They are also available for both one-up and Can-Am MAX ATVs and are made to fit the Gun Boot 6.0 Impact by Kolpin (See No. 8 below).
715001918           Gun Boot Rack (G2L)
715002113           LinQ Gun Boot Rack (G2 MAX)
715001919           Gun Boot Rack (G2L MAX)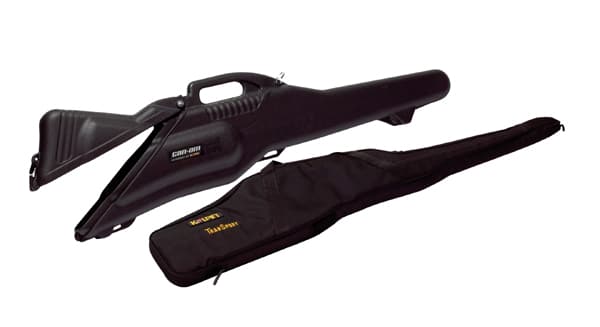 GUN BOOT 6.0 IMPACT BY KOLPIN
Have gun, will travel. Sure, an old black-and-white American Western TV show may not have a lot to do with hunting, but its title is spot on when it comes to hunters needing to take their favorite firearm with them on their ATV or side-by-side vehicle into the woods or off the beaten path. It's imperative for hunters to have a secure, dry means of transporting their firearm to the hunting blind, trailer and cabin. The 6.0 Impact by Kolpin features a hatchback design for easy access and a removable, shock-absorbing internal foam and nylon impact liner for superior protection from hits on the trail. The heavy-duty plastic boot has a snap-close cover with the ability to lock for an added layer of security.
The gun boot can fit firearms up to 51-in. (130 cm) in length and with pistol-grip-type designs. There is also room for small bipods, scopes measuring 2 3/8-in. (60mm) and also both left- and right-hand bolt-action rifles and shotguns. The removable, portable Impact 6.0 has an integrated handle and attachments for a sling for personal transport when no longer riding. Must purchase mounting rack for proper fitment. MSRP: $79.99 USD (715001419)
RAM† LED SPOTLIGHT
So often hunters arrive early and leave late and the need for additional lighting is a must. The heavy-duty RAM LED Spotlight offers 540 lumens of LED lighting (9-W) for illuminating the dark. It includes a standard 1-in. (2.5 cm) diameter rubber-coated double ball and socket system for simple mounting. The spotlight plugs in to a Can-Am ATV's lighter-type DC outlet and can be adjusted by hand to point the light where you need it. MSRP: $119.99 USD (710005423)
This just touches the surface of what is available from Can-Am. It's really up to the ATV owner to determine just how many and what type of accessories—from electronic convenience items to added protection in the form or windshields and bumpers—they need for the task at hand. And for those who want to buy a hunting-ready ATV right off the showroom floor, Can-Am has a model for that, too, with its Outlander Mossy Oak Hunting Edition 1000R ATV. For a complete list of Can-Am ATV and side-by-side vehicle accessories, visit your local Can-Am dealer or check out the online store.