By Preston Bankson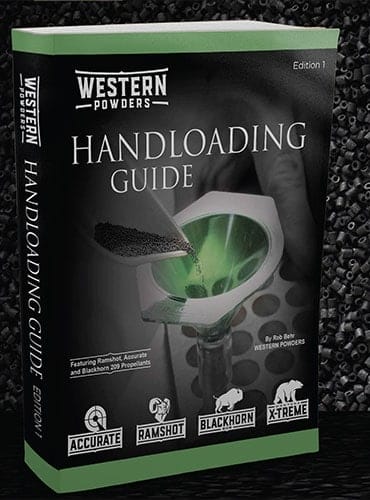 USA –-(Ammoland.com)- At the end of 2017, Western Powders released their first comprehensive handloading guide. This guide features handloading basics, advanced techniques, and a wealth of pistol, rifle, and shotshell load data for all powder brands within Western Powders.
This book stands apart from its competition for two primary reasons. First, as Rob Behr of Western Powders noted in the preface, the guide contains brief, yet very helpful, information sections throughout. Second, the load data contains load data only for Ramshot and Accurate powders. Thus, if you use (and you absolutely should!) any powder produced by these companies, then this book is a critical load data source for you. While you can find Accurate and Ramshot load data in many reloading manuals, this guide contains many more load options for these powders and is up-to-date on new caliber offerings.
I have my hands on a half dozen other handloading guides and, as an experienced handloader, I know I will be pulling this guide off the shelf first when a reloading question arises. Behr succinctly details important handloading topics which are not found in many other reloading manuals. For example, the book contains helpful sections regarding barrel slugging, neck turning, loading shotshells for handguns, matching powders to barrel lengths, recognizing pressure signs, how to find max cartridge overall length (COAL) in your rifle, removing stuck cases, and many other interesting topics. Additionally, the photographs are best-in-class making it easy to picture what the author is detailing. Hours of online research (usually from less than reliable sources…) can be forgone by simply cracking open this guide.
Outside of pistol, rifle, and shotshell reloading data, the guide contains information on the following topics:
Reloading Basics
Tips, Tricks, and Signs of Trouble
Advanced Reloading Techniques
Powder Position and Pressure
Berdan Primers
Using a chronograph
Finding Twist Rate
Montana X-Treme Products Instructional Guide
Blackhorn 209 Black Powder Information
Glossary
Burn Rate Chart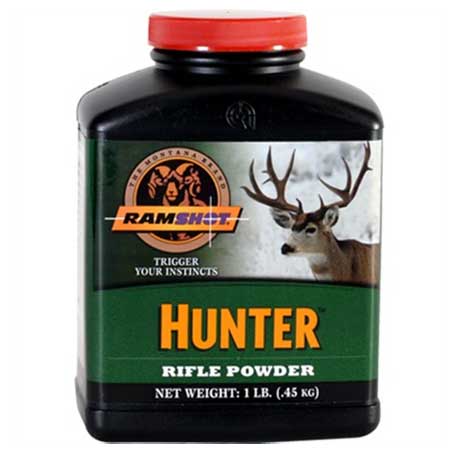 Moving on to the reloading data, if you load pistol, rifle, or shotgun ammunition, then you should secure this manual to maximize your use of any Ramshot or Accurate powders. Again, compared to competing reloading manuals, the level of detail is unsurpassed. For example, I reload .260 Remington (.308 Winchester necked down to accept a 6.5mm bullet), and this book has 32 bullet/powder combos for just five powders, thus giving a large amount load data for each of the few bullet weight options.
An anecdotal example of how well the Ramshot and Accurate powders are covered is that I now have exponentially more load data for an excellent powder to be used when loading heavier bullets in mid-size 6.5mm cartridges like 6.5 Creedmoor, .260 Remington, and 6.5 Swedish Mauser (6.5x55mm).
I am alluding to Ramshot Hunter, a powder for which I have only seen one reputable data provider publish data for the .260 Remington – this was Nosler.
The Western Powders Handloading Guide 1st Edition lists ample data for Ramshot Hunter powder in all of the above mentioned cartridges.
I also appreciated the cleaning and maintenance tips contained in the guide. Western discusses how to deal with copper deposits, rust, and excessive fouling in addition to professional barrel break-in procedures. Also on the topic of cleaning, Western Powders has dedicated a few pages to share product specific information on, and instructions for, their line of cleaning products, Montana X-Treme.
The new guide includes load data and product information on Blackhorn 209, a top-of-the-line propellant for muzzleloaders and other black powder cartridges. Blackhorn 209 part of the Western Powder product suite.
All-in-all, this handloading guide is a welcome addition to my reloading room. When stumped on a technique or seeking Accurate or Ramshot load data, I will be grabbing this manual first!
---
About Preston Bankson
Preston Bankson is grateful to be a byproduct of upbringing by a hunting family and marriage to a shooting family. While he primarily hunts in his home state of South Carolina, he enjoys the occasional excursion to a waterfowl flyway or trip out West for deer. Since the introduction to his in-laws, Preston has educated himself on concealed carry and become an avid reloader. He enjoys perfecting reloading techniques which have produced big results in his hunting. When not pulling the trigger himself, Preston enjoys introducing these pastimes to others and dabbles in shooting competitions.
Some of the links on this page are affiliate links, meaning at no additional cost to you, Ammoland will earn a commission if you click through and make a purchase.