By Don West | October 19th, 2018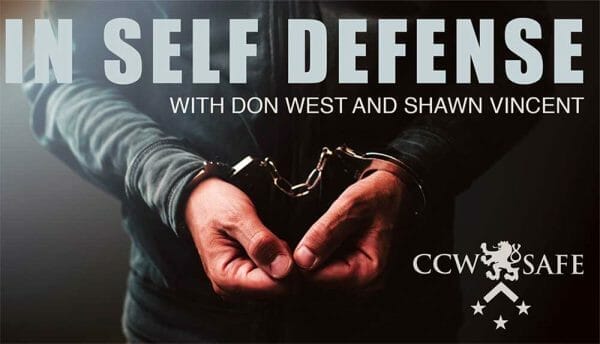 USA – -(AmmoLand.com)- In this special edition of "In Self Defense", Don West and Shawn Vincent follow up on the Stephen Maddox case.
"Stephen Maddox placed his hands over his face and then broke down and cried.

As the seconds grew longer, so did the tears for the 43-year-old Durham man. He had just been found not guilty on all charges Saturday in connection to the shooting death of 41-year-old Kelly Wilkerson.

It took jurors less than two hours to render a not guilty verdict. The jury also had the option of first-degree murder, second-degree murder or voluntary manslaughter. "
In this episode, the two hosts interview Stephen Maddox, CCW Safe member and Mike Darter, Co-Founder, and CEO of CCW Safe.
This is the first case in the industry that involved a full trial of a self-defense case being charged with first-degree murder. CCW Safe defended Stephen in that trial and ended up paying over $350k in the case. Stephen was found not guilty after a deliberation that lasted just over one hour.
In this podcast, they talk with Stephen and give an in-depth interview of the incident through the verdict of not guilty.
---
Learn more about CCW Safe, LLC at http://CCWSafe.Com
About CCW Safe, LLC:
Founded by former police officers and attorneys who have all worked on local, and federal levels of law enforcement, CCW Safe, LLC offers legal service membership plans for concealed-carry permit/license holders and law enforcement officers. Two of the founders, Mike Darter and Stan Campbell, have spent more than 20 years each in law enforcement and have been victim of federal lawsuits themselves from shooting and use of force incidents as police officers. General Counsel, Kyle Sweet, is a former police officer and current owner of Sweet Law Firm, representing hospitals and health care professional across the United States. With a strong membership base in 50 states, CCW Safe will have the most experienced attorneys in the jurisdiction of the incident handle members' cases. Learn more on how to become a member at CCWSafe.Com.