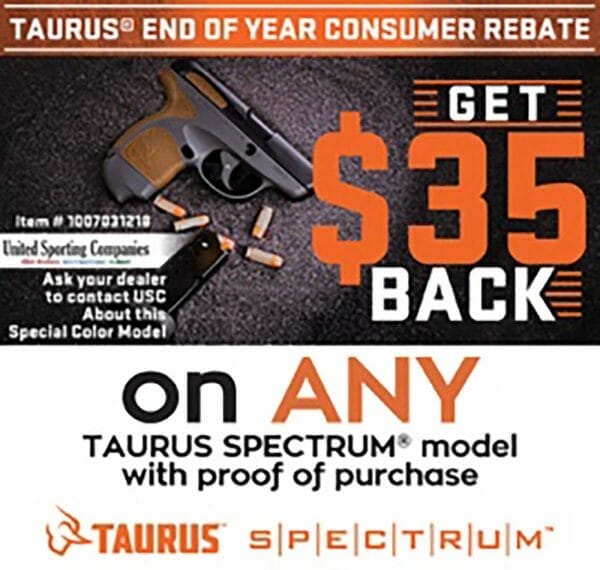 Miami, FL –-(Ammoland.com)- Taurus USA redefined everyday carry comfort and performance with the launch of the all-new Taurus Spectrum series of micro handguns. To celebrate the positive response from consumers to this ground-breaking pistol, Taurus USA is offering a $35 rebate on the purchase of a new Taurus Spectrum .380 Auto pistol.
From now through December 31, 2018, retail purchasers of a qualifying Taurus Spectrum are eligible to receive a $35 Taurus Visa Prepaid Card. Participating consumers need only submit a completed rebate form along with the original product UPC(s), a copy of a dated cash register receipt, and/or a dated itemized sales invoice.
All rebate submissions must be postmarked by January 31, 2019.
The new Taurus Spectrum 380 Auto represents a significant leap forward in micro semi-auto handgun design and performance. The ergonomic soft-touch overmold panels incorporated into the grip and slide not only provide maximum firearm retention and positive operation under stressful conditions, the broad palette of color options allow buyers to add a custom flare to their handgun. The soft-touch proprietary polymers also aid in recoil management.
The Spectrum utilizes a striker-fired, true double-action-only trigger system, which means there is no pre-cock or pre-load. Additional carry safety and security comes from an integrated striker block.
For ultimate concealment and shooting comfort in a micro pistol, the new Taurus Spectrum leads the way.
Visit the Taurus Spectrum website for more information on this innovative carry concealed handgun, or go here to learn more about Taurus USA.
---
About Taurus USA:
Taurus Holdings, Inc. ("Taurus USA") and its subsidiaries continues to evolve and produce revolutionary new products. In addition, new standards for quality and efficiency help deliver reliable and affordable guns to the market. Taurus USA is based in Miami, Florida. Taurus USA is owned by Forjas Taurus, S.A. which is a publicly traded company based in Brazil. Forjas Taurus manufactures a wide variety of consumer and industrial products that are distributed worldwide. For additional information, visit www.taurususa.com.