GRINNELL, Iowa –-(Ammoland.com)- Starting November 10, Brownells will offer a limited quantity of parts kits for the HK416 – the type of rifle used by U.S. Navy SEALs in the 2011 raid against Osama Bin Laden.
Disassembled from German military machine guns, the parts kits will be available initially only to Brownells EDGE members on Saturday, November 10, and then to all Brownells customers on Sunday, November 11 – Veterans Day.
The HK416 kits, listed as #100-026-983 at Brownells.com, contain all factory original parts except for the lower receiver, bolt assembly and barrel. The kits retail for $3,299.99.
In addition to the authentic military HK416 kits, Brownells will also begin accepting pre-orders for all other parts and the barrel tool required to finish the kits into complete rifles. All NFA rules apply.
Sold separately and expected to ship by the end of November, those other parts include:
#078-000-487 BRN-4 Stripped Lower, $399.99 retail
#078-000-488 HK416-style barrel, $399.99 retail
#078-000-489 HK416 Barrel Install Tool, $79.99
#078-000-490 HK416-style Complete Bolt Assembly, $199.99
The BRN-4 stripped lower is Brownells' take on an HK 416 receiver and started as an HK factory forging.
The HK416 parts kits are available exclusively at Brownells and are very limited in quantity.
Brownells brought several of these forgings into the United States, and finished them into stripped lowers with correct selector-switch markings and proper contours for an HK416.
To learn more, visit the Brownells HK416 page.
---
About Brownells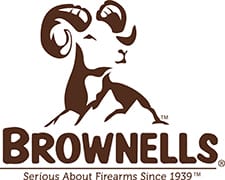 Serious About Firearms Since 1939™, Brownells is the world's leading source for guns, gun parts and accessories, ammunition, gunsmithing tools and survival gear. With a large selection of both common and hard-to-find items, and an extensive collection of videos, articles, and gun schematics, Brownells is the expert for everything shooting-related. Committed to maintaining our great traditions, Brownells has more, does more and knows more – and guarantees it all, Forever. For more information or to place an order, call 800-741-0015 or visit Brownells.com. Stay up-to-date with Brownells on YouTube, Facebook, Twitter and Instagram.