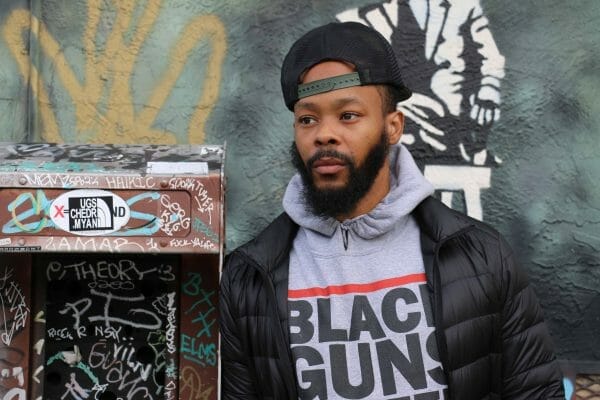 BOSTON, MA –-(Ammoland.com)- Hip Hop artist turned 2nd amendment activist, Maj Toure, will train urban families in Boston on interacting with law enforcement as gun owners, firearms safety, conflict resolution, mental health supports and restoration of rights.
Armed While Black (12/10/18): Interacting with police as a Black legally licensed firearm owner
Domestic De-escalation (12/12/18): Conflict resolution in domestic relationships especially for firearms owners
Guns, Weed, & Felons (12/14/18): Knowledge of laws at the intersections of firearms, marijuana, and felony charges—and how that relates to legislation including The FIRST STEP Act.
Gun Ownership & Mental Health in Urban Communities (12/16/18)
Maj Toure and Black Guns Matter are currently on a 50 states tour across the country teaching firearm safety in urban communities. The free workshops include demonstrations, role plays, and Q&A discussions with experts including NRA certified instructors, lawyers, conflict resolution specialists, and advocates.
The free class will be hosted in Boston, Worcester, and Swansea.
The Black Guns Matter tour has travelled to urban communities including Chicago, Baltimore, Atlanta, Houston, Compton, Oakland, Miami, Phoenix, St. Paul, Minneapolis, Detroit, New Orleans, Grand Rapids, Nashville, Memphis, and Wilmington, with ongoing classes continuing in North Philadelphia.
"I don't think there's a black gun culture or white gun culture, I think there's an informed gun culture and an ignorant gun culture, said Maj Toure.
The Black Gun Matter Tour is funded by people from across the country through a GOFUNDME campaign that has raised over $150,000 goal in the last 18 months to host the classes. This series is supported by Comm2A, Bersa, and Head Down Firearms.
Previous press on Maj Toure:
---
About Black Guns Matter
Black Guns Matter educates people in urban communities on their 2nd amendment rights and responsibilities through firearms training and education.
We are fundraising for a 50 state tour to continue informing urban communities–especially youth–about safe and legal firearms knowledge, conflict resolution, and the 2nd amendment.