Idaho – I've just finished reviewing the Spyderco Enuff Clip Point Knife. It would make you a sweet little skinning knife. It is small, compact and yet is still functional. Let's go over some of the knife features that I like.
Spyderco Enuff Clip Point Knife Handle: It drives me nuts how most knife makers when making a smaller bladed knife also make it with a short handle. I don't care if I'm using a dainty little caping knife or a larger skinning knife, my hand is still the same size, and if the handle doesn't fill my hand, the blade is more likely to slip in my hand causing me to cut myself.
With the above said, even though this is a short-bladed skinning knife, it has a full-sized handle. I require that in any knife that I carry. When skinning most of your elk, it will be at dusk or in the dark. Most likely it will be colder than blue blazes, and you'll be in deep snow. Your hands will be numb, so you need all of the grip that you can have.
This knife suffices in the grip department. The handle is full sized, and there are one ¼-inch thumb grooves on the back of the spine so you can firmly choke down on the blade. There is also a finger groove on the front as well as one on the back for your little finger. When I grab the Spyderco Enuff Clip Point, I have a firm grip.
A couple of other features on the handle is that it is textured to improve your grip and also has a lanyard hole in the hilt.
Spyderco Enuff Clip Point Knife Sheath: I guess that deep down I'm a cowboy at heart and favor leather sheaths but, as the days go by, I do find myself growing fonder of Kydex sheaths. A knife dries out faster in them. The knife snaps down tight in them and is not as likely to pop out if you fall.
Plus, this sheath has so many different attachment options. It has a belt clip that will fit over a 1 ¾-inch belt or web and is open on the bottom so you can snap it over a strap on your backpack. Or, there are six holes so you can reposition the belt clip in four different positions. On top of that, there are another eight holes around the perimeter of the sheath so you can tie it to your pack or life jacket in any manner that you so desire.
Spyderco Enuff Clip Point Knife Blade: It is advertised as a clip point knife. While it does have a decent enough point to be able to cut the pattern on your big game animals, I would still classify it as a drop- point. But granted, it can act as both.
I like a longer blade for skinning but those of you that favor a shorter blade, then this 2.75-inch blade might be the ticket. The edge runs within 3/8-inches of the handle. Towards the handle is where you have your most cutting strength so even for a little knife, you can exert some muscle into your skinning jobs.
So if you're looking for a compact skinning knife, check out the Spyderco Enuff Clip Point. The MSRP is $180.00 (less $$ online). And as usual, we will end on the specs.
Spyderco Enuff Clip Point Knife SPECS:
Overall Length: 6.75″ (171mm)
Blade Length: 2.75″ (70mm)
Steel: VG-10
Edge Length: 2.54″ (65mm)
Weight: 3.08oz (108g)
Blade Thickness: 0.157″ (4mm)
Handle: FRN
Sheath: Kydex
Origin: Japan
---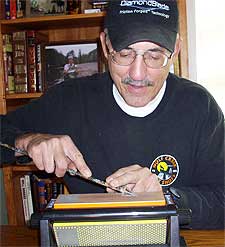 About Tom Claycomb
Tom Claycomb has been an avid hunter/fisherman throughout his life as well as an outdoors writer with outdoor columns in the magazine Hunt Alaska, Bass Pro Shops, Bowhunter.net and freelances for numerous magazines and newspapers. "To properly skin your animal you will need a sharp knife. I have an e-article on Amazon Kindle titled Knife Sharpening for $.99 if you're having trouble."
Disclosure: Some of the links below are affiliate links, meaning at no additional cost to you, Ammoland will earn a commission if you click through and make a purchase.