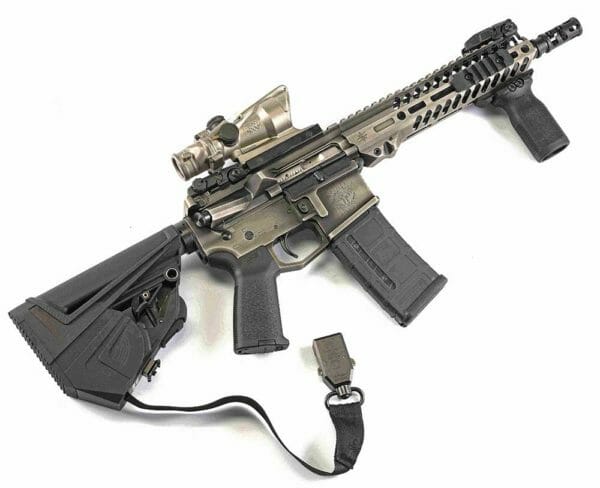 USA – -(AmmoLand.com)- WMD Guns is the leader in providing performance coated firearms, parts and surface solutions to OEMs, distributors, dealers and consumers. Our arsenal of coating technologies provides the largest selection of performance coatings in the industry. WMD Guns was at SHOT Show 2019 where we featured our premium coated firearms and components, and Booth S2226 in the Supplier Showcase.
New this year is the WMD SlingStock, a new, patented buttstock with an integrated, retractable sling. It is focused on optimizing the performance of the LE professional. The Slingstock is interchangeable with Mil-Spec collapsible buttstocks and accommodates single-point and 2-point operation from multiple attachment points and methods. The 7-foot mil-spec webbing adjusts to any length and locks using a one-button operation. All controls are designed on the centerline for ambidextrous operation. "Threat ready, never a burden".
Also New for 2019:
New .224 Valkyrie Long Range Beast takes the AR-15 well over 1,000 yards with accuracy. Also available as components: .224 Valkyrie/6.8 SPC NiB-X BCG's and 20" and 22" 1:7 twist .224 Valkyrie barrels.
New .450 Bushmaster Beast
New .458 SOCOM Beast Upper Assemblies and Rifles.
Accent Kits to personalize your AR
Coating Patterns for Special Make Ups. Our Coating Upgrade Program is Back! For dealers, you can now offer upgrades and refinishing for your customers through our dealer coating program.
---

About WMD Guns Contacts:
WMD Guns offers highly technical services encompassing a diverse team of experts collaborating on customized coating for each customer. Metallurgists, PhD Chemists and plating engineers work with gunsmiths, engineers and shooting professionals to deliver highly specialized services to each customer. We provide services from concept to conception. www.wmdguns.com