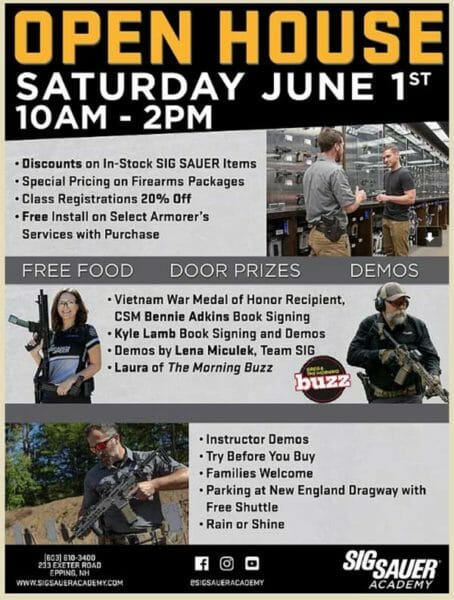 USA – -(AmmoLand.com)- Save the date for our SIG SAUER Academy Open House on June 1, 2019 – follow our social channels and stay tuned for more information on the event. We look forward to seeing you!
What is the SIG SAUER ACADEMY?
With a team of world-class instructors from a broad range of backgrounds, the SIG SAUER Academy provides the finest firearms and tactics training available today. Using our adaptive, performance-based training methods we can help develop and expand the abilities of virtually any level of firearms user from beginners to the most experienced. Our nearly 150 acre, state-of-the-art facility provides us the ability to train in nearly every discipline, creating almost any type of environment, helping to prepare for practically any situation.
The SIG SAUER Academy and its staff of quiet professionals are committed to delivering the most realistic, fundamentally sound training experience possible, with a promise to improve the skills of everyone who trains with us, guaranteed. It's a promise we don't make lightly, knowing that those who come here rely on us to give them the best training available. They refuse to settle for anything less, and so do we.
Also be sure and check out the SIG SAUER Academy Pro Shop when visiting Epping, NH.
Discounted firearms and accessories are available to any qualified buyer who visits the Pro Shop. Academy students enjoy even greater savings with an outstanding 20% off select SIG SAUER branded firearms, and accessories within 90 days of completing a course. Proof of course attendance must be presented at time of purchase in the form of your course completion certificate. Our expert and friendly staff is always on hand to answer any questions. Customers are guaranteed to walk out with a well accessorized firearm and everything else needed to continue training.
Below is a list of brands that they carry in the shop:
3M / Peltor – Premium hearing protection
Ameriglo – Pistol night sights
ANR Design – Premium custom holsters
Apex Tactical Specialties – Trigger upgrades
Arc'teryx – Extreme outdoor gear
Black Point Tactical – Premium holsters
Black Rifle Coffee Company – Coffee and gear
Blue Force Gear – Slings
Bravo Company – Bravo Company Manufacturing
Comp-Tac Victory Gear – Holsters and mag pouches
Dark Angel Medical – Medical kits
Fix It Sticks – Deluxe Torque limiter kits
Geissele Automatics – Triggers and rails
Gray Guns – Competition pistol parts
High Speed Gear, Inc. – Tactical nylon products
ITW Fast Mag – Magazine pouches
J Dewey Rods – Quality gun cleaning products
Lancer – Rifle magazines
Leatherman – Multi-tools
Maglula – Tools for loading/unloading magazines
Magpul – Rifle and shotgun accessories
Mec-Gar – High quality magazines
Mechanix – Gloves
Mitch Rosen – Leather holsters and belts
Multitasker Tools – Specialty multi-tools
Oakley – Eyewear
Otis – Cleaning supplies
Pact – Competitive timers
Pelican/Storm – Storage and transport cases
Resqme – Quick car escape tool
S.T. Action Pro – Dummy rounds
Safariland – Holsters and accessories
Slip2000 – Cleaning supplies and weapons lubricant
Streamlight – Handheld and weapon lights
SureFeed Magazines – Premium rifle magazines
Surefire – Lights, defensive pens, and muzzle brakes
Tactical Medical Solutions – Medical kits
TALON Grips – One piece grip wraps
Viking Tactics – Tactical pistol and rifle products
Volund Gearworks – Premium belts
VSSL – Outdoor utility tools
Wilson Combat – Firearms accessories