Opinion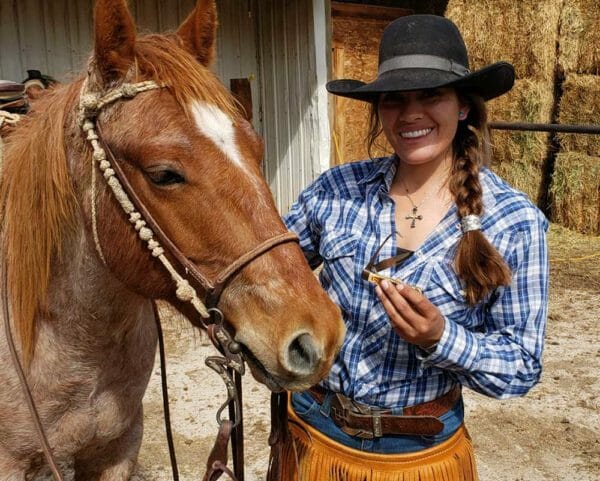 Idaho – -(AmmoLand.com)- At the SHOT Show this year I stopped by the Case Knife booth to talk to the Case marketing guru and buddy of mine Fred Feightner. While showing me his new knives he popped out one called The Case Equestrian Knife. My buddy Caiti Hladky, which is doing my Instagram end of the business was with me for the meeting. She is a good cowgirl so I told Fred we ought to have her test it out for him.
Caiti is cowboying around the country 90% of her time and always on top of a horse (or flying off of one) so I figured she could give it a good honest test. So with that said, let's hear what Caiti has to say about The Case Equestrian Knife.
"I was a little skeptical at first of The Case Equestrian Knife as the hoof pick is much thinner than your average hoof pick and of course because of the folding aspect, but I was pleasantly surprised when I put it to the test. It stayed in place very well and because it was much thinner it easily got under those pesky rocks that are always getting wedged between the hoof and the shoe and in the frog area.

I love that it also has a blade, as I can use it for cutting bull calf nuts, hay strings and I have both blades conveniently in one unit.

It is sometimes hard to dig them out with normal hoof picks because they are wider and flatter. When we are riding, I never seem to remember to take a hoof pick with me and many times I have used my knife to dig out rocks, which I know isn't good for the blade and (Tom always says I am a knife abuser)! Nor does it work very well.

I love that it also has a blade, as I can use it for cutting bull calf nuts, hay strings and I have both conveniently in one unit. The blade was sharp when I got it and I have not had to sharpen it yet but seems to have a good edge that would make sharpening easy.

It is slightly bulkier and heavier than your average case pocket knife which is the only "downfall" to this knife that I have found, though it does still fit in your pocket and I carry several other things just as bulky and heavy so it isn't much of a bad thing. Especially when you think that you are getting 2 tools in 1 all in an affordable package. I have carried it in my pocket on several occasions but I tend to keep it in my leggings pocket, or in my saddle bags. I am planning on having a friend make me a sheath for it that I can mount on the back cinch of my saddle so it will always be with me. If Case could make something like this to sell with the knife, I think it would be a good additional item.

Overall, I really like the knife and hoof pick. It is very convenient to have them combined in one unit and the hoof pick works better than most I have used. Now I just need one for each saddle. 🙂 " ~ Caiti Hladky
Now let's hear a couple of additional product description words from Case.
"The Case Equestrian Knife is a part of the Amber Bone Family. Our Amber Bone color and Peach Seed jig are signatures of the Case brand and the true heart of the case line. The Equestrian knife was designed for those who love and take care of horses. Built on a Trapper, the Clip blade and hoof pick make this knife a great tool for both horses and riders. The Clip blade is a multi-purpose blade that is preferred for its versatility."

"The hoof pick is a common tool for those that care for horses. It is designed specially to clean the area of a horse's hoof from any rocks or debris".
So for all of you cowboys & cowgirls out there, here's a review on a cowboy knife from a real live cowgirl. The MSRP is only $78.99. And as is usual, we will close with the specs:
• Tru-Sharp surgical steel blade
• Clip blade and hoof pick
• Peach seed jigged handle
• Length: 4.13 inches closed and 4.4 ounces
• Limited lifetime warranty
---
About Tom Claycomb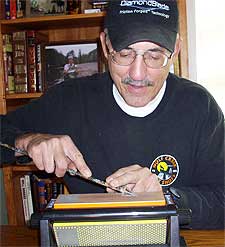 Tom Claycomb has been an avid hunter/fisherman throughout his life as well as an outdoors writer with outdoor columns in the magazine Hunt Alaska, Bass Pro Shops, Bowhunter.net and freelances for numerous magazines and newspapers. "To properly skin your animal you will need a sharp knife. I have an e-article on Amazon Kindle titled Knife Sharpening for $.99 if you're having trouble."
Disclosure: Some of the links below are affiliate links, meaning at no additional cost to you, Ammoland will earn a commission if you click through and make a purchase.