Opinion: Tom Mchale reviews the Ruger PC Carbine. In July of 2019, AmmoLand News gave away this PCC with a matching caliber Ruger pistol. See who won here!

USA – -(AmmoLand.com)- The Ruger PC Carbine is new and improved from the original introduced a few years ago.
When it hit the market, the carbine wasn't the first to marry pistol and rifle caliber and magazine compatibility, but it sure was nifty – not to mention fun. Now, a couple of years into the family tree, you can order two varieties: a standard forend model available in 9mm and .40 S&W and the new free-floated barrel version with M-LOK handguard shown here. The two rifles operate identically with a blowback design and both are takedown models with threaded barrels. More on that later. We're going to focus on the spiffier M-LOK version as that's the carbine that one of you will win.
That's right. Ammoland and Ruger gave away a combo set of this PC Carbine and the Security 9 pistol in 2019.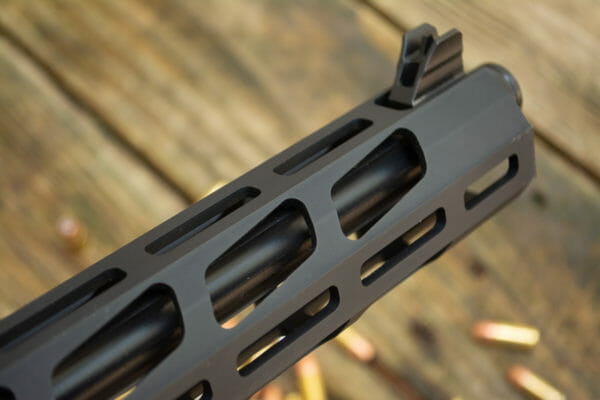 Ruger PC Carbine: A Quick Tour
The PC Carbine M-LOK model is available in 9mm only (for now) and uses Ruger SR9 magazines. A 17-round mag is included with this rifle. The idea is that you can share not only ammo but magazines between the carbine and your Ruger handgun. If you're the winner of this carbine, you'll also get a Ruger Security 9 pistol that uses the same magazine. If you don't win the carbine/pistol package and happen to carry a popular Austrian pistol, no worries. The PC Carbine comes with a replaceable magazine well insert that accepts standard Glock 9mm double-stack magazines. That gets particularly interesting if you attach one of the 33 rounders.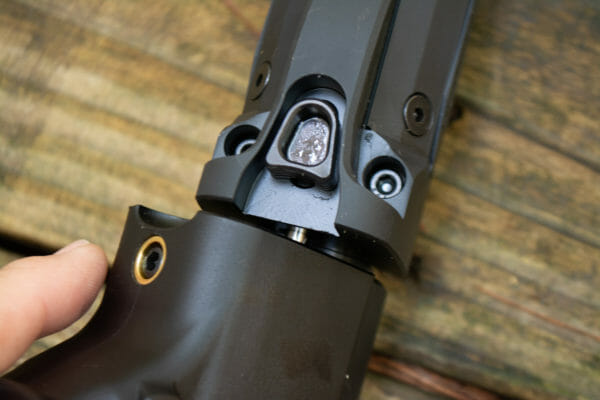 The magazine compatibility isn't the only thing that's flexible about the PC Carbine. The magazine release and bolt charging handle are reversible. Out of the box, the mag release button is on the left and the charging handle on the right. The safety is a cross-bolt type that runs through the front of the trigger guard.
If you care, one visual design element of the PC Carbine is that it's less scary to those with the snowflake gene because it uses a standard rifle-type stock, not one of those super-scary pistol grips. There's a spacer in the box so you can add to the length of pull if you need it. The butt pad is textured rubber so when you lean this against a shooting bench or wall, it won't fall over. That's also good for keeping the rifle planted firmly in place in your shoulder pocket.
The included sights are aperture irons. The front is a post protected by steel wings and the rear is an aperture that's adjustable for both windage and elevation. It's placed on the rear of the forend so there is never any misalignment when you takedown the carbine – both front and rear sights are on the same hunk of metal. While we're talking about the forend, that free-floated barrel is housed inside of an M-LOK handguard with mounting points at the 12, 3, 6, and 9 o'clock positions. In between those are generous cutouts to reduce weight and provide airflow to the barrel.
Go Ahead, Break it in Half!
The new Ruger PC Carbine shown here is a takedown model. That means it's designed to be broken in half – on purpose.
The breakdown process could not be easier, and I mean that literally. Under the forend, you'll see a sliding button sitting in a recessed area the size of your finger. Push that button forward about ¼ of an inch and rotate the handguard 1/8th of a turn clockwise (when looking towards the muzzle) and remove the front end. That's it. No tools or undue force required. When you put it back together, the two halves lock up tight to the point where there is no detectable movement. Should you ever need to adjust the lockup tension, there's an adjustment ring accessible on the top side.
As the separation point is forward of the rail, none of this breaking and packing interferes with your optic or zero, so knock yourself out. Take it down. Throw it in your backpack or car, and you'll be good to go when you re-assemble. It's a brilliant design.
Shooting the PC Carbine
I had a bit of a moral dilemma on how to configure this carbine. Should it have a red dot sight on the receiver rail or a low-magnification scope? Since I couldn't decide, I tried both on different outings.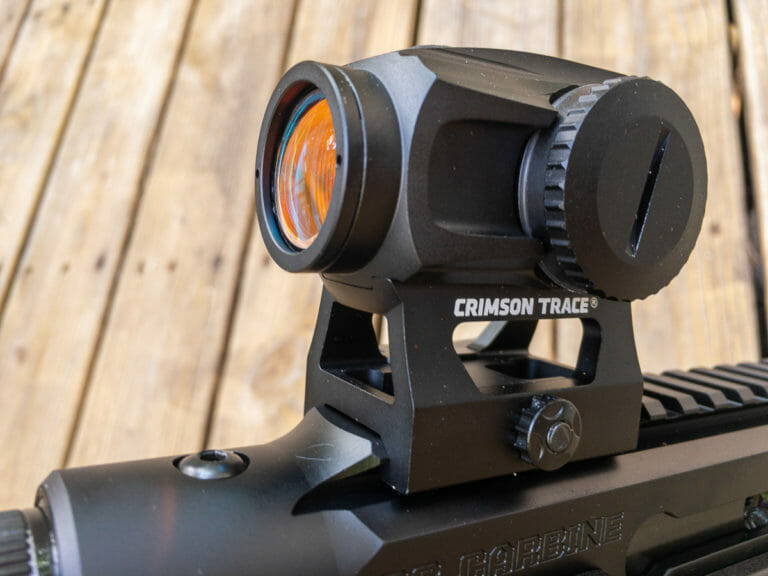 For the first range trip, I mounted the new Crimson Trace CTS-1000 red dot sight. This one can be an "always-on" model as it reduces its power level after a few hours of inactivity. It's got a two-MOA dot, so it's plenty precise for 9mm carbine distances. At 50 yards, that dot covers just one inch of target. With the exceptionally crisp and clear dot (think models costing twice as much), I did most of the accuracy testing with this configuration. When I shot the same ammo with a magnified scope, there was no detectable difference in group size. That's a testament to the optic quality. The other nifty benefit is that the quick-attach mount of the Crimson Trace CTS-1000 has a see-through hollow base. That allowed me to view the standard aperture sights right under the red dot, so I had a choice on how to shoot – irons or optics. If you want to go old school, there's no need to remove the optic. When I buy one of these carbines, the Crimson Trace CTS-1000 will be key to my permanent configuration.
For the next trip, I mounted a Steiner P4Xi 1-4x24mm scope. At the lower magnification levels, this scope offered effortless two-eyes open shooting as well, but as a true optic, didn't offer an uninterrupted field of view that the red dot provided. For a field rifle, I might keep the Steiner in place as the 4x magnification really comes in handy at 50 and 100 yards. For home defense use, the Crimson Trace CTS-1000 wins hands down.
I tested a boatload of 9mm ammo through this PC Carbine, mainly because it's incredibly fun to shoot. The seven-pound weight combined with 9mm chambering means that there is no appreciable recoil or concussion. This is a carbine that the whole family, even those skittish about big muzzle blast, will enjoy shooting.
I tested velocity of the PC Carbine because I wanted to see how much speed the 16.12-inch barrel would generate over that of the pistol. I'm including the results from the Security 9 pistol so you can see the difference.
| | | |
| --- | --- | --- |
| Ammunition | PC Carbine Velocity (fps) | Security 9 Velocity (fps) |
| Speer Gold Dot 9mm 124 grain | 1,277.7 | 1,091.7 |
| Federal HST 9mm 124 grain | 1,264.3 | 1,096.5 |
| Sig Sauer V-Crown 9mm 124 grain | 1,323.0 | 1,132.0 |
| Sig Sauer FMJ 9mm 115 grain | 1,309.7 | 1,106.0 |
| Inceptor ARX 9mm 74 grain | 1,660.7 | NA |
| Sig Sauer M17 V-Crown +P 9mm 124 grain | 1,257.3 | 1,142.0 |
| Sig Sauer M17 FMJ +P 9mm 124 grain | 1,438.7 | 1,225.7 |
| Federal Syntech Training Match 9mm 147 grain | 1,144.3 | 969.8 |
| Federal Syntech Defense 9mm 138 grain | 1,240.7 | 1,044.0 |
| Blazer Brass 9mm 147 grain | 1,201.3 | 969.3 |
So, in round numbers, and depending on the ammo, you'll get an extra 200 fps or so from the carbine, all else being equal.
I also tested the Ruger PC Carbine for Accuracy and measured the following five-shot group sizes from 50 yards.
| | |
| --- | --- |
| Ammunition | Group Size, 50 Yards |
| Speer Gold Dot 9mm 124 grain | 1.05" |
| Federal HST 9mm 124 grain | 1.42" |
| Sig Sauer V-Crown 9mm 124 grain | 1.27" |
| Sig Sauer FMJ 9mm 115 grain | 1.81" |
| Inceptor ARX 9mm 74 grain | 0.72" |
| Sig Sauer M17 V-Crown +P 9mm 124 grain | 1.18" |
| Sig Sauer M17 FMJ +P 9mm 124 grain | 1.31" |
| Federal Syntech Training Match 9mm 147 grain | 3.11" |
| Federal Syntech Defense 9mm 138 grain | 2.02" |
| Blazer Brass 9mm 147 grain | 1.05" |
A Quiet Carbine
The new Ruger PC Carbine comes with a threaded barrel. I'll have to look it up, but I'm pretty sure that means you have to put a suppressor on it, at least part-time, else you run afoul of the National Firearms Act and risk a penalty of having to surrender all your guns to me.
Anyway, the 1/2×38 threading is standard, so I popped on a SilencerCo Octane 45 silencer, taking care to replace the internal booster spring with a fixed spacer. As this carbine has a fixed barrel, you don't want to use a suppressor with a booster device else you'll risk an internal baffle strike and wonky performance. Ask me how I know the consequences of forgetting that little detail. Also, the Ruger has a rubber washer under the thread protector, so be sure to remove that too. In general, a suppressor should mount to the barrel without anything in between – with the exception of rigid spacer washers if needed.
I wasn't sure if I'd be able to find a subsonic load for this configuration or not, given the extra barrel length and resulting in higher velocity. Some loads I tested unsuppressed were right on the edge of the sound barrier. In my shooting conditions, the speed of sound on range day was 1,141 feet per second. You can find out the speed of sound for any temperature using a handy online calculator provided by the United States Weather Service. See, taxes aren't a complete waste.
Anyway, all of my tested loads ran supersonic so while the muzzle blast was muffled there was still the downrange supersonic crack. Then I remembered I had a stash of American Eagle 124-grain suppressor ammo. I figured the extra-long barrel, compared to pistols anyway, might still cause this load to break the sound barrier, but it didn't. In fact, the average velocity of this ammo was just 1,057.0 fps when fired from the suppressed carbine. It was quiet, quiet, quiet. I have to admit that I was a bit embarrassed to be firing this setup on the rifle line as my noise level wasn't nearly as ear-shattering as everyone else's.
The Bottom Line
The net-net of all this shooting is simple. One of you is going to be a very lucky dudette or dude. While this rifle feels a tad on the "heavy" side when you pick it up, that's one of its endearing qualities. It shoots like a .22 LR in terms of blast and recoil. As for versatility, you can do a lot with this carbine. It will make an exceptional home defense gun, easily usable by most any (trained) member of the family. It makes for a great vehicle gun. It's portable, so feel free to take it into the woods in your pack. It's also a super-fun range plinker. I'm having some serious heartburn about having to go and send this carbine to one of you. That's OK, however, I'll get over it. Your happiness will bring me joy and this rifle is worth every penny, so I'll be purchasing my own.
Ruger PC Carbine Specifications
Stock: Black Synthetic with Aluminum Free-Float Handguard
Capacity: 17
Barrel Length: 16.12″
Overall Length: 34.37″
Barrel Feature: Threaded, Fluted
Front Sight: Protected Blade
Rear Sight: Adjustable Ghost Ring
Thread Pattern: 1/2″-28
Weight: 7 lb.
Length of Pull: 12.62″ – 14.12″
Material: Aluminum Alloy
Finish: Type III Hardcoat Anodized
Twist: 1:10″ RH
Grooves: 6
Suggested Retail: $729.00
---
About Tom McHale

Tom McHale is the author of the Practical Guides book series that guides new and experienced shooters alike in a fun, approachable, and practical way. His books are available in print and eBook format on Amazon. You can also find him on Facebook, Twitter, Instagram, and Pinterest.