U.S.A. –-(Ammoland.com)- LWRC International (LWRCI) makes some of the best AR-15s available today. Their manufacturing is second to none and if you ask anyone from my 3 gun squads they will tell you I swear by my rifle.
Now, that may be due to the fact that I have been to their facility in Cambridge, MD. I have seen in person their intense manufacturing process and quality control that goes into every rifle they build. But, as the title implies, I have also shot this rifle for over a year as my primary firearm for eight multi-gun competitions.
I was fortunate enough to be sent an LWRCI IC DI Competition AR15 just a little over a year ago now. From the day it had shown up at my FFL in Virginia it has been my go-to rifle for every competition I've shot in that time.
This rifle has been tossed into garbage cans, had other guns thrown on top of it, shot through rain, has been in West Virginia's humidity and Colorado's dusty plains.
After all that time and use I do not have an accurate round count anymore, so I will do some estimates here. Last weekend's match saw me shoot 150 rounds of .223 in two days. Before that, I was practicing three-days a week for two straight weeks. Each time I went to the range, the rifle was in my hand and I would shoot anywhere from 100 to 200 rounds through it. After all that practice and competition, this rifle is probably close to the 2,000 round mark (if not more).
In all that time, there has not been a single malfunction. Not once did the gun fail.
LWRCI makes gorgeous firearms, the finishes, fit and tolerances all come together to create guns that maintain a feel of superior craftsmanship to others. Although they are pretty, they also perform.
Beyond proving itself to be unstoppable in function, the rifle has delivered impressive results in terms of accuracy. With a 1-7 inch twist rate, the barrel on this rifle prefers heavier rounds commonly preferred for competition.
From what I have seen 55 grain is best used for practice as it does not group particularly well. I myself have had very good results with Hornady's Frontier Military Grade .223 68 gr, which are loaded with Hornady BTHP projectiles. But I have also had good groups with 77 grain Sig Sauer match ammo and Federal Premium 69 gr Sierra Match Kings. Using the Frontier 68 grain as my primary competition load I have had sub-moa groups at 100 yards.
Accuracy has always been an impressive feature from LWRCI's firearms that go along with the fit, finish, and function we have already talked about. What you may want to know is, "why an AR-15 costs $2000 – $2300?"
The whole money is an issue thing, is one that 3 gun doesn't really care about. Competing in 3 gun is expensive no matter how you add it up: travel, hotels, food, ammunition, practice, competition entry fees, etc. A good competition gun does not make the shooter, but if you want to be competitive in these games you will need firearms that are designed to run fast, like this rifle. Compare the cost of this rifle to a custom-designed 3 gun shotgun or an STI pistol, and you will see that is actually a great deal, especially with all of the features the rifle includes. As Mr. French says: this is America, make more money.
LWRCI IC-DI COMPETITION Features
LWRCI DIRECT IMPINGEMENT SYSTEM
LWRCI PROPRIETARY DI BOLT CARRIER GROUP
LWRCI EXTENDED 14″ MLOK FREE-FLOAT RAIL
FULLY AMBIDEXTROUS LOWER CONTROLS: MAG RELEASE, BOLT CATCH/RELEASE, AND SHORT THROW SELECTOR
TIMNEY 6675 COMPETITION STRAIGHT TRIGGER
LWRCI ULTRA-BRAKE 4 PORT MUZZLE BRAKE
LWRCI AMBIDEXTROUS SLING MOUNT
LWRCI AMBIDEXTROUS CHARGING HANDLE
LWRCI SnakeSkin Pistol Grip with sight tool/battery storage
MAGPUL MOE RIFLE SOCK
This rifle is ready out of the box for any competition you might be looking at participating in. Some of the features on the list above that really make this a fast and flat shooting rifle are the ambidextrous controls, the Timney trigger, and the muzzle brake.
Ambidextrous controls are something LWRCI does for almost all of their rifles and for good reason: its a natural upgrade to the AR15. Whether it's using the right side bolt catch to show clear at the end of a stage or to send the bolt forward on a fresh magazine, the ambi controls benefit any user of the rifle. In competitions where seconds can determine a winner, those little benefits start to show through as valuable features.
One additional benefit of the ambidextrous controls is the ability of having the safety on the right side of the gun. Obviously, if you are a lefty this is big for you either way, but as a right-handed shooter, this ambidextrous safety selector will also benefit you on long-range shots.
If you are right-handed and shooting at long range you might already reposition your thumb from the left side of the grip to the right. What this does is help isolate your trigger finger's movements and help's reduce some of the side to side play you get from gripping the gun normally. With LWRCI's ambi controls, the right-side safety works as a fantastic thumb shelf during those longer shots. Is it necessary for making accurate shots, not at all. Does it work the way I'm describing, yes it does.
Beside including ambidextrous controls, LWRCI also added Timney's 6675 Competition Straight Trigger. As far as competition triggers go it is a very good option, with a single-stage brake at 3 lbs it is very easy to get on this trigger and go. It also has a clean brake and reset, so when you are shooting out to farther distances it easy to concentrate on manipulating the trigger alone.
In order to make a 3 gun rifle "ready for competition" you need a muzzle device that will eliminate muzzle rise and keep you on target for rapid follow up shots. The 4 Port "Ultra-Brake" from LWRCI that they include with the rifle does exactly that. It is also what one trainer referred to as a " buddy f***er device", in other words, you probably will not want to stand next to someone shooting this rifle. The 4 ports on either side of the brake allow the gases to escape in such a way that recoil and muzzle rise are greatly decreased. There are three small top holes on the device which control muzzle climb as gas escapes through them. I prefer the smaller top holes as I do not want a muzzle device forcibly pushing the gun down after each shot.
Some last benefits that have to be mentioned are the handguard, stock, and integrated sling points. To start, the handguard is slim enough for the C-grip used by many competition shooters, and also leaves you important rail sections if you want to run canted iron sights. The handguard also includes three integrated QD sling points toward the receiver end. These sling points are crucial, as adding sling points to the rail adds bulk that can get hung up shooting through ports. The final thing I enjoy about the rifle is the fixed-length Magpul MOE rifle stock, which also includes multiple sling positions, including four QD sling points.
Overall this rifle includes everything you could possibly need to take this rifle, add an optic, and go shoot a 3 gun competition. Whether it's double-tapping an A-zone paper target on the run or shooting out to 600 yards, the LWRCI IC-DI Competition rifle can and will do it.
---
About Duncan Johnson: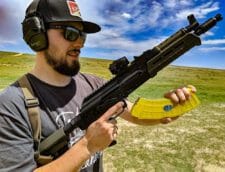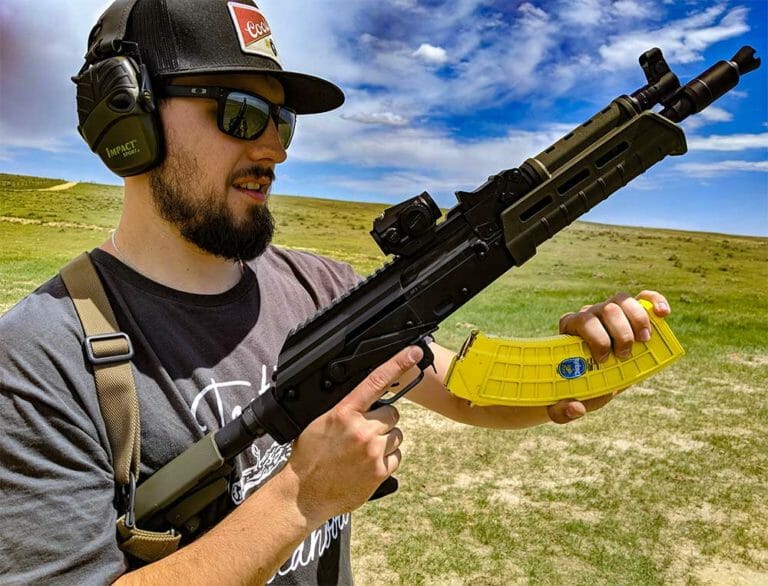 Duncan is a firm believer in the Second Amendment and that "shall not be infringed", means exactly that. A life-long firearms enthusiast and a graduate of George Mason University, now competing regularly in 3 gun competitions, Duncan is always looking to improve his shooting skills. Duncan is a regular contributor to AmmoLand and assists in the everyday gun-news publishing as an assistant editor.