U.S.A. –-(Ammoland.com)- Launched in 2018, Nikon Sport Optics' M-Tactical line is designed to provide a high level of optical quality and toughness at a mid-level price.  While I enjoyed testing Nikon's 6-24x Black FX1000 optic recently, that optic comes in at twice the price of this one.  Does the more budget-oriented M-Tactical hold up?  Lets get after it and find out.
Here are the M-Tactical's tech specs, as provided by Nikon:
Magnification: 3-12x
Tube diameter: 30mm
Objective diameter: 42mm
Weight: 20.5 ounces
Overall length: 13.1″
Waterproof/fogproof/shockproof
Reticle: MK-1 MRAD
Side focus parralax adjustment knob
Multi-coated lens
Second focal plane
Aircraft grade aluminum tube
Lifetime repair/replacement
Nikon also included an M-Tactical 30mm scope mount, a 1-piece aluminum alloy mount.
The M-Tactical was mounted on an LV Seven Weapon Systems AR, chambered in .300 blackout.  I've had this out to the range a number of times, here's what I think.
First off, I want to mention how clear the glass is.  Nikon has loads of experience in optical glass, and it shows.  All of their optics I've reviewed in the last three years have had this in common.  Whatever  else may or may not work, they have great glass that always outperforms the price range they're in.  The reticle is very nice.  The basics are clear and bold, but there's a lot of detail in the subtensions if you really want to dig down.  For a casual shooter, hunter or novice long distance lead-slinger, this is going to be one of the most natural reticles you can find.  For a more advanced shooter who may be using subtensions to range an animal (or person), there's plenty of meat on the bone here.
The turrets adjust with an audible, tactile click at each 0.1 MRAD notch.  The spring loaded, re-settable zero works just as you'd hope, making it easy to set your turrets to 0 after you've dialed in your hits.
The magnification adjustment ring was a bit stiff right out of the box, which is pretty normal.  A couple months down the road, it hasn't loosened up much but it is trending in the right direction.
Finally, let's talk repeatability.  A good scope "tracks", or functions like any other gear-driven machine.  If you turn over an engine until the first piston is top dead center, all other pistons should be in the exact same place as the next time you turn #1 to TDC.  Likewise, if you zero a scope, you should be able to adjust the turrets away, then back again without a change in zero (all other variables remaining constant).  The Nikon M-Tactical does this with no issue.  Many use the "box test", where they shoot a group, then adjust right, shoot another group (same point of aim) and repeat after adjusting down, left, and back up.  In the end, you should have groups 1 and 5 on top of each other, with groups 2-4 making the other three corners of a square, or a box.  As I'm chronically low on ammo, my method is more unofficial.  Once I've zeroed, I reset the turrets, then spin them back and forth in all directions before bringing them back to zero and shooting again.  Tracking?  Yes, it is.
While I've spent some great quality time with Nikon's M-Tactical 3-12×42, I still have more range time planned, and more ammo on the way.  I don't consider an optic review over as long as I still have it.  So far I really like the M-tac, and think there's plenty of reasons many others will too.  Nikon has really overhauled their line-up over the last couple years, and is still putting out some top quality glass.  If you've been on the fence, definitely give them a closer look.
---
About Rex Nanorum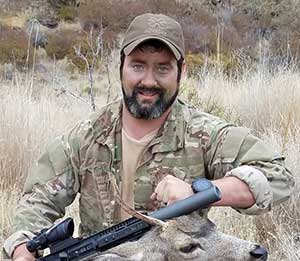 Rex Nanorum is an Alaskan Expatriate living in Oregon with his wife and kids. Growing up on commercial fishing vessels, he found his next adventure with the 2nd Bn, 75th Ranger Regt. After 5 tours to Afghanistan and Iraq, he adventured about the west coast becoming a commercial fisheries and salvage SCUBA diver, rated helicopter pilot instructor (CFII) and personal trainer, before becoming a gear reviewer and writer."