U.S.A. –-(Ammoland.com)- Rosco Manufacturing, a proud Rhode Island based manufacturer of quality American made gun barrels, accessories, uppers and handguards, is proud to announce their Red, White & Pew sale from July 1st to July 8th.
All your favorite Rosco products will be up to 20% off through-out the week. Take advantage of the 20% off savings on the Bloodline & Purebred barrel lines and take 10% off of all Bloodline & Purebred accessories. Get your build done this 4th with the most 'Merica discounts out this week!
Our Rosco 5.56 (NATO) barrels are designed to meet the modern day carbine shooters requirements. We are a long way from our daddy's "Sporter" AR, and those specs just won't cut it anymore. From properly managed dwell times for SBR's, to running Suppressed, or setting up a balanced patrol carbine we have incorporated your needs into our engineering. We have successfully accomplished this by picking the right twist rates, gas port diameters, and barrel materials according to the barrel we are making (not a lazy blanket method). We have also balanced input from our consumers and military end users in order to bring you the product you need, not just the one we want to sell you.
To see the Rosco barrels in action click here: Rosco videos For more information on Rosco Manufacturing and their products go to www.RoscoManufacturing.com
---
About Rosco Manufacturing: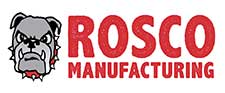 Rosco Manufacturing is an American manufacturer of hard-use & precision rifle barrels. Our production facility in Central Falls, RI has over 50,000 square feet of production space with room for high volume capacity. Rosco supplies major gun manufacturers (the world over) with high quality products. Through superior workmanship and unprecedented engineering, our product line continues to exceed expectations and provides a complete solution for the consumer and OEM.