PORTSMOUTH – -(AmmoLand.com)- Guyette & Deeter, Inc. conducted their annual summer decoy auction on July 23 and 24 at the Sheraton Harborside Hotel in Portsmouth, New Hampshire.
The auction grossed just under $2.5 million, with 53 lots selling for over $10,000 and 3 lots selling for over $100,000. Highlights from the sale included an important pintail by Elmer Crowell that sold for $265,500, a pintail drake and hen from the Kankakee Marsh that sold for $153,400 and $82,600 respectively, and a carved eagle banner by John Bellamy that sold for $126,260.
A pair of highly decorative wood ducks was an auction record for carver Dennis Schroeder at $12,390.
The sale featured decoys from the collections of Jonathan & Virginia Chua, Bruce Collins, Lillian Colodny, Jim & Diane Cook, Dick Cowan, Jim & Joan Deevy, Ginny & Gordy Hayes, Lynwood Herrington, Dr. Lloyd Newberry, Jim Karsnitz, Don Kirson, Robert Laurent, Doug & Ellen Miller, Dick Stephenson, Ron Swanson, and Carl Wallman.
Strong prices with competitive bidding on most lots are the growing result of an influx of new buyers that continue to have an impact at Guyette & Deeter auctions.
Guyette & Deeter's guaranteed condition reports, provided for each item, along with a trusted reputation for giving sound collecting advice, have worked to create a comfortable environment for their clients. Guyette & Deeter's goal is to provide advice that will encourage buyers to continue collecting into the future.
Established in 1984, Guyette & Deeter is the world's largest decoy auction firm with over $180 million in decoy sales. Three cataloged auctions per year are hosted in April at the North American Vintage Decoy & Sporting Collectibles Show in St. Charles IL; in the summer in Portsmouth NH; and in November at the Waterfowl Festival in Easton, MD. For more details, visit www.guyetteanddeeter.com. The firm also conducts weekly online auctions at www.decoysforsale.com. Since 1989, Guyette & Deeter has dominated the decoy auction market. In July 2018, Guyette & Deeter sold a mallard hen and drake by the Caines Brothers for $1,144,600.
Guyette & Deeter provides free decoy appraisals to anyone sending a decoy photo and stamped, self-addressed envelope to: Guyette & Deeter, PO Box 1170, St. Michaels, MD 21663. For email, send to: Gary Guyette: [email protected], phone: 410-745-0485 or Jon Deeter: [email protected], phone: 440-610-1768
---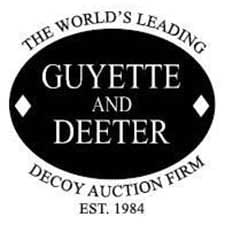 Guyette & Deeter's next decoy sale will be held November 6-7, 2019 in Easton, Maryland in conjunction with the 49th Annual Easton Waterfowl Festival. Quality consignments for the sale will be accepted until September 6 or until full.