U.S.A. –-(Ammoland.com)–  Recently I received an email announcing the opening of 5.11's 50th company-owned retail store.  As further evidence that the venerable gear company is pushing forward, I've been able to acquire a box full of 5.11's new products for Fall 2019.  Among the items within is yet another addition to 5.11's popular AMP line of backpacks.  The AMPC however, has a new trick up its sleeve.
Let's start with the basics first, with the tech specs from 5.11:
Main Compartment -17.25″H x 9.0″L x 5.0″D
Total Capacity – 976 cubic inch / 16-liter total capacity
Can mount directly to the backs of All Missions and TacTec® Plate Carriers
Included HEXGRID® 9×9 Gear Set™"
500D Nylon
Hydration bladder strap and full loop back panel in main compartment
Integrated Hypalon tab for zipper stop or compression
Gear Set™ compatible external & internal
Let's cover the functionality of the expected features and functions before looking at how the AMPC changes things up.  Regarding the shoulder straps, 5.11 has opted for a wide profile using lightweight material.  While this would get uncomfortable (quickly) with a bigger pack, the AMPC doesn't have the volume to get weighed down too much.  I haven't found the straps to be a comfort issue.
The AMPC continues a trend in the AMP line, with the inclusion of the 9″ x 9″ Hexgrid gear set.  The Hexgrid allows for pouches of nearly every attachment type to be mounted vertically, horizontally or diagonally.  If that's not your game, rip the whole panel off and you have a Velcro hook/loop sheet to slap on compatibly-backed pre-made gear sets, from 5.11 or other manufacturers.  Above the Hexgrid is a patch panel for nametapes, unit patches or killer morale patches.  Above that is a small pocket ideally suited for sunglasses.
The interior is similarly equipped, with a loop backing that allows for the gear sets to be mounted internally.  I have a hook-backed holster from a review long ago which not only secures one of my Glocks or my 1911 within the AMPC, it does so in any of the 360°'s I'd like.  There's also a couple zippered mesh pouches within, a handy place to store spare straps, cables or other miscellaneous tactical bric-a-brac.
There's a couple nice, bonus features to be found here as well.  Under the Hexgrid panel are a couple of straps, which interact with a could of tabs on the sides of the AMPC to either form a zipper stop or to compress the maximum thickness of the pack.  I've found the zipper stop to be more useful to me, as I don't want a pack that clamshells all the way open (except for photos), and the stop makes a great reference point to leave the zipper pull-strings at for easy nighttime access.
All the stitching has been done, and well.  I've gone over the AMPC with a fine-toothed comb, with no faults found to reward my time spent with something to loudly complain about.  5.11 has been doing this for a long time and doing it well.  They have the process down pat.
At first glance, the AMPC is a well-engineered, small-to-medium-sized day pack.  What sets it apart is its ability to stow the shoulder straps and attach to 5.11's plate carriers, either the TacTec or the All Missions PC's, turning it into a built-in mission sustainment kit.  Swapping it from backpack to PC attachment is a quick procedure, starting with unsnapping and stowing the shoulder straps in the hydration compartment.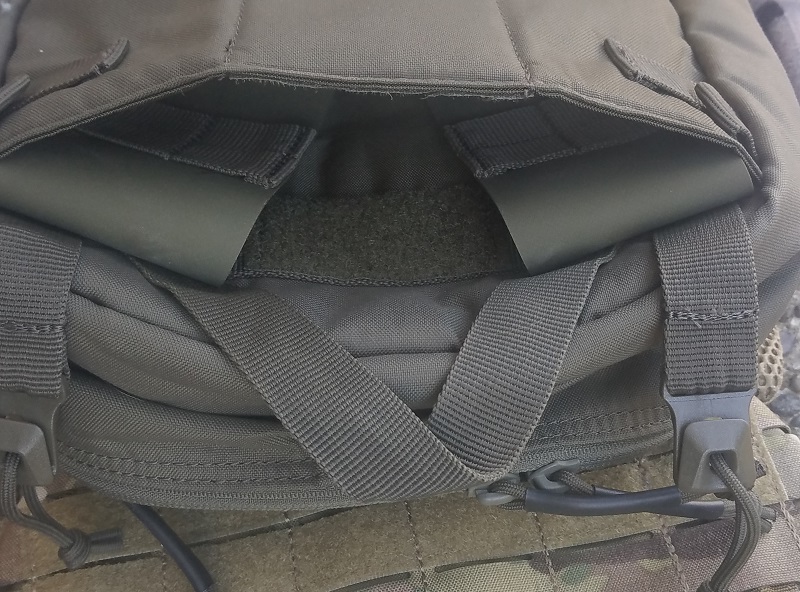 Weave the mini-straps found at the top of the AMPC through the top couple Molle rows on the plate carrier, securing them with the "fish-hook" end.  The bottom flap of the AMPC (unstowed) heads into the bottom of the plate carrier's cummerbund flap, and you're in business.
It's not surprising to see 5.11 coming out with new gear, that's expected of every company.  What's surprising to me are the fresh ideas and new twists the design engineers constantly bring to the 5.11 line-up.  The AMPC is not only well made as a standalone day-pack, its versatility as a plate carrier add-on just gives increased value.  5.11 is working hard to keep their lineup fresh and stuffed with innovation.  Well worth a look for the serious gear enthusiast or high mileage end-user.  The AMPC runs $119.99 and is available in Ranger Green, black or kangaroo.
---
About Rex Nanorum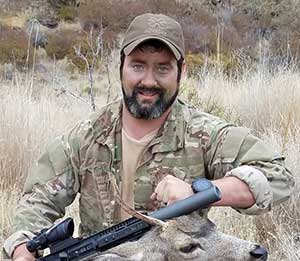 Rex Nanorum is an Alaskan Expatriate living in Oregon with his wife and kids. Growing up on commercial fishing vessels, he found his next adventure with the 2nd Bn, 75th Ranger Regt. After 5 tours to Afghanistan and Iraq, he adventured about the west coast becoming a commercial fisheries and salvage SCUBA diver, rated helicopter pilot instructor (CFII) and personal trainer, before becoming a gear reviewer and writer."