U.S.A. –-(Ammoland.com)- Gun owners are often a very passionate group: passionate about political issues threatening our rights, passionate about the latest and greatest products, even passionate about debating the merits and demerits of this brand versus that brand.  One aspect of shooting that seems to get less attention than many others however, is personal protective equipment.  This covers such items as eye protection, ear protection, and gloves.  Lately, I've been covering hearing protection, which continues today with Champion's Vanquish Electronic Pro hearing protection (hereafter Vanquish Pro).
The Vanquish Pro is the mid-line offering to Champion's new Vanquish line, sandwiched by the Vanquish (no Bluetooth), and the Vanquish Pro Elite (Bluetooth and active noise cancellation), among other differences.  Let's check the tech specs on the Vanquish Pro, as per Champion's website.
Safe Level Sound Compression Technology
Acoustic Foam for All Day Comfort
Sound Refresh Time <1ms
2 Full Dynamic Range High Definition Speakers
3 Omni-directional Microphones
5x Amplification
150-Hour Run time**
3 Hour Automatic Shut Off
Noise Reduction Rating of 24 dB
Available in Blue or Gray
AAA Batteries Included

**Without Bluetooth active. With Bluetooth, active 60-hour runtime.
Now let's cover range time impressions.  One of the first things I noticed when comparing the Vanquish Pro to the (many, many) other sets of ear muffs I have is the distinctive shape.  More like a capital "D" than a capital "O", the Vanquish Pro more accurately mimics the shape of a human ear.  This actually keeps the housing from protruding further forward than necessary, decreasing the likelihood of interference between a buttstock and ear protection.  Nice!
The electronics can be broken down into a few sections, so let's cover them one at a time.
First, the audio quality.  In a word, excellent.  The "Full Dynamic Range High Definition" speakers produce a really good sound quality.
The sound compression (cutting off loud sounds) is really fast.  Normally you can hear the circuit close just a fraction of a second after a gunshot, whereas the Vanquish Pro cuts off the noise and gets the volume back to where you set it like a bolt of lightning. <1ms is the advertised rate, and while I don't have a laboratory ready to verify that by empirical standards, I can say that it is noticeably faster than the Howard Leight Impact Sport set I (and a huge number of other shooters) use regularly.
Bluetooth.  I don't use it often, as my top shooting spots are outside of cell phone range.  There are times, however, that I really want to sling some G'N'R or Metallica into my ears while running targets back and forth on a long-range.  Connection with the Vanquish Pro was as easy as Bluetooth is supposed to be, though often isn't.
The omnidirectional microphones work well.  I had one of my kids out for a shooting lesson, and at no time did I have difficulty locating his exact direction by sound alone.  While maintaining visual safety during shooting is paramount, it was nice that my aural sense wasn't dampened at all by means of being protected from damage.
Just as important as the electronics themselves in headsets such as these is the shape of the ear cup and the material used.  The Vanquish Pro uses acoustic foam in an ear cup that is soft enough to really form to my head.  Straining my neck in all directions isn't enough to get the headset to "break seal" and let a blast of noise in.  I get aftermarket gel cups for most of my electronic headsets, but won't need them for these.  Using eye protection (Gatorz ANSI Z87+ rated Magnums) that have flattened earpieces with the Vanquish Pro leads to breaking the ear seal a lot less often than with eye pro that have more rounded earpieces.
One aspect of earmuffs that most don't consider until it's too late is the strength with which the headset snuggles your cranium.  Too much pressure often causes discomfort and headaches, while too little leaves your ear pro floppy and ineffective, or even falling off when moving.  The Vanquish Pro straddles the middle of the line and has shown comfortable to wear for hours at a time.
Bottom line:  the Vanquish Pro works, and works well.  This is a strong entry into the electronic hearing protection market by Champion.  The retail price on these from Champion is $124.95, with street price already down to $109.99 elsewhere.  As with any new product, I'd expect the price to come down even more in coming months.  As it stands, the Vanquish line from Champion is certainly worth taking a look at, and keeping an eye on.
---
About Rex Nanorum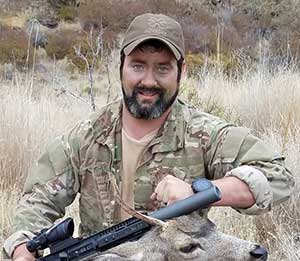 Rex Nanorum is an Alaskan Expatriate living in Oregon with his wife and kids. Growing up on commercial fishing vessels, he found his next adventure with the 2nd Bn, 75th Ranger Regt. After 5 tours to Afghanistan and Iraq, he adventured about the west coast becoming a commercial fisheries and salvage SCUBA diver, rated helicopter pilot instructor (CFII) and personal trainer, before becoming a gear reviewer and writer."