Opinion
Idaho –  -(AmmoLand.com)- I have a good life, but sometimes it is hectic. In the last six weeks, I don't think that I've been home 11 days. I just got home after midnight Friday from a two-week trip. I have a deal that I'm doing out of state for a month so I left my pistol and knife up there so I didn't have to check in luggage coming home.
Pachmayr Blacktail Folding Knife
Saturday morning I woke up and while changing stuff over to my new pants for the day, I remembered that I'd left my EDC in South Dakota but luckily while gone, a package had come in from Pachmayr. It contained had two folders-Their Pachmayr Griffin and Pachmayr Blacktail.
I was wearing shorts so I thought I'd carry the Pachmayr Blacktail since it is more streamlined than the Griffin and yet still has a 3-inch blade which will meet my EDC needs and provide self-protection.
At first blush I thought that the handle was about ½-inch short and a little too short in my hand for a good fit. But after carrying it for a few days I grew to like it. The flipper makes an adequate finger guard and the spine of the knife has thumb grooves. The handle on both sides has finger grooves so I feel like that I have a pretty firm grip while holding it.
Another nice feature is that it has an open design. By this I mean that it is open on top and bottom. This is an important feature if your knife gets wet a lot. You can wash the blade and it will dry out faster plus, if you slice a lot of sausage or other food during the day, the blade is not as enclosed which creates an insanitary condition.
The Pachmayr Blacktail utilizes a liner lock. On knives with liner locks you want to make sure that they go over far enough so as not to allow the blade to be able to inadvertently fold on you while doing stabbing jobs. On the Blacktail it is adequate. Some knives the liner lock only halfway covers the blade. But many times with a pair of pliers of a small flat head screw driver you can slightly bend the liner lock to further activate it.
My Pachmayr Blacktail Knife came from the factory pretty sharp. It is puzzling to me when a new knife doesn't come sharp and puts a question mark in my mind about a knife.
Sometimes I like a thinner profile knife for an EDC. For instance, when dressed up and wearing slacks or when carrying a pistol in my pocket or just to flat out reduce the bulk in my pocket. So if you want a thin profiled knife you ought to check out the Pachmayr Blacktail EDC. At a MSRP of only $23.98 it is a bargain.
As we close, I like the Pachmayr Blacktail and if you are in the market for what I would classify as a thin profile, medium sized folder then you ought to take a look at it.
Pachmayr Blacktail Folding Knife SPECS:
Overall length 6.75"
Blade Length 3"
Aluminum handle, drop point style blade. But the end of the spine is tapered down slightly so it has enough of a point that you can do your stabbing jobs.
Overall weight is 3.3 oz
8Cr14Mov steel folding knife with a black coated finish
From the Pachmayr website-The Blacktail is a sleek and slender knife that fits perfectly into your everyday carry. Equipped with a durable aluminum handle and coming in at and overall length of 6.75" the Blacktail not only looks great but functions flawlessly. From your everyday uses to on the job tasks the Blacktail gets it done.
---
About Tom Claycomb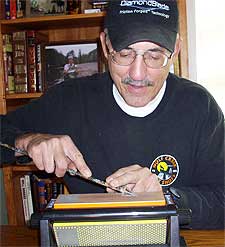 Tom Claycomb has been an avid hunter/fisherman throughout his life as well as an outdoors writer with outdoor columns in the magazine Hunt Alaska, Bass Pro Shops, Bowhunter.net, and freelances for numerous magazines and newspapers. "To properly skin your animal, you will need a sharp knife. I have an e-article on Amazon Kindle titled Knife Sharpening #Ad for $.99 if you're having trouble."
Some of the links on this page are affiliate links, meaning at no additional cost to you, Ammoland will earn a commission if you click through and make a purchase.