SEDALIA, MO – -(AmmoLand.com)- Starline Brass has added another caliber, the 30-06 Springfield to the growing lineup of high-quality brass. Starline's 30-06 Springfield brass is produced with the same demanding quality control standards for which it has been produced.
The venerable 30-06 was adopted in 1906 for the 1903 Springfield service rifle for the U.S. Military. Since then, this utilitarian round has been chambered in an abundance of rifles in every action type. The 30-06 has been touted as one of the most versatile cartridges of all time due to the wide variety of projectiles available, and when the proper bullet is selected, the 30-06 is large enough to take on any game in the Western Hemisphere and almost anything in the Eastern Hemisphere.
To order Starline 30-06 Springfield brass cases, please visit a dealer near you or order factory direct online at www.starlinebrass.com.
At Starline, multiple hand and machine inspections ensure cosmetic and dimensional characteristics meet the highest level of exacting standards. All Starline cases are contained between each step of the manufacturing process to maintain superior quality and consistency.
Starline's high-quality case lineup now includes 300 Ham'r, 350 Legend, 348 Winchester, 375 Winchester, 5.56x45mm, 222 Remington, 30-30 Winchester and 7.65 French Long.
Starline is a family-owned business that prides itself on producing the highest quality brass cases available at the best possible price. For more than 40 years, Starline's unique manufacturing process and commitment from their team of employees has distinguished Starline from the competition. Starline is now using that 40 years of experience to build a complete line of premium rifle cases.
---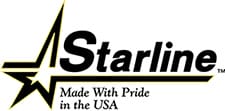 Stay up to date with Starline's new handgun and rifle case releases, exciting promotions and other great content.
Follow Starline at:
www.starlinebrass.com
www.facebook.com/StarlineBrass/
www.youtube.com/user/StarlineBrass
www.twitter.com/starlinebrass
www.instagram.com/starlinebrass