U.S.A. –-(Ammoland.com)- Grayboe has been making precision rifle stocks for around 3.5 years as of the time this will be published (Q4 2019).  They have a great deal more expertise than that would lead you to believe though.  Co-founders Ryan McMillan (son of McMillan Firearms Manufacturing founder Kelly McMillan) and Gregg Arthur have compiled decades of experience in the manufacturing and real-world use of quality rifles.  A few months ago, they sent over the Grayboe Terrain, a stock that (on paper) was to be a major upgrade from the OEM Hogue stock that came on my Remington 700 SPS Tactical AAC-SD (.308).  How has it worked out?
If you want a refresher on the minutia regarding the stock's specs, or installation, check out my install article here.  Otherwise, here are the broad strokes:
Minimalist stock, providing some "Tactical" options while keeping weight down (2.5 lbs)
Aluminum pillar-bedded
Three flush QD cups and two studs
Detachable Magazine Bottom Metal (DBM) accepts AICS pattern mags
Fiberglass injection-molded, not a shell
After install, I picked up a Magpul AICS pattern 5-round mag as deer season was approaching.  A 10-round mag is also available.  I hit the range with some 168gr Norma Match ammo, with it's Sierra Matchking  HPBT projectile.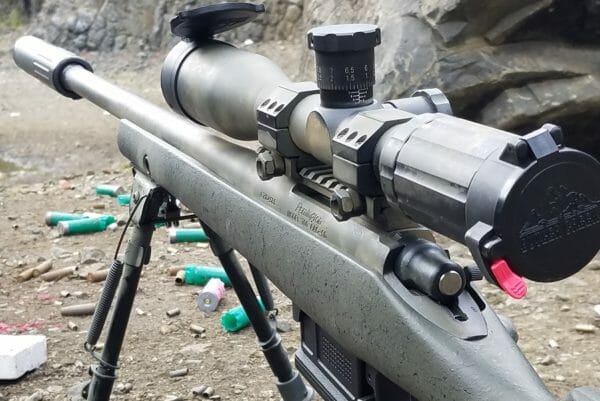 I've run this rifle for years, and have a pretty good idea of what kind of accuracy I and it combine to produce with good ammo.  I'm not an amazing bench rest shooter, so I'm happy when I get real-world 1.5-2 MOA at a moderate pace-of-fire with this rifle.  This gun regularly does that, and with a wide variety of factory ammo.  I know I'm the limiting factor here, except when shooting suppressed on a bipod.  The OEM Hogue stock touches the barrel with the slightest pressure, opening up groups unpredictably.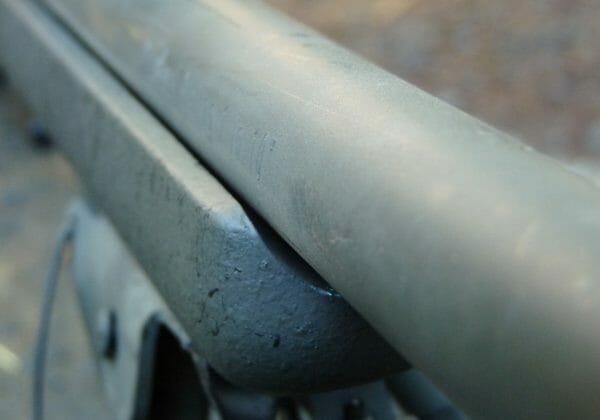 My first three shots through my now Grayboe-equipped Remington 700?  Point-two-inches (.38 moa) at 50 yards.  I was so happy, I pulled my head off the stock to yell over to my neighboring shooter.  After I got back into firing position, I proceeded to shank the next shot a full inch away.  This is why you finish the group before you brag!
My worst group at 50 yards was 4 rounds in a .76″ (1.24 moa) glob.  Fast firing led to some vertical stringing as the suppressed barrel heated up.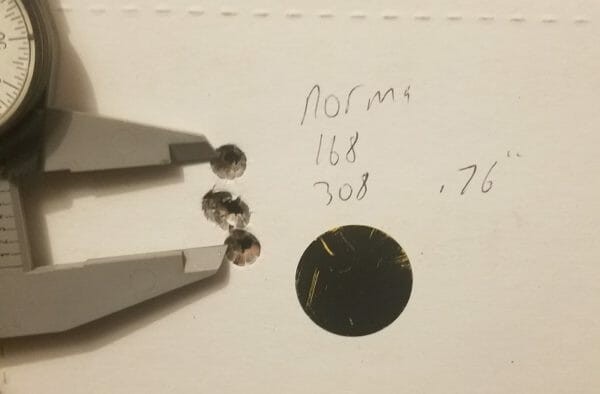 I moved the paper back to 100 and was able to get one group of 4 rounds off before my day was forced to an early end by a big crowd.  That group: 1.65″ (1.57 moa).  The upgrade from a gummi-stock to a Grayboe stock seems to have yielded a slight, though measurable improvement in accuracy.  While it's clear the weak link in the chain here is the shooter (as usual), the comfort with which the Grayboe Terrain interfaces with me (and not the barrel) is clearly a step up.
But free-floating and pillar-bedding are only a couple of the features that came with the Grayboe Terrain.  The DBM adds versatility my ol' bolt gun.  The utilitarian benefits of a detachable mag are the reason nearly every bolt-action rifle the military issues has a DBM.  Organizing different ammo types, faster reloading and protecting match rounds are but a few of the most obvious.  Even for those who use their rifle primarily for hunting or range time will find value in switching over.  The Grayboe Terrain's DBM works great.  The magazine is kept snug, though not excessively tight.  The mag release is fairly easy to engage, and is out of the way enough that it won't snag unintentionally.  I didn't have any issues with either the magazine or the steely inlet itself, save for needing to build some new muscle memory.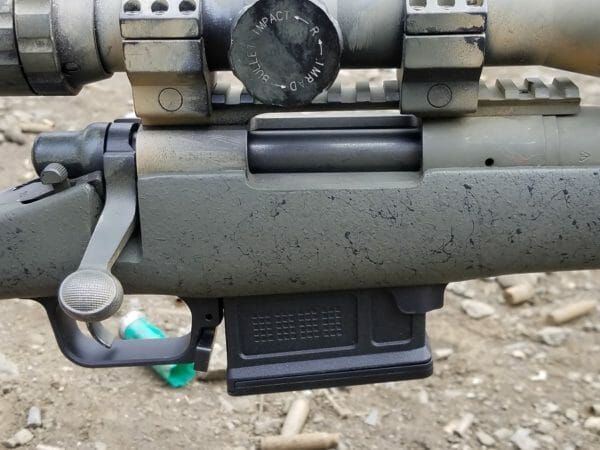 There's a lot I like about the Terrain.  Fit and finish are awesome.  The stock is comfortable to carry and to shoot with.  The Pachmayr Decelerator recoil pad takes moderate recoil and reduces it to mild.  Multiple posts and flush cups give you options for your bipod and sling.  For me, the two biggest bonuses over the OEM stock was knowing the barrel and action were secure and clear (free-floating and pillar bedded) and adding in the ability to use detachable magazines.  Grayboe has a few other stocks, each with a good number of options.  If you're looking to bump up your bolt gun, go check em out!  The Terrain as shown runs $359.
---
About Rex Nanorum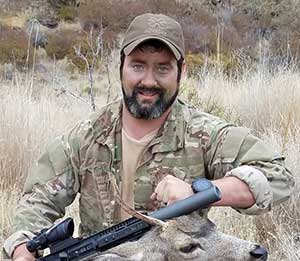 Rex Nanorum is an Alaskan Expatriate living in Oregon with his wife and kids. Growing up on commercial fishing vessels, he found his next adventure with the 2nd Bn, 75th Ranger Regt. After 5 tours to Afghanistan and Iraq, he adventured about the west coast becoming a commercial fisheries and salvage SCUBA diver, rated helicopter pilot instructor (CFII) and personal trainer, before becoming a gear reviewer and writer."