Gunsmith, Michael Ware, gives us the low-down on what you need to know about gun coatings or firearms finishes. From do-it-yourself spray cans to kiln baked-on heat-resitant gun barrel coatings.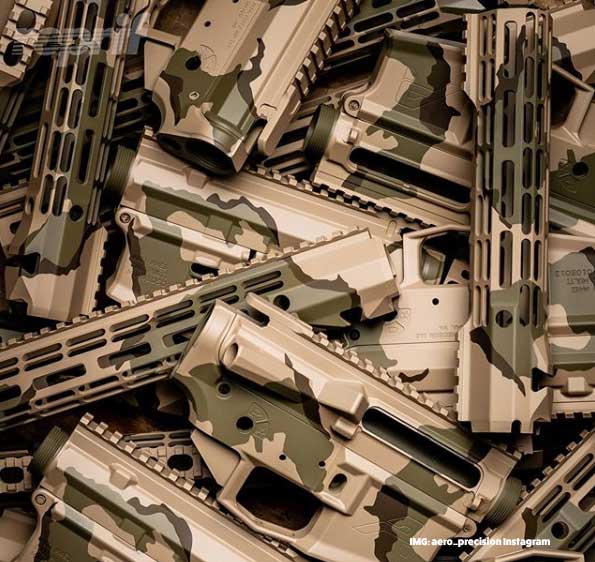 USA – -(AmmoLand.com)- Nearly every tangible item we care about we personalize. Whether this happens to be a smartphone background picture, a new 4×4 pickup, or a used Harley-Davidson, we put our touch on them. I do a tremendous amount of customization on firearms for my clients. ; either, some customization is for function. But the lion's share is cosmetic, especially when it comes to the finish and color of a firearm or weapon.
There is no shortage of coatings material out there you can use on a weapon. These range from really tough monochromatic finishes to simple spray paints. I've seen it all, and used them all, depending on the request and demand of the gun customer. Prepare your parts as directed, and you'll do fine.
Here is my experience with the following firearm finishes that I like to call the Good, the Bad, and the Ugly.
Gun Coatings or Firearms Finishes
Rattle Can Spray Paint
Krylon? Yes, I've used Krylon camo spray paint #ad on a weapon. While not my first choice, there are two cases in which I'll use it. Some "authentic" AK genre weapon collectors will ask their arms be spray-coated with paint from a rattle can, "just like the Ruskies did" back in the day. I'm not advocating for or against that. Unless there is a moral or ethical hurdle to jump, I do what the customer asks. I have done quite a few precision rifles in a single-color H series Cerakote and baked the parts in the kiln. It isn't common for a true operator to ask this of our shop.
A light or medium brown is common. From there, we Krylon over the light brown Cerakote with a green color and shapes the operator will encounter in his work. When he's done, or the season and/or geography changes, he'll just use a can of brake cleaner #ad to rinse off the green and change the vegetation color to something lighter or darker. I've even seen white used in snowy conditions. Krylon paints are easy to use and are not a permanent commitment; just follow the directions on the can.
Duracoat Firearms Coatings
Duracoat has been around for a lot of years. Duracoat firearms coatings require a catalyst and will air cure over time. If you can afford to set aside your work for a month after you've completed it, the curing process is usually about as done as you'll get. You'll need an HVLP spray gun #ad (high-velocity low pressure) for this and some dry air source, like most spray-on finishes, but it is easy to use and consistent. They offer a Duracoat in a rattle can as well. Same as any finish, it does requires thorough mixing, but isn't too hard to use.
Norrell's Moly Resin
For several years, we had requests to use Norrell's Moly Resin. That has tapered off some, but John Norrell has been putting out a consistent product for a long time. Besides, he's an NFA guy from way back, so I have a special place in my heart for those guys. I like using Norrell's, especially when dressing out, making "period correct" Colt AR-15 rifles. They have a product that is hard to beat in that particular grayish-green that looks exactly like the original Colts. After you apply the finish, it is cured in a kiln or oven. Norrell's is pretty straight forward to buy and use. Shake and bake, baby…
Brownells Aluma-Hyde II
Just a few short miles from my shop is Brownells. I have a love/hate relationship with Brownells. I love their product offering and hate that they drain my wallet as fast as I can fill it. Having Brownells located 25 minutes from your house is akin to having extra children that demand $100 bills multiple times throughout the week. Brownells offers ,a product called Aluma-Hyde II. The original gun coating formulation was beefed up in recent years to resist harsh chemicals, thus the "II" designation.
Aluma-Hyde II is pretty easy to use. You use it as you would any spray paint from a can. I'll caution you, though, when they encourage you to shake it well, they're not joking. If your arm isn't sore after shaking it up, you haven't shaken it long enough yet [see the Norrells' coating shaker video tip above.] My other concern is how quickly the product comes out of the nozzle. This is truly a case of testing it on a piece of cardboard or the likes first. If you don't take a few moments to familiarize yourself with the rate this coating comes out, you'll have some problems. Be thorough, and you'll do fine. Find a nice place to let your work cure for a few days, and you're ready to roll.
KG Industries Gun Kote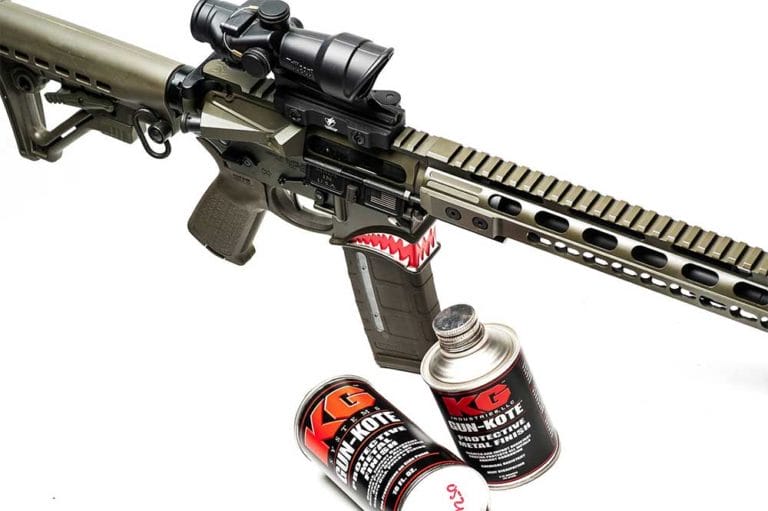 KG Gunkote is a common these days. We use the 2400 series product often. It is just about as simple as they get. Shake it well, spray it, and cure it in the kiln. No catalyst is required. KG has been consistent as the sun coming up on color rendition and sheen from batch to batch, so matching something or doing a repeat job for the same customer isn't tough with KG Gunkote. We use it quite a bit.
Cerakote Firearms Finishes
The product we use the most in the shop is Cerakote. There are different products of course, depending on which you need to accomplish, but by far we see the most call for H series. Cerakote C series doesn't require a catalyst and is a high heat application. I use it on machine gun barrels, suppressors, and things that get really hot. However, literally 90% of what product and type that gets sprayed in my paint booth is Cerakote H series. Depending on color it can be a tad fickle to apply, but the results are good. If you have any HVLP skills you'll be fine. They even have a Cerakote air dry spray coatings products if having a kiln is out of the question. Cerakote is used by some of the biggest names in the gun world including Ruger.
Some of these options truly lend themselves to a gun coatings or firearms finish applicator with experience. Most on this list do. However, the Krylon is pretty straight forward. It just won't hold up to much use, abuse, or any chemical that might make your eyes burn. For the do-it-yourself crowd, the spray can finish you can choose can both be found at Brownells and directly shipped to your house. If you don't want to take on the painting challenge yourself, you can always send you guns to me at Controlled Chaos or the coating pros at WMD Guns, either of us can get the job done for you. Stay well-armed.
---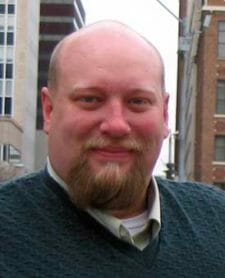 About Michael Ware:
Michael is a Christian husband and father to two children. He owns and operates Controlled Chaos Arms, a premier custom weapons shop in the Midwest. He serves as Chairman of the board of Directors at the Iowa Firearms Coalition. The pursuit of truth drives him in research and his writing.
Michael enjoys shooting, hunting, and fishing throughout the Midwest and Rockies. An avid outdoorsman and tireless supporter of all Second Amendment virtues, he can be found in his gun shop, in a tree stand with his kids, or on Capitol Hill lobbying in support of Freedom and Liberty at any given time.