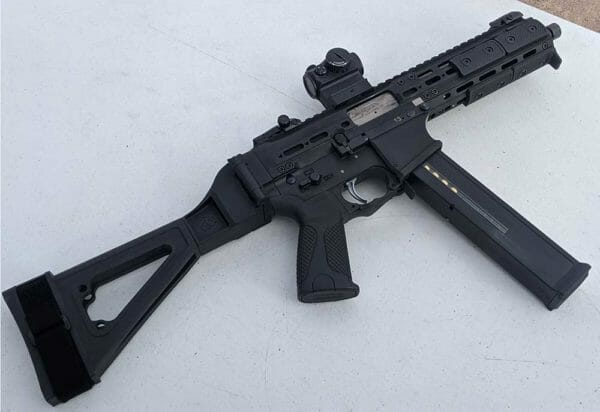 U.S.A. –-(Ammoland.com)- SHOT Show is always a blur.  You shake hands with around a thousand people, shoot a couple of dozen guns for a few seconds apiece and see so many more that they tend to blur together.  When it's all over, I get to sift through my collections of pictures, business cards, and my notes to see what stands out most in my memory.  One gun made available to my editors and I at range day was the LWRC SMG 45.  It was a remarkable shooter, and it's one we're still talking about.
The full spec sheet is long and best suited for a full hands-on review.  The cliff notes are:
8.5″ cold hammer-forged chromoly steel barrel with 1:16 RH twist, 6-groove rifling
Fully ambi lower
Reversible non-reciprocating charging handle
Uses UMP mags (USA made)
5.9 lbs and 15.25″ (26″ with brace unfolded)
The LWRC SMG feels like is was designed by HK engineers with their Teutonic precision powers, then given a once over by an American design team with a thorough understanding of how the human body functions and what an ergonomic gun feels like.  The resulting gun has an extremely intuitive layout, handles well and feels solid as a tank, just not as heavy.
The .45 ACP is a legendary round, both for its longevity and for it's reputed success in live engagements.  Few people doubt the effectiveness of a .45 (compared to other handgun rounds), but it isn't necessarily known as a precision round.  That's one thing that made the SMG 45 stand out so much; this thing was easy to shoot accurately with.
There was an e-type steel target at the 50-yard line, with a circle over one shoulder that swings to the other side when hit.  It wasn't hard to bounce that thing left-right-left all day long.  Sure, when you pop any pistol caliber into an SMG configuration it's going to be easier to hit with than a handgun, but this was something else.  Similarly, transitioning through the targets side-to-side was slick, the SMG 45 sweeping smoothly and stopping on a dime.
Recoil?  Fuhgeddaboutit.
I don't want to bloviate too much about the SMG 45 until we get one in-house for a reviewer to really dig into.  In the meantime, you can head over to LWRCI's website if you want a bit more info on this gun. We can also report that a 9mm version of this firearm is in development. Although the time table for the 9mm release is not certain they are hoping to bring one to market this year!
Check out Burst Reviews First Shots Video:
---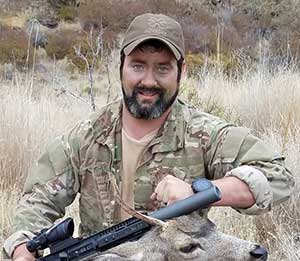 About Rex Nanorum
Rex Nanorum is an Alaskan Expatriate living in Oregon with his wife and kids. Growing up on commercial fishing vessels, he found his next adventure with the 2nd Bn, 75th Ranger Regt. After 5 tours to Afghanistan and Iraq, he adventured about the west coast becoming a commercial fisheries and salvage SCUBA diver, rated helicopter pilot instructor (CFII) and personal trainer, before becoming a gear reviewer and writer."