U.S.A. –-(Ammoland.com)- I just started testing an Outdoor Edge Trailblaze folder. Everyone periodically needs a cardboard cutting, inexpensive functional EDC folder, don't they? You know, one that can stand up to the everyday abuse that we're going to deal out to them. And yet we don't want some piece of junk that is going to break or malfunction right in the middle of a crisis. And also, you need to always carry a functionally designed knife because, how many times have you forgotten to take your good knife on a hunt and suddenly realized that the only knife that you have on you is the EDC bang around knife you have on you?
This happened to me a few years ago. I wanted a bear to make some sausage, I had some Hi Mountain sausage spices that I wanted to test out so I ran up one afternoon after work and shot a bear. I took a few pics and then realized, oh no. Of all the people in the world, I had forgotten to throw in one of my good skinning and boning knives. Unbelievable, I must have 52,000,000 knives at home and all that I had on me was some Joe Cheapo folder so I had to skin out and quarter the bear with that. Hopefully I go another 50 yrs. without making that mistake again.
So the moral to the story is, always carry a functionally designed knife, even if it is a cheaper one. That way in a pinch, you can handle the job before you with what you're carrying.
I liked the Outdoor Edge TRAILBLAZE folder right when I pulled it out of the box. To begin, the spine of the blade is somewhere around 3/16" higher than the handle. This means that when you are cutting with the Outdoor Edge TRAILBLAZE,  your thumb is pushing up against the spine somewhat and is not as likely to slip and slide forward. The spine has thumb grooves which further enhance your stability while working with the Outdoor Edge TRAILBLAZE.
Then there is a slight finger groove for your pointer finger. This feature doubling with the two above features makes you feel like you have a firm grip on the TRAILBLAZE. The TPR inserts further enhance your grip plus, the handle is big enough that my whole hand has a firm grip on the knife.
The Outdoor Edge has thumb studs to aid in opening the blade. It has a single position pocket clip, but since I am right-handed that is fine for me. If you are in favor of lanyards on your folders, then take heart. There is a hole on the hilt so you can tie on a lanyard.
It utilizes the lockback system to lock the blade open. To reminisce just a second. It is hard to believe that decades ago as a kid, I don't know if I ever saw a locking folder. Maybe my memory slips me but the first one I ever had was an old G96 that I started carrying in high school. Locking blades have saved a lot of cuts to their users.
The Outdoor Edge TTRAILBLAZE is offered in two sizes:
Of course, I like the 3.3" option. Mine came from the factory pretty sharp. The knife is what I would call a thin to medium-sized profile. I like that. The older I get, the less I like bulky knives. Especially folders with pocket clips. They block access to my pocket.
As we come to a close, I'd have to say that if you're in the market for a functional EDC, then you need to check out the Outdoor Edge TRAILBLAZE. The MSRP is only $20.95 so that's an economical price for a functional EDC folder and as is usual, we will close with the specs.
Blade: 2.5 or 3.3 in / 6.4 or 8.4 cm
Overall: 5.75 or 7.5 in / 14.6 or 19.0 cm
Steel: 8Cr13MoV
Handle: Glass/nylon polymer with TPR inserts
Weight: 1.2 or 2.6 oz / 34 or 74 g
Reliable lockback
Nonslip grip
Pocket clip
One-hand opening dual thumb studs
Easy to spot blaze- orange handles
---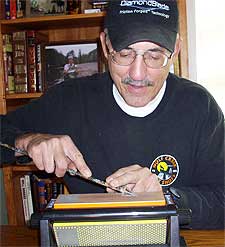 About Tom Claycomb
Tom Claycomb has been an avid hunter/fisherman throughout his life as well as an outdoor writer with outdoor columns in the magazine Hunt Alaska, Bass Pro Shops, Bowhunter.net and freelances for numerous magazines and newspapers. "To properly skin your animal, you will need a sharp knife. I have an e-article on Amazon Kindle titled Knife Sharpening #ad for $.99 if you're having trouble."