U.S.A. –-(Ammoland.com)- About 6-8 yrs. ago a buddy of mine Don Morrow walked into my office and said Tom, you've got to test out some Alien Gear Holsters. I quizzically asked him who is Alien holsters? Since that first introduction to the Alien name, they have made a big splash in the holster market.
The CCW market has grown exponentially since I obtained my first CCW card nearly 30 yrs. ago. Back then the best I remember we pretty much only had shoulder holsters, regular holsters, and a few very weak IWB holsters. Nowadays, there are more variations than you can shake the proverbial stick at. And not only more variations but more manufacturers which opens up more new ideas.
And in due time I will cover other models but, in the meantime, the shoulder holster is still the coolest method to conceal your handgun isn't it? I know, I know, it won't work in all situations but when it does, I think it is still a cool option.
I've got a few shoulder holsters but the coolest one is the Alien ShapeShift holster that I am currently testing. Not only is it comfortable to wear but it offers options as to how to wear it if you want to carry two pistols, one pistol and two magazines, left hand, right hand, pistol canted more upwards, etc. etc.
We carry a pistol because we live in a dangerous world. I was helping a buddy get his plant going the other day and things seemed all smooth and hunky-dory. I was working in a certain spot and they were way behind. Everyone left for lunch so I stayed and tried to get them caught up and clear off a working space for them. After they came back from lunch, I ran up to eat a bite right fast.
Who knows what transpired but in a hot second two guys got into a big fight, then one of the instigator's brothers ran over and jumped in and it went downhill fast? It was soon a baseball size brawl.
Here is why I say the above, one-second things can seem to be going smooth, and then in a hot second all heck can break out. Luckily in this fight, everyone fought using only their fists. But what if you run into a bad deal with two or more thugs out on the streets?
That's why it is good to have a couple of extra magazines with you at all times. Do I always? Unfortunately, no. But you should. Many times, if I'm just running to the store right fast, I'll just throw my little .380 into my pocket. Unless someone is drugged up usually there will be more than one low breed causing trouble. So, if you put 2-3 shots into one, miss once or twice, and then are in a firefight with another one or two you're dangerously low on ammo if you're carrying a small capacity .380. Don't get in that situation.
The same type of scenario when tracking a bear. If you take a couple of shots with your pistol, when you have a second dump the cylinder, slap in a Harris Speed Loader and refill. That way you have 6-shots at hand. So, it is important to carry speed loaders or extra magazines and have them handy. I could go on and on but you get my drift.
Who doesn't love the 1911?
It is the coolest pistol ever made. My dad carried one as a B24 pilot in WWII. So I had to get a Ruger SR1911. I love it and I love carrying it. The only slight drawback as in the scenarios mentioned above is that it holds 8 +1. But if I'm wearing an Alien ShapeShift Shoulder Holster I'm set. It has two mag carriers to carry extra magazines so now I've got 25 rounds at my fingertips.
This is the coolest shoulder holster that I've ever owned. So that I don't do this Product Review an injustice, check out this video that Nate made that highlights all of its attributes. It has a lot more features than any other holster that I own.
The MSRP for the Alien ShapeShift Holster is $133.88 and as is usual, we will close with the specs:
Universal Fit—Adjusts to virtually any body style in a few simple steps
Customizable Design—Optimize your retention and draw angle in seconds
Breathable Comfort—Stay cool and comfortable with breathable CoolVent™ Neoprene.
This American-made holster is fully compatible with the ShapeShift Modular Holster System and can be customized to suit your shoulder carry needs right here on this page. Choose to carry two firearms, one firearm and two magazines, or a variety of other carry combinations. If you already have Cloak Mag Carriers, easily attach them to this modular holster in seconds.
Breathable CoolVent™ Neoprene lines the inside of each adjustable shoulder pad, keeping you cool and comfortable all-day long. For a classy, sophisticated finish, this shoulder holster is handcrafted with full grain English Bridle leather, which is edge bound for enhanced comfort.
Firearm security is at the forefront of this holster's design. To keep your handgun safe, this Level III Holster provides three optional retention devices including adjustable passive retention, thumb release and a thumb break. The Cloak Mag Carriers also offer adjustable passive retention if you choose to add these magazine buckets to your shoulder holster.
With the ShapeShift, each strap can be easily adjusted to fit most body types. If you're not happy with the fit of your shoulder holster, send it back within the first 30 days for a hassle-free refund.
We back every American-made product with our Forever Warranty. If anything breaks on your holster for any reason, we'll repair or replace it for free.
---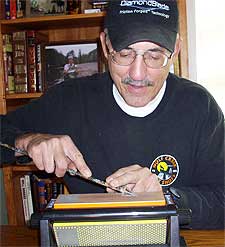 About Tom Claycomb
Tom Claycomb has been an avid hunter/fisherman throughout his life as well as an outdoor writer with outdoor columns in the magazine Hunt Alaska, Bass Pro Shops, Bowhunter.net, and freelances for numerous magazines and newspapers. "To properly skin your animal, you will need a sharp knife. I have an e-article on Amazon Kindle titled Knife Sharpening #ad for $.99 if you're having trouble."