U.S.A. –-(AmmoLand.com)- I've tricked out a few Ruger 10/22's. If you're wanting to see how accurate you can get your Ruger 10/22 or for that matter any .22, there are two big items that stand way out in front. Shoot quality ammo (all .22 ammo is not created equal) and replace your factory trigger.
If you have never shot a good trigger then you're just going to have to trust me on this one. To prove my point, grab any of your rifles for this test. Make sure it is unloaded. Cock it and put the safety on. Aim at a safe spot and try to squeeze the trigger. Notice how you pull it off to one side? That's what you do if you have a rough trigger. Now take off the safety and squeeze it again. Notice how if it is a bad trigger you tend to pull it off sight while squeezing?
This is the case with all of the factory Ruger 10/22 triggers that I have shot. So why are factory triggers so rough and heavy? Partly because they are factory triggers and not custom triggers but mainly because if they make a hair-trigger, they will get sued out of business.
But regardless, if you want to tighten your group with your Ruger 10/22 the first step is to replace the trigger. Some of my buddies have some super light triggers. You might not like them but you do want less than a 3.5-5 lb. rough factory trigger.
You hear a lot of terminology thrown out there when discussing triggers. Creep, is it crisp, rough triggers etc.? I'm by no means an expert but on a bad or rough trigger you will begin pulling then it gets a little more resistance and you may have to pull a little harder which is basically like jerking the trigger and then it goes off. You don't want to deal with all of this. Just buy a good Timney Trigger and your groups will tighten. The trigger pull on the Calvin Elite Replacement Trigger for the Ruger 10/22 is 1.5-2 lbs. and it has no creep.
IS IT HARD TO INSTALL A TIMNEY TRIGGER?
I've installed quite a few Timney Triggers but I remember on my first one I was nervous. I'm by no means a gunsmith so I read the instructions and finally got up the nerve to try to install it. The first step is to remove the action & barrel from the stock. This is simple. Remove the bolt in front of the trigger guard that holds them together. On some models, it will also have a barrel band at the front of the stock. Just loosen the screw and slide the band off.
Next, the instructions said to remove the two pins and the Ruger trigger will drop out. They don't always do this but on my first one when I removed the rifle from the stock the two pins literally fell out. I thought hmmm, wonder if that is the two pins I am hunting for? They were. It was that easy. They don't always drop out on their own but many times they do. If one is a little stuck just poke the end with the tool included in the kit or with a small screwdriver and it will come out right out.
Remove the Ruger factory trigger and replace with the Timney trigger and replace the two pins. Slip back into the stock and bolt it back together. To slide it back in the stock you may have to position the safety into a halfway position.
You are now good to go. It is that easy.
The Calvin Elite Replacement Timney Trigger has a cool option that the others don't have and that is that they include three finger shoes. They are easily switched onto the trigger. The MSRP is $269.99 and as is usual, we will close with the specs.
SPECS:
This Timney set the standard for aftermarket upgrades for the 10/22® rifle
A drop in, complete assembly trigger
Features an extended magazine release designed by Timney
The trigger is set at 1.5 – 2 pounds from the factory, with no creep
The shoes are adjustable for length of pull, cast and height for the ultimate in custom comfort and positive contact
The Ruger 10/22 CE offers a custom fit and lighter pull weight
Trigger allows you to become more accurate with your rifle
No gunsmith needed, easy to install
Operates with one finger for exceptional ease and accessibility in the field
Ready for the range, no adjustments needed
Provides a custom fit for every shooter
---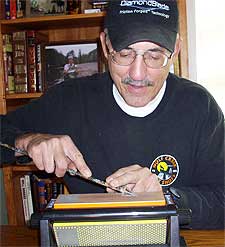 About Tom Claycomb
Tom Claycomb has been an avid hunter/fisherman throughout his life as well as an outdoor writer with outdoor columns in the magazine Hunt Alaska, Bass Pro Shops, Bowhunter.net, and freelances for numerous magazines and newspapers. "To properly skin your animal, you will need a sharp knife. I have an e-article on Amazon Kindle titled Knife Sharpening #ad for $.99 if you're having trouble."