Disclosure: Some of the links below are affiliate links, meaning at no additional cost to you, Ammoland will earn a commission if you click through and make a purchase.
U.S.A. –-(AmmoLand.com)- I recently received a Spyderco Native Chief to test. Every time I test a Spyderco knife I don't want to say that I am scared but due to them being so sharp coming from the factory let's just say that I am extremely cautious. And the Spyderco Native Chief turned out to be no exception. I hate to be a little girly man but my palm is still numb from getting stabbed cleaning a buck last November and last night I just pulled out the last stiches out of the other side of the hand from another recent cut.
If you're looking for a high-class, functional no-nonsense EDC then you ought to check out the Spyderco Native Chief. Here's why I say this. First off, it has a full-sized handle. A man-sized handle. Not a wimpy little thing that you're holding with 3 ½ fingers and can barely get a grasp on. When cutting with a super sharp (or actually any knife) I want to be able to have a firm grasp.
It also has a definite finger groove which further enhances my grip and then to seal the deal it has some super aggressive thumb grooves on the top of the hilt of the blade and the texture on the handle is like that of 250 grit Emory cloth which all together means it'd take an atomic blast to shake this knife loose in your hand. If you want to choke down on the blade it has and index finger choil with aggressive grooves.
It has a pocket clip which is a four-position clip meaning it can be adjusted for placing tip up or tip down on both sides. If you favor lanyards it has a hole to apply your lanyard. And then of course it has the Spyderco signature Thumb Hole that brands it as a Spyderco knife.
The cutting edge of the blade, you'd have to almost classify as a drop point but then you look at the top and it has a definite slope down which results in a definite sharp point. It utilizes a back lock. When I open my blade to the open position you hear the back lock firmly snapping it into the locked position.
I don't like dainty little pocket knives but I also don't want a Bowie sized folder that takes up my whole pocket either. I'd have to classify the Spyderco Native Chief as a full-sized folder and while it is full-sized, the blade is 4.08" and the closed length is 5.08", it isn't overwhelming to carry. I studied it a minute and figured out why. The width is only 3/8" thick. This means that you can carry a lot of knife without all of the bulk.
I like this folder and am carrying it as we speak….type and have already used it 2-3 times before the sun has hardly peeked over the mountains this morning.
As we close, if you're looking for a large EDC folder then I'd recommend that you look at the Spyderco Native Chief. The MSRP on the Spyderco Native Chief is $240.00. And is usual, we will end with the Spyderco abbreviated description and specs.
The Spyderco Native Chief takes our iconic Native model and stretches it by about one third to create a longer cutting tool that is still incredibly slim and pocket friendly. The CPM S30V® stainless steel blade includes an index-finger choil and our Trademark Round Hole for ambidextrous one-handed opening.
The blade is supported by a linerless handle that includes textured G-10 scales, a stainless steel backspacer, and an ultra-refined, precision-machined back lock mechanism. Four sets of threaded inserts in the scales allow the pocket clip to be configured for tip-up or tip-down carry on either side of the body, and the lanyard hole accommodates fobs and lanyards.
Overall Length – 9.08″ (231mm)
Blade Length – 4.08″ (104mm)
Steel – CPM S30V
Closed Length – 5.08″ (129mm)
Edge Length – 3.58″ (91mm)
Weight – 3.9oz (111g)
Blade Thickness – 0.125″ (3.2mm)
Handle – G-10
Clip Position – Ambi
Tip Carry Position – 4-position
Lock Type – Back Lock
Grind – Full-Flat
Sheath – N/A
Origin -United States
---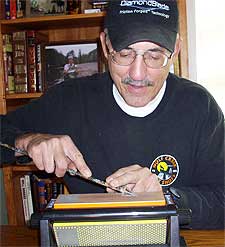 About Tom Claycomb
Tom Claycomb has been an avid hunter/fisherman throughout his life as well as an outdoor writer with outdoor columns in the magazine Hunt Alaska, Bass Pro Shops, Bowhunter.net, and freelances for numerous magazines and newspapers. "To properly skin your animal, you will need a sharp knife. I have an e-article on Amazon Kindle titled Knife Sharpening #ad for $.99 if you're having trouble."