U.S.A. –-(AmmoLand.com)- I met the Bowden Tactical group at the Professional Outdoor Media Assn. Conv. this spring in Franklin, Tenn. when I stopped by their booth. They make some cool after-market parts for your AR. I just got an Anderson Mfg. AM-15, M-LOK 5.56, 16" Rifle Length Forearm and wanted to trick it out for varmint hunting.
I love my new rifle but wanted to trick it out a little. I immediately thought of Bowden Tactical for some parts. One of the first things I put on my Anderson AR was a Bowden Tactical AR-CHITECT Direct Mount M-LOK Angled Foregrip. This really enhanced my grip on the forearm on my rifle.
All the pieces that you'll need to mount it on your foregrip come with it when you buy it. The first step is to figure out where you want to mount it. I'd suggest you throw up your rifle and note where your hand is. You want to mount the Bowden Tactical AR-CHITECT Direct Mount M-LOK Angled Foregrip at the exact location where it feels natural.
At first, only mount it semi-snug and then handle it a minute to make sure it is where you want it. If you think it is where it needs to be then tighten it down and you are good to go. I think once you mount on a foregrip you're going to really be glad that you did. To me, it really stabilizes my grip on my AR and on top of that is more comfortable to hold.
I used to rodeo a lot and whacked out my left arm a few times. First time I got thrown by a bull in high school and it bruised the bones in the elbow. Then years later I had a bareback horse run into the fence. Somewhere in the wreck by time I hit the ground he'd had blown my elbow out of joint. It never has worked totally right since. It won't bend down the last 2-3 inches like my right arm will. Then 7-months before that I'd taken a bad stomping from a really rank horse and broke my left hand in half in two places.
I don't want to sound like an invalid, I'm fine and don't even think about all of that now but still, with all of the above going on I felt like it wouldn't hurt to help enhance my grip a little better. I'm super pleased with the performance of the Bowden Tactical AR-CHITECT Direct Mount M-LOK Angled Foregrip.
But even if you're Johnny Rambo, I think if you installed a Bowden Tactical foregrip on your AR you'd like the feel. It feels to me like I'm really locked in with my rifle, almost like I'm cemented to it. It provides for a firm grip and further stabilizes me so I can get better groups.
The MSRP on the Bowden Tactical AR-chitect Direct Mount MLOK Angled Foregrip is $31.95 and as is usual, we will close with the company specs.
Our AR15 Direct Mount M-Lok Angled Fore Grips are American-made.
American sourced 6061 aluminum.
Hard Coat Black anodized finish.
Reversible for use as a hand stop.
Ideal application for AR pistols where a vertical grip cannot be used.
No additional Picatinny section required for direct mount.
Slim, lightweight design.
¾" wide; 2" tall; 4 7/8" long.
Includes hardware for mounting.
100% Warranty against all manufacturing defects
---
About Tom Claycomb
Tom Claycomb has been an avid hunter/fisherman throughout his life as well as an outdoor writer with outdoor columns in the magazine Hunt Alaska, Bass Pro Shops, Bowhunter.net, and freelances for numerous magazines and newspapers. "To properly skin your animal, you will need a sharp knife. I have an e-article on Amazon Kindle titled Knife Sharpening #ad for $.99 if you're having trouble."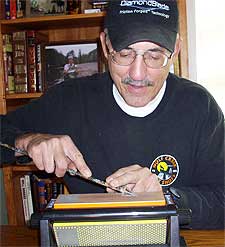 Some of the links on this page are affiliate links, meaning at no additional cost to you, Ammoland will earn a commission if you click through and make a purchase.