U.S.A. –-(AmmoLand.com)- Kel-Tec is an innovative company with a big imagination.  Sometimes that imagination doesn't quite translate to the finished product, and sometimes it does.  I took that knowledge into this review of the Kel-Tec CP33, a much-ballyhooed .22lr chambered "competition" pistol, known as much for its large quad-stack 33-round mags as it is for its ability to be modified into an "H&K Mp7" clone.  With neither competition nor cloning in mind, how does the CP33 fare?
First, let's check out the tech specs as provided by Kel-Tec.
Caliber:  .22LR
Weight (unloaded):  1.5 lbs
Magazine Capacity:  33 rounds
Overall Length:  10.6″
Barrel Length:  5.5″
Barrel Thread:  1/2×28 TPI
Twist Rate:  1 in 14″
Sights:  Adjustable Fiber Optic
Light.  That's the first thing I noticed when I picked up my CP33 from my LGS, just how light the CP33 is.  Despite being significantly larger than say, a Walther P22, the CP33 is hardly heavier at all.  Extensive use of plastics and a thin barrel do wonders.  Furthermore, the CP33 has a significantly longer sight radius than most other .22lr chambered handguns.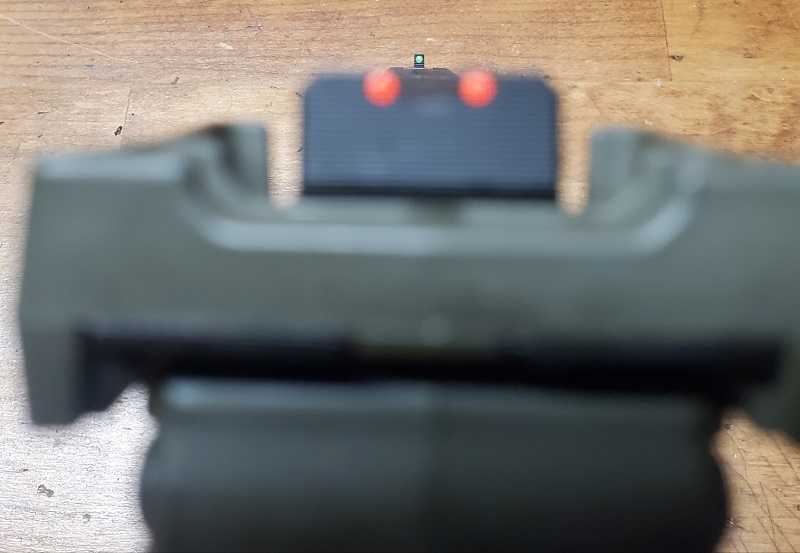 The fiber optic sights are really nice, much better than I'm used to on a gun that comes in under $500.  The trigger is pretty good.  There's a tiny little creep, a little "smoosh", but pretty dang consistent and not a heavy pull at all.
The 33-round mags are a little challenging to load.  The quad stacked design, as well as a very "dry" feeling plastic housing, means every round has to be loaded with care to avoid hang-ups.  I've heard the various speed loaders available in the secondary market significantly improve the loading speed and reliability of the mag's feeding afterward.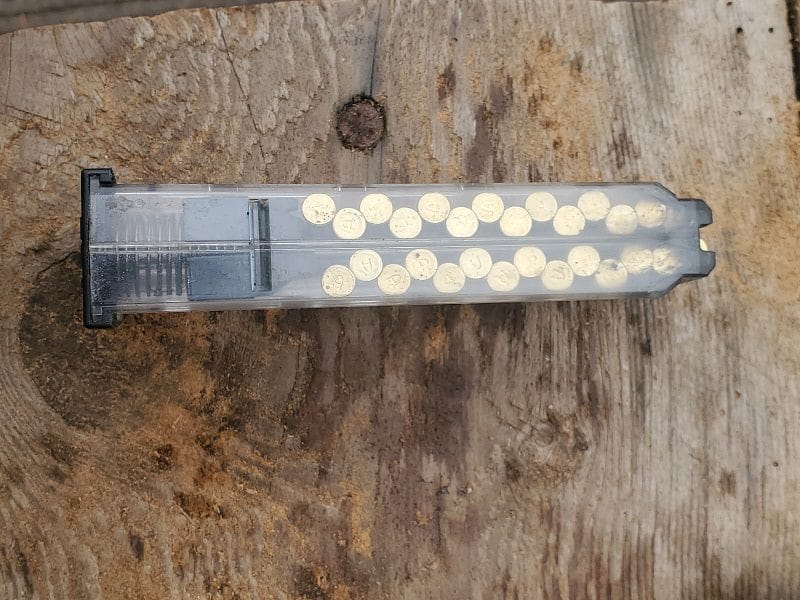 Speaking of mags, one of my two gripes on this gun's design isn't the uncommon (in America) grip-heel magazine release itself, but the fact that you have to forcibly rip the mags free after hitting the mag release.  I've taken to lubing the mags from time to time with white lithium grease so my kids can reload on family range days.  I'd like to try another CP33 to see if mine is on the tighter side of the tolerance limits, or if this is common to the model.
My other dislike is the grip on the CP33.  It's a brick.  It is large, doesn't conform to the hand at all, and ends up being the sole ergonomic detractor to an awesome experience during long range days.
Normally here is where I'd drop in my range time experiences and measurements.  I'll cover that in-depth a little further, but for the moment I'll just say this gun is the most accurate stock .22lr handgun I've shot.  If that's not true in regards to group size, it certainly is true in real-world ease of accuracy.  Before I'd adjusted the sights, they were off by about 5 inches @ 100 yards.  Even so, hitting a pepper popper repeatedly at 100 yards was child's play.  Far easier than with a P-22, Ruger MKIV, or Ruger Charger (which had no OEM sights).
But clearly, this gun isn't meant to remain stock.  Threaded barrel?  Suppressor or flash hider.  Full top Picatinny rail?  Red dot or 2x optic for me, thanks.  M-LOK dust cover section?  Angled foregrip, light, spare mag holder, or nearly any other attachment you can imagine.  On the back end, mounting points are available for a QD sling, collapsing brace, or a stock depending on your interest and legal inclination.  The mags themselves, already plussed up at 33 rounds, have an optional 17-round extension.  Add in a robust aftermarket featuring a wealth of 3d printed options, and the CP33 stands out from the crowd.
I opted for a red dot, one of my spare AAC Pilot-2 suppressors, a UTG M-LOK hand stop upfront, and a Farrowtech brace.  I have plenty more ideas for this gun going forward, but it's gotta be tested stock before I Frankenstein it.  The Farrowtech brace could use a whole article to itself.  Succinctly put, install took a couple of minutes, and the brace itself functions well.  Turning the CP33 into a braced pistol certainly increases accuracy, speed of engagement, and maximum engagement distance.  Worthwhile indeed.
I tested out 4 types of ammunition.  Aguila bulk pack 40gr (supersonic), CCI Minimag 40 gr (supersonic), Federal Champion bulk pack 36 gr (supersonic), and Aguila 40gr (subsonic).  Each ammo was grouped with the gun in its stock configuration, then in its upgraded configuration.
Caveat:  I'm not a record-breaking group shooter.  By the third or maybe the fifth round, I'm gonna send a flyer.  My groups can easily show a preference of one ammo over another, but certainly not the maximum accuracy potential of a gun.  I'm better at reflexive hit/miss shooting, which is an area the CP33 really shines, due in large part to its excellent balance and good trigger.
Unmodified, the CP33 shot best with the rounds in this order:  Federal Champion, CCI Minimags, Aquila supersonic, Aguila Subsonic.  Once the stock and red dot were affixed, the Aguila Supers shot the same, while the CCI Minimags and Aguila Subsonic rounds saw their groups shrink to half their original size.  The Federal Champion round shot the same or a little worse with the suppressor on.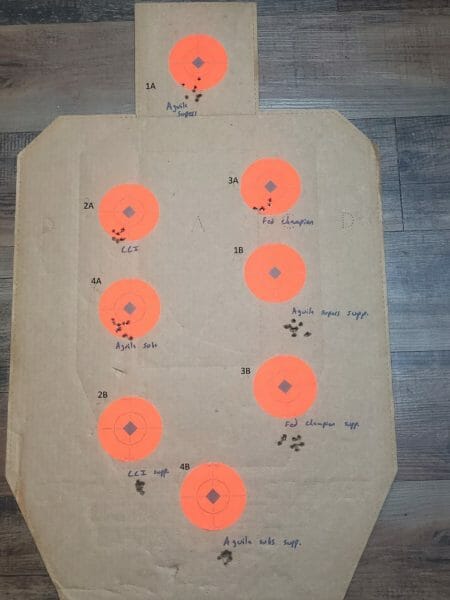 The CP33 also seemed to prefer CCI Minimags and Aguila subsonic rounds for feeding.  The Aguila supersonic rounds have a waxy coating that scrapes off easily and tends to gum up the works.  The Federal Champion rounds failed to feed once or twice a mag.  Aguila supers and CCI Minimags fed and functioned without fail.
My two primary uses for the CP33 are as an additional instructional gun for my kids, and as a homestead gun for dispatching of small varmints.  Regarding the latter, we're overrun with ground squirrels, and need an accurate and easily portable rimfire for dispatching them before they scamper back into their nests.  Considering the former, despite a wealth of traditional bolt-action rimfires, I wanted a "modern" designed gun to provide more varied learning experiences for my budding enthusiasts.  Consider the CP33 a success on both fronts.  Varmint numbers are down, enjoyable family range time is up.
It's easy to get excited about the CP33 when looking at photos online.  There's a ton of customization options available, so it's easy to crank out a pretty unique-looking gun.  Before all that though, there's a stock CP33 that brings a lot to the table.  Accurate, lightweight, ambi controls, and a magazine capacity that is the toast of the town, the CP33 is a "jack of all trades" in the .22lr world.  Like every one of the dozens of rimfire guns I've owned, reliability is heavily dependent on finding a brand of ammo your gun runs well with, as well as careful loading of the magazines.  Such is the nature of rimfire .22's.
The Kel-Tec CP33 is one of those versatile guns that can replace a handful of other, similar guns.  With an MSRP of $550 and a street price of closer to $470 as of late-2021, the Kel-Tec CP33 is certainly worth consideration as an addition to your stable of firearms.  Check it out!
---
About Rex Nanorum
Rex Nanorum is an Alaskan Expatriate living in Oregon with his wife and kids. Growing up on commercial fishing vessels, he found his next adventure with the 2nd Bn, 75th Ranger Regt. After 5 tours to Afghanistan and Iraq, he adventured about the west coast becoming a commercial fishery and salvage SCUBA diver, rated helicopter pilot instructor (CFII) and personal trainer, before becoming a gear reviewer and writer."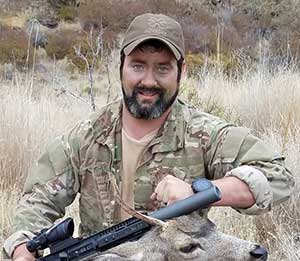 Some of the links on this page are affiliate links, meaning at no additional cost to you, Ammoland will earn a commission if you click through and make a purchase.