In a radio interview, nationally syndicated radio host Tom Gresham calls the book "fantastic" and "an instant classic".
Raleigh, North Carolina – -(Ammoland.com)- Grass Roots North Carolina President Paul Valone has just released Rules for ANTI-Radicals: A Practical Handbook for Defeating Leftism, detailing the tactics learned in his 28 years as a grassroots mobilization leader.
In an interview on Tom Gresham's nationally syndicated radio show, "Gun Talk Radio," Gresham lauded the book calling it "fantastic" and "an instant classic," further predicting that book will become "the user manual for gun rights groups."
Listen to Gresham's podcast of the interview:
Rules for ANTI-Radicals is now #1 in new releases for political advocacy books on Amazon.
As a nuts-and-bolts guide to tactics for conservatives, Rules for ANTI-Radicals has no direct competition. Other books decry Marxism or speak in generalities, but Valone's book gives conservatives specific tactics to counter leftism not only in the political arena but in daily life.
Rules for ANTI-Radicals builds upon and updates tactics originally developed by Saul Alinsky in Rules for Radicals, which has been the guidebook for left-wing activism for 50 years.
Said NC House Representative Jay Adams in his forward to the book, "Paul has refined Alinsky's methods and turned them mercilessly against the left."
The book gives tools and tactics not only for conservative political activists but also for mainstream Americans being silenced in their daily lives by woke leftism.
Rules for ANTI-Radicals is available on Amazon, but if purchased at www.RulesForANTIRadicals.com, author Paul Valone will donate $7.00 to Grass Roots North Carolina for every purchase which uses the coupon code GRNC.
Supporters are encouraged to "like" Rules For ANTI-Radicals on Facebook.
---
Founded in 1994, Grass Roots North Carolina is an all-volunteer 501(c)(4) organization dedicated to preserving individual liberties guaranteed by the U.S. Constitution and Bill of Rights with emphasis on the Second Amendment right to keep and bear arms.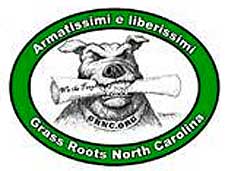 Some of the links on this page are affiliate links, meaning at no additional cost to you, Ammoland will earn a commission if you click through and make a purchase.