GunBroker.com – Gun Broker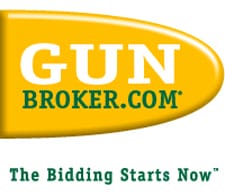 Kennesaw, GA –-(Ammoland.com)- Is the world's largest online auction site for firearms and hunting and shooting sports equipment.
The GunBroker.com home page is visited by some 3 million shooting enthusiasts each month.
GunBroker.com allows everyone to buy and sell firearms through a very easy interface with a familiar feel for anyone with any eBay buying and selling experience.
If you have some guns or accessories you would like to sell, but don't really feel comfortable putting an add in the local paper? You should give Gunbroker a try.
Folks have been using gun broker for years to buy and sell, and have had great experiences with the people in the firearms community If you live in a rural area where there are not a lot of shops around it can be a great way to acquire those hard to find guns you have been looking for or sell guns you no longer use.
If you are serious about giving GunBroker a try check out MossyCreekCustoms for a nice article where they layout the basic steps for Selling On Gunbroker. The Gunbroker.com website aslo has extensive tutorials to Sell Guns Online found here.
Gunbroker has Great Reviews:
In addition to a wide variety of firearms at great prices Gunbroker.com has many great reviews found around the web:
USA Shooting says…
"The folks at GunBroker.com have been great to us," commented Buddy DuVall, Director of Marketing for USA Shooting. "They have been generous and a pleasure to deal with."

In addition to the valuable visibility they have provided for USA Shooting on their home page, GunBroker.com also hosts the "Treasures & Tradition" weekly auction for the Hunting Heritage Trust. This auction has featured a number of items earmarked to support USA Shooting. The site currently includes two USA Shooting items.

"GunBroker.com is proud of our relationship with USA Shooting," commented Steve Urvan, GunBroker.com President. "We believe that many of our regular visitors are potential supporters of USA Shooting and we are pleased to help make the connection."
According to the website evaluation service, HitWise, GunBroker.com is the third largest internet auction site after eBay and eBay Motors.
In an interview with Steve Urvan, CEO and founder of GunBroker.com, he stated that the site that will soon celebrate its tenth year as an online marketplace. GunBroker.com is a relatively small operation and because it focuses solely on guns, it focuses on operating its business in compliance with all firearms regulations. And with millions of registered users and close to 3 million unique monthly visitors, it is a great place to find and sell used and new firearms.
One common misconception he wants to clear up about GunBroker.com is this:
"Some people believe that you can order a gun online and have it shipped to your house with no questions asked and no paperwork. That is absolutely untrue. Gun sales are highly regulated. By Federal Law, any gun you buy has to be shipped to a licensed gun dealer and you must go to that dealer's business in person, produce identification, fill out paperwork called a 4473 form, and pass a background check. "

"The process is no different buying on GunBroker than it would be buying a gun at a gun shop. GunBroker's value-add is a huge selection of guns for sale, not the ability to buy illegally or circumvent the law."
GunBroker Tips:
TIP 1: Searches at GunBroker.com
Another useful feature of Gun Broker is their Completed Auctions Search. Once you register you can use this handy feature to compare or research what the current prices to pay for used guns, rifles or firearms. To use this you will need to be a registered user, then go to the Smart Search Box on the top of any Gunbroker.com page and enter your gun description or model name and hit enter. This will bring you to default search page for the website. Once here select Completed Auctions from the drop down list and hit enter and GunBroker will now display closed or completed auctions for the gun your interested in. Very cool feature that could save you lots of cash on your next purchase.
TIP 2: Shipping to Federal Firearms License Holders
By Federal Law, firearms can only be shipped to an FFL Holder. If you do not have an FFL, you must make arrangements with an FFL Holder in your state to handle the transfer. Gun Broker.com maintains a list of FFL Holders who are willing to handle transfers for qualified buyers. Please contact an FFL Holder before placing a bid to make sure you qualify. Gunbroker.com keeps a comprehensive list of FFL license holder around the USA. This is a great tool that you can use to search by Zip Code or Buy State. Again you must Register First, then you us their Federal Firearms License (FFL) Holder Network.
Sources:

www.auctionbytes.com
www.Mossycreekcustom.wordpress.com
About GunBroker.com
GunBroker.com is the world's largest gun auction website. Launched in 1999, GunBroker.com is an informative, secure and safe way to buy and sell firearms, ammunition and hunting/shooting gear online. GunBroker.com promotes responsible ownership of guns and firearms. Aside from merchandise bearing its logo, GunBroker.com sells none of the items listed on its website. Third-party sellers list items on the site and Federal and state laws govern the sale of firearms and other restricted items. Ownership policies and regulations are followed using licensed firearms dealers as transfer agents. Visit: www.GunBroker.com