Nightforce Announces First Focal Plane Scope Designed For Tactical And Military Shooters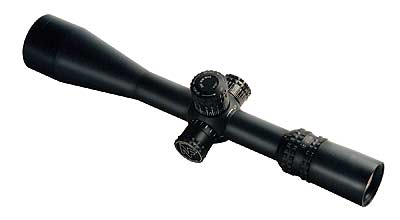 Nightforce – -(AmmoLand.com)- Introduced a new riflescope, made in the U.S.A., built with a reticle in the first focal plane. The NXS 3.5-15×50 F1 was created at the request of U.S. military and other professional sharpshooters for a scope that is extremely fast, applicable to a wide range of targets at various distances, and offering a choice of elevation/windage click values, reticles and ballistic turrets with Nightforce ZeroStop technology.
A reticle located in the first focal plane appears to change size with adjustments in magnification, but in fact it remains in the exact same ratio to the target across the scope's entire magnification range. The first focal plane location is especially appropriate for use with rangefinding reticles, since the reticle's markings remain consistent relative to target size at all magnification settings. This has distinct advantages in high-stress situations, and when the user can expect to encounter targets at varying distances from close-in to hundreds of yards away.  This design, coupled with the highly tactile and intuitive adjustments common to Nightforce products, makes for a scope that provides extremely rapid target acquisition.
The Nightforce F1 is offered with a choice of three different windage/elevation adjustments: .250 MOA, .1 Mil Radian, or 1.0 MOA elevation/.5 MOA windage.  There are two optional engraved ballistic turret caps offered (available separately); one for the 1.0/.5 MOA version specifically marked for the A-191 (.300 Win. Mag./190 gr. Sierra Match King), or for the M118LR (.308/175 gr. Sierra Match King), marked in meters.  The standard cap comes with an MOA scale, which the user can have custom engraved to match virtually any caliber once that caliber's ballistics are established.
Nightforce patented ZeroStop technology is standard on all F1 elevation turrets, which allows the shooter to set the zero point of his or her choice, then return instantly, by feel, to their chosen zero regardless of how much elevation adjustment has been made.
The NXS 3.5-15 x 50 F1 is currently available with Nightforce Mil-Dot or MLR reticles, both created for tactical and military use.  More reticle choices will be introduced in 2009, including the Nightforce NP-R1, Horus, ART, and several that Nightforce are designing specifically for F1/first focal plane configurations.  F1 technology will also be offered in other Nightforce scopes in the months to come.  The F1 ships with a set of Nightforce Ultralight rings included.
For more information contact Nightforce Optics, Inc., 1040 Hazen Lane, Orofino, ID 83544, tel (208) 476-9814, or visit www.nightforceoptics.com. You can visit Nightforce at booth number 9381 at the 2009 SHOT Show.