American Technologies Network, Corp. (ATN) PS22-3 Day/Night Tactical Kit with Trijicon 4×32 ACOG 1 QRM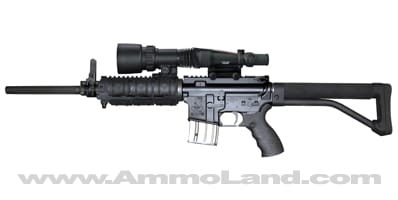 South San Francisco, CA – -(AmmoLand.com)- The ATN PS22-3 Day/Night Tactical Kit with Trijicon 4×32 ACOG 1 QRM is the ultimate sportsman's dream by combining the ATN PS22-3 front sight with one of the best names in the daytime optical area – Trijicon. The PS22-3 uses ATN's standard 3rd generation image intensifier tubes (IIT). They have a micro channel plate, GAAs photocathode, and a completely self-contained integral high-voltage power supply. These 3rd generation tubes provide a combined increase in resolution, signal to noise and photosensitivity over tubes with a multi-alkali photocathode. Generation 3 is the standard for the USA military. Highlights of the 3rd generation specifications are the typical SNR of 22 and resolution of 64 lp/mm.
The PS22-3 is packaged with a Trijicon 4×32 ACOG 1 QRM riflescope. Trijicon 4×32 ACOG scope TA01NSN with Amber Center Illumination for M4A1 fits the AR15/M16 flat-top rifles and includes the TA51 mount. Modifications to this Trijicon Special Forces TA01 NSN model include an integral rear ghost ring aperture and a tritium glow-in the-dark front sight (yellow center illumination) for close-quarter-combat/back-up sighting, and includes a flat top adapter, back-up iron sights and dust cover.
ATN PS22-3 Day/Night Tactical Kit with Trijcon 4×32 ACOG 1 QRM includes:
• ATN PS22-3
• Trijicon 4×32 ACOG 1 QRM riflescope
• Picatinny weapon mount
• IR-450 Infra-Red Illuminator
• Mil-Std hard case
• Soft Carry Case
• Quick Release Mount optional
• MSRP – $5,494.00
About:
Night Vision by ATN – Night Vision Goggles, Scopes, Binoculars and Riflescopes is the worlds most trusted brand of Night Vision Equipment. At ATN our brand of Night Vision Devices, Night Vision Binoculars, Night Vision Mon-oculars, Night Vision Scopes and Daytime Rifle Scopes are widely recognized as the most innovative and highest quality made.