Browning X-Bolt Wins 2009 Rifle of the Year From American Rifleman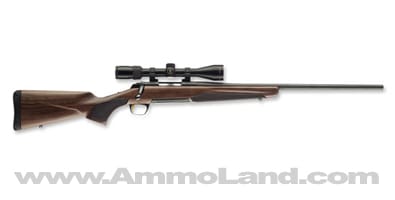 Morgan, Utah – -(AmmoLand.com)- Browning is honored to announce that the X-Bolt bolt-action rifle has been selected as the 2009 NRA Publications Golden Bullseye award winner from American Rifleman for Rifle of the Year.
"The Golden Bullseye Awards are an acknowledgement of the finest products available in the shooting sports, and are voted on by a seven-member committed consisting of editors, art staff and veteran publications staff, representing more than a century of collective experience in the firearm industry" as stated by Executive Director of NRA Publications, Joe H. Graham.
"The Golden Bullseye Award honors our winners for bringing to market products remarkable in their utility to shooters and hunters," said Graham in their official press release announcing the winners.  "The award, now in its seventh year, has become a symbol of excellence and innovation in firearms, accessories and related equipment".
The X-Bolt was introduced a year ago and has been the subject of significant testing by members of the NRA Publications staff during the past year.  Rifles in the running for the award presented notable competition which adds greatly to the significance of the award.
The Browning X-Bolt's most notable features include the Feather™ Trigger that is screw adjustable, provides a clean, crisp pull with no take-up or creep and minimal overtravel.  Browning's ultra soft Inflex Technology Recoil Pad is standard on every X-Bolt rifle.  Other features found on Browning's  X-Bolt rifle include a detachable rotary magazine, short 60º bolt lift, unique bolt unlock button and X-Lock™ Scope Mounting System.
For more information on the X-Bolt and all of Browning's innovative products visit www.browning.com.