Mossberg Delivers "Braking News" With Their Rimfire Line Up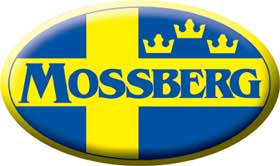 North Haven, CT  – -(AmmoLand.com)- Mossberg International puts on the brakes – muzzle brakes, that is! Adding to its already extensive line of bolt-action and semi-automatic rimfire rifles, Mossberg International is offering five new muzzle brake Plinkster and other rimfire models packed full of features.
Muzzle brakes are now available on the following models: the standard 702 Plinkster® (.22 LR autoloading), the scoped 802 Plinkster™ (.22 LR bolt-action with 4x scope) and the scoped model 817 (.17 HMR with 3-9×40 scope). In addition, muzzle brakes will be fit onto a scoped model 817 with a thumbhole stock and Tipdown forend (.17HMR with 3-9×40 scope), and lastly, an 817 (.17HMR) will offer a complete package of a muzzle brake plus an upgraded 4-16×50 scope featuring sun shade, flip open lens protectors and a bi-pod.
The muzzle brake reduces recoil in an already mild shooting platform, increasing one's ability for a more accurate follow-up shot. This benefits the shooter whether plinking at tin cans or hunting small game.
These new Plinkster and rimfire rifles are the perfect go-anywhere kind of gun, with the built-in features normally found on rifles that cost much more. For example, the thumbhole stock with a Tipdown forend provides a vertical, pistol-like grip for both hands, which offers the most natural, ergonomic position for the human hand to assume when holding a rifle to the shoulder. This results in a more natural positioning of the hands and a comfort level more conducive to accurate shooting, be it from the prone, kneeling, sitting or off-hand positions.
Whether your idea of fun is serious marksmanship practice, chasing small game or just plinking around, Mossberg has a model that fits the bill.
702/802/817 – Muzzle Brake Models–Key Features
Select 702/802/817 rimfire models now offered with recoil-reducing muzzle brake.
Black Synthetic stocks (817 also available in a Thumbhole stock with Tipdown forend).
Convenient cross bolt safety and magazine release buttons.
Detachable 10-round magazine (702, 802)
Detachable 5-round magazine (817).
18″ (702 and 802) and 21″ (817) blued barrels.
Includes a free gun lock.
One-Year limited warranty.
For complete specifications, see the Product Buyer's Guide section within the 2009 Mossberg Gun Annua
For complete details on the new Mossberg International models, please call your local dealer or visit us online at www.mossberg.com.