This Week: IDPA Action in the Indoor Nationals and The Rest of the Story from SHOT Show 2009.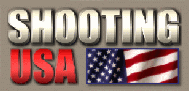 Shooting USA – The IDPA Indoor Nationals
We're inside in the dead of winter, at the Smith & Wesson Shooting Sports Center, but the action is hot in the IDPA Indoor Nationals. It's defensive scenarios drawn from real life that provide good training and good competition. Then Todd Jarrett teaches home defense in his Pro Tip, making your stand that Todd calls the Alamo. More Info…
Sighting In With Shooting USA – SHOT Show Part Deux
No matter how we try, you can't get 10 pounds of SHOT Show video into a 7 pound bag. So here's the news that didn't make the first cut – New Product news from Orlando, Florida and this year's dealer only big event. More Info…
Shooting USA's Impossible Shots – The Robin Hood
Long bow legend Byron Ferguson attempts the most difficult shot in archery, splitting one arrow with another. Plus Jerry Miculek has an explosive segment with a 460 revolver, and Tom Knapp shoots clay targets with a rifle. Brian Speciale anchors coverage of the world's most amazing exhibition shooters.
Shooting USA's Impossible Shots by time zone:
Eastern Time: 8:00 PM – 2:30 AM (Thursday)
Central Time: 7:00 PM – 1:30 AM
Mountain Time: 6:00 PM – 12:30 AM
Pacific Time: 5:00 PM – 11:30 PM
The Shooting USA Hour Block:
Eastern Time: 4:30 PM, 8:30 PM, 12:00 Midnight
Central Time: 3:30 PM, 7:30 PM, 11:00 PM
Mountain Time: 2:30 PM, 6:30 PM, 10:00 PM
Pacific Time: 1:30 PM, 5:30 PM, 9:00 PM
The Smith & Wesson Gun of the Month:
This week we'll draw for the winner of the May Gun of the Month, the S&W Classic Lemon Squeezer. Good luck being on the other end of my phone call.
Meanwhile, the June Gun is in play – the Model 637 PowerPort – Pro Series Revolver chambered in .38 Special +P. It's the modern version of the classic Lemon Squeezer, with an alloy frame and three finger grip for more control on the firing line. And it's ported to help control muzzle flip in action. The first question of the month is posted. You should be playing in the contest. Somebody is taking this one home at the end of the month.
A Memorial Day Note from France:
France, if you don't know, is a more gun friendly country than most of the rest of Europe. (I've met British handgun competitors at US National Competitions who said they had to go to France to practice their sport.)
There is a French lady who has taken a continuing interest in what we do, who has signed up to receive these messages, and who tells me she has a few handguns at her home there. We've exchanged a few e-mail messages over the past few months and she was kind enough to send a note on Memorial Day recalling the sacrifice of the thousands of US soldiers who lost their lives in the liberation of her country. She wrote that she lives near two large cemeteries in Eastern France and that the US War dead are still honored there.
I asked if they still teach the history of the liberation in the French schools. Her reply is below.
Hi Jim,
Of course they do learn this part of History. Here in East of France, we have several US cemeteries, of WW1 or WW2. And the Sunday before the official Memorial Day, there is the Memorial Day for Kids, where the young schoolgirls and boys visit these Cemeteries and lay down bunches of flowers on the resting places, together with a reminder of the events.
So… the Memory goes on, be sure of that.
Nice day to you.

Best. Jean C.
It would seem the French may do a better job of remembering the history than many of us here in the United States.
Jim www.ShootingUSA.com