Rock Island Auction Company's Premiere Firearms Auction September 11, 12 & 13 2009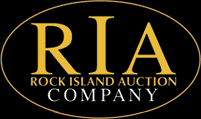 Rock Island Auction Company – -(AmmoLand.com)- Rock Island prides itself in offering high quality firearms for every level of collecting, serving the entire firearms industry.
In the September 11, 12 & 13 auction, collectors will gather to participate in another fantastic offering put on by Rock Island Auction Company.
As with every collection or hobby, there are various levels of collecting and this auction will have something for everyone.
Rock Island inspires the beginning collector, igniting the passion with high quality firearms starting in the hundreds.
The mid-range collector has seen the value of gun collecting and has the opportunity to upgrading his collection.
The high-end collectors attend auctions at RIAC knowing that they can fill the holes in their collections finding that one missing piece or bidding on an outstanding, incredibly rare firearm that will become the centerpiece of their collection.
The September sale will offer several star-worthy items in several genres including derringers, Colts, Winchesters, antique firearms, sporting, military and more!
THE FULL COLOR CATALOG IS NOW ONLINE!
Quick Highlights of the September Auction:
Over 2700 Lots, many historical, rare, high condition and unique firearms
Less than 500 classified as modern
Firearms from the Roy Rogers and Dale Evans Museum
Nearly 400 Colts
Over 500 Winchesters
5 Henry Rifles & 4 Volcanic Pistols
Over 700 Sporting Arms
Over 50 Winchester Model 70's, several desirable calibers, many in original boxes!
Over 150 High Quality Deringers
U.S., European and Japanese Military firearms and edged weapons
A Fantastic Victorian Collection
The catalog is now being printed! All catalogs will be mailed by mid August.
To order your full-color two volume set ($60 inc. S&H) call 800-238-8022 or order online.
Subscriptions are also available ($165 inc. S&H)
A catalog subscription includes:
– Immediate savings of $15 off the catalog cover price
– The two-volume Regional catalogs free at $35 each (twice a year)
– OVERALL SAVINGS OF $85
PREMIERE FIREARMS AUCTION
September 11, 12 & 13
Full day preview Thursday, September 10
Contact Information
~~~~~~~~~~~~~~~~~~~~~~~~~~~~~~~~~~~~~~~~~~~~~~~~
phone: 800-238-8022
fax: 309-797-1655
email: [email protected]
About:
Rock Island Auction Company has been solely owned and operated by Patrick Hogan. This company was conceived on the idea that both the sellers and buyers should be completely informed and provided a professional venue for a true auction. After working with two other auction companies, Mr. Hogan began Rock Island Auction in 1993. Rock Island Auction Company has grown to be one of the top firearms auction houses in the nation. Under Mr. Hogan's guidance the company has experienced growth each and every year; and he is the first to say it is his staff's hard work and determination that have yielded such results.