Final Approach Launches New Duck Hunting Gear Website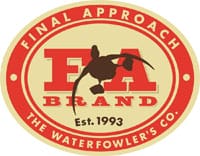 Overland Park, KS. —-(AmmoLand.com)- The Final Approach website has been completely redesigned with several new features for serious waterfowl hunters.
Fans and consumers of Final Approach products can now join the FA community and submit their waterfowl hunting stories and photos online. The best stories will be entered for a chance to win six Gunner Floating Mallard decoys.
The site contains a wealth of information with up-to-date reports on the current migration (in-season) and water levels throughout the country, along with diagrams for setting up decoy spreads. There are video "how to" hunting tips from the Final Approach Pro Staff and instructions on how to use the products.
Consumers will also be able to order Final Approach Products online and learn of new product introductions for the first time on the site.
For more information, visit www.fabrand.com or call consumer inquiries at 800-423-3537.
About:
Bushnell Outdoor Products is a global manufacturer and marketer of branded consumer products based in Overland Park, Kansas. Bushnell Outdoor Products sells its products worldwide under the Bushnell®, Tasco®, Serengeti®, Bollé®, Uncle Mike's Law Enforcement®, Stoney Point®, Hoppe's®, Butler Creek®, Kolpin®, Uncle Mike's®, Final Approach®, Simmons® and Millett® brand names. For information about any of these brands or products, please contact Bushnell Public Relations at (913) 752-6105.