USAMU Welcomes New Senior Enlisted Advisor
By Michael Molinaro
USAMU PAO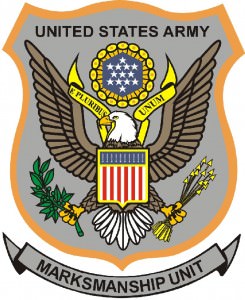 FORT BENNING, Ga. – -(AmmoLand.com)- Sgt. Maj. Martin Barreras assumed responsibility of the U.S. Army Marksmanship Unit from Sgt. Maj. Thomas Fuller at a ceremony Aug. 28 at Pool Indoor Shooting Complex.
Barreras becomes the 23rd senior enlisted advisor at the "Home of Champions." He arrives from the 75th Ranger Regiment, where he served for more than 20 years. He served with distinction in all three Ranger battalions as well as the regimental headquarters.
"Sgt. Maj. Barreras arrives to the USAMU with a tremendous reputation-one of inspiring leadership, extreme competence, and extraordinary professionalism," said Lt. Col. Daniel Hodne, commander, USAMU.
FORT BENNING, Ga.--Sgt. Maj. Martin Barreras (right), assumed responsibility of the U.S. Army Marksmanship Unit from Sgt. Maj. Thomas Fuller (left) Aug. 28 at Pool Indoor Shooting Complex. Lt. Col. Daniel Hodne (center) commands the USAMU. (Photo by Michael Molinaro, USAMU PAO)

"I eagerly anticipate continuing the forward momentum and building upon the tremendous achievements and initiatives of this unit with the benefit of the counsel and leadership of Sgt. Maj. Barreras."
Fuller is retiring after 21 years in the Army. Under Fuller's mentor-ship the USAMU had some of its most successful years, which included seeing two of his Soldiers capture Olympic Gold medals in 2008 as well as numerous international, national and inter-service championships.
"In this year, the 'Year of the NCO,' it is entirely fitting that we honor such an outstanding NCO for his years of service in the defense of our nation," Hodne said. "I feel extremely fortunate that I had the opportunity to serve alongside a non-commissioned officer of such caliber."
Fuller put an emphasis on training that contributed to measured progress on the USAMU's marksmanship training programs, Hodne remarked. He also developed a concept to field a paralympic shooting team at the USAMU for wounded warriors, as well as institute an installation-wide program for all Command Sergeants Major that provides a venue to share marksmanship training techniques for dissemination throughout the Army.
"The last two years (at the USAMU) has been an indescribable honor," Fuller said. "True human greatness is achieved when you are part of something bigger than yourself."
About USAMU:
The USAMU's mission is to raise the standard of marksmanship proficiency and combat readiness throughout the Army by sharing knowledge gained from competing and winning in national/ international competitions, research and development and advanced training programs while enhancing the Army's recruiting effort through an active public information and public relations program. For more information on the U.S. Army Marksmanship Unit, contact the Public Affairs Office at (706) 545-5436, [email protected] or www.USAMU.com . The U.S. Practical Shooting Association is a nonprofit membership association affiliated with the International Practical Shooting Confederation, which is comprised of approximately 67 nations.