I'm Running For Office? What's Ahead? Lend A Hand Please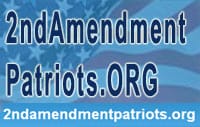 Indianapolis, IN –-(AmmoLand.com)-Last night Margie and I attended the Posey County Lincoln Day Dinner. I was asked to speak about the 2nd Amendment Patriots. Afterwards all of the candidates for office who were present were invited up to introduce themselves.
I,too, was invited because I had made it known that I've taken steps to run for the Indiana State Senate seat in District 49 on the Republican ticket. This office is currently being held by Democrat Bob Deig.
There will be a Republican primary for this race so Margie and I hope that we can get help in this endeavor.
I campaigned in 2004 for a House race and we clearly remember the effort and commitment it took. I don't make this decision lightly and Margie and I intend to put forth the same level of work now as we did 5 years ago. We sincerely hope that all of you will keep us in your prayers and any help will be appreciated. We thank you.
I'll have more to report at our 2nd Amendment Patriot meeting on Saturday Oct. 31st and in future letters.
Speaking of Patriot meeting you won't want to miss this one. I think there is going to be an interesting visitor.
Unrelated to the visitor we may have at our next meeting I did receive a letter from Congressman Ellsworth's scheduler this week. She wrote to say that the Congressman has received several requests from members of the 2nd Amendment Patriots to attend a meeting. She was asking about the October meeting and the date of our November meeting. I don't know yet when we can expect him, but I will let you know as soon as I hear back. The postcards that you all filled out at our last meeting at least got their attention.
Lastly, I want to mention that Mike Sandefur with the Freedom Maker Organization is looking for help at manning the table at the Owensboro, KY gun show this weekend.
The show starts at 9:00 AM on Sat and Sun. The location is Sportscenter, just off W. Parrish Ave. behind the National Guard Armory. If you can help call Mike at 812-449-5695. Thanks.
We look forward to seeing all of you at the next 2nd Amendment Patriots meeting on Oct. 31st at 6 PM at the West Side Sportsman's Club. Margie said it will soup night or something to go with it. No chili, that will be for another time.
Jim and Margie
2nd Amendment Patriots
STAY UNITED
www.2ndamendmentpatriots.org
About:
The Second Amendment Patriots are a local group of citizens dedicated to preserving the rights, freedoms, and civil liberties of every American by educating the American public of the founding and history of this country and its founding fathers by explaining the role, functions and purpose of the U.S. Government; and by teaching the need and importance of an armed American public, in order to allow for a more prosperous and respectful country consisting of American citizens with a pledge of allegiance to their country and who will at the same time, voice their demand to take back the present overwhelming power of the U.S. Government and deliver it into the hands of the people to which it belongs.