Michigan Coalition For Responsible Gun Owners Work with the Second Amendment March
By Brian Jeffs, Board of Director and Michigan Coordinator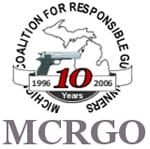 Lansing, MI –-(AmmoLand.com)- Michigan has been very active in organizing town hall meetings and other events to inform the public about the Second Amendment March in Washington D.C. on April 19th, 2010. We have had over 25 events ranging from picnics, town hall meetings, shooting competitions, a CPL course fundraiser, talks at the Capitol and manning tables at Cabela's and Jay's Sporting Goods stores. Along with information these events have been an opportunity to raise not only awareness but much needed funds for the March.
The people of Michigan have made donations and bought fundraising items for a total to date of over $11,000, which is over a third of the total raised so far nationally. Well done Michigan.
But it can't stop there; we must become more active in preserving our 2nd Amendment rights. In order for this March to be as successful as we hope we need to raise nearly $500,000. It is amazing how many hoops need to be jumped through and how much money is needed to have 5000,000 people gather in D.C.
I ask all lovers of liberty and the 2nd Amendment to get on line today and make a $50 donation (www.secondamendmentmarch.com). If every Michigan CPL holder gave just $1 to the March we would have over $240,000. Imagine how much we could raise if every gun owner in Michigan gave just $1. The March is only 6 months away and we need funding now.
Can't make the D.C. Rally?
Then join us on the State Capitol's east lawn in Lansing on April 13th from noon-3:00 PM for a 2nd Amendment Rally. We will have vendors, entertainment and a group of distinguished speakers all proudly standing up for freedom. Please come and be a part of Michigan history.
There are other ways you can help besides financially.
Sign up for our online newsletter.
Join our online forums.
Pass out flyers, add web banners and donate buttons.
To set up a 2A town hall meeting in your area. Contact Brian for more info.
Write articles for the Second Amendment March website.
Obtain a 2A March endorsement from your legislator.
Set up media interviews. Contact Skip for more info.
Set up a Second Amendment March fundraiser in your area. Contact Terri for more info.
Volunteer with your State Coordinator to help organize.
Display your Second Amendment March t-shirts and bumper stickers proudly Work with your local gun clubs and fraternal orders in a fundraising event.
Manage a donation jar in a pro-gun business in your area.
And as always you can make a donation online or mail your check or money order to: Second Amendment March, PO Box 232, Delton MI, 49046-0232.
About:
The Michigan Coalition for Responsible Gun Owners is a non-profit, non-partisan organization. Formed from just eight people in 1996, we now have thousands of members and numerous affiliated clubs across the state. We're growing larger and more effective every day.
Our mission statement is: "Promoting safe use and ownership of firearms through education, litigation, and legislation"  Visit: www.mcrgo.org