Knife Rights Thanksgiving Wish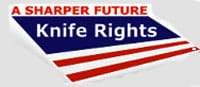 Washington, DC –-(AmmoLand.com)- As we approach Thanksgiving, I'd like to take a moment to sincerely thank you for your support of Knife Rights this past year, especially your help in the fight against Customs.
With your support we were able to persevere and chalked up a major victory in the fight to protect our knife rights.
Despite the difficulties the troubled economy has brought many of us, we can all be thankful for this triumph of reason over government restriction. We could not have done it without your support.
We promise to continue our efforts to protect your knife rights in the year ahead. We are already hard at work on our Knife Rights legislative agenda for next year and you'll be hearing more about that in coming months.
In the meantime, we wish you and yours a happy and bountiful Thanksgiving.
Doug Ritter
Chairman / Executive Director
Knife Rights, Inc.
Knife Rights Foundation, Inc.
www.KnifeRights.org
Email:
[email protected]
About:
Knife Rights. The first step to building an effective advocacy group is building the membership. Power comes from numbers. Knife Rights offers a range of Charter Memberships and there's one that will suit you perfectly. Invest a modest sum in A Sharper Future. JOIN NOW!
Encourage your friends to join Knife Rights and you can win a custom knife in our Member-Get-A-Member progam, as well as free annual memberships.
Email: [email protected]