Last Chance! Get your bids in now! RIA's Gun Auction begins Friday, December 4
The December 4, 5 & 6 auction starts TOMORROW!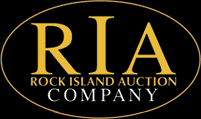 Rock Island Auction Company – -(AmmoLand.com)- Auction Details: Rock Island Auction Company announces the next Premiere Firearms auction to be held at their facilities in Moline, IL.
The huge success of our previous sales proves that people are investing in what they know: firearms are solid investments that hold value through economic downturns.
Investing and collecting opportunities abound at Rock Island's fantastic Premiere Firearms Auction December 4Th, 5Th, & 6Th. At a time when the stock market changes daily, gun collectors are seeing the worth of their investments.
Hard assets are the place to invest your money and gun values continue to rise. This auction has firearms for every level of collecting and investing from Colts to Winchesters and the hundreds of high quality sporting arms. Rock Island's continued sell through rate of over 97% proves that items that come to RIAC are for sale and now is your chance to make a solid investment.
Quick Highlights of the December Auction:
Over 2800 Lots
Over 2100 Classified as Antique or Curio & Relic
Over 200 Civil War Arms, Over 30 Confederate Arms!
Over 700 Colts
Over 200 Winchesters – Including 6 Henry Lever Action Rifles!
Over 400 Quality Sporting Arms
Over 150 Deringers
What happens after the auction?
On Monday (12/7) after the auction we will not be answering phones, this gives us the opportunity to check our records and begin to contact successful bidders. We will be open for pickup the entire week. Our hours are Monday – Friday 8 am – 5 pm. We will also be open on Saturday, December 12 9:00am – noon for pickup.
How do I know if I am successful?
All bidders will receive an email each night of the auction. It will let you know if you won any items or not for that day's auction. To view the items won and the amount of the hammer price, and the status of your remaining bids login to your web site account and click the "Current Bids" link in your account tools. (If you do not use your web site account you will be contacted by phone in the days after the auction if you were successful).
To view your current bids and the status of those bids login to your web account and click the current bids link.
At the conclusion of the auction notifications are sent out via email to let website account holders view preliminary results. You can also view lots won only if you have a website account (see below). In the days after the auction each winning bidder will have the invoice calculated including any packing and shipping charges and tax if applicable. If we do not contact you via the website, email or fax, we will contact you by phone to make arrangements.
Current Bids Online. At the end of each day your successful bids will be posted to your online account. If you were notified as being successful but do not see items in your account please call us so we can link up your web account.
If you win, a lot the Won Lot field says WON and the row is Bold and GREEN
If you did not win, the lot Won Lot stays blank and turns RED
Auction times:
Preview – Thursday, December 3rd: 10am – 6pm
Auction
Friday, December 4th: Preview: 8am – 10am Auction begins at 10am
Saturday, December 5th: Preview: 8am – 10am Auction begins at 10am
Sunday, December 5th: Preview: 8am – 10am Auction begins at 10am
Viewing is open all day during the auction Friday and Saturday
on items not being sold that particular day.
Auction Commences at 10am Friday, Saturday, & Sunday
BRING YOUR CONSIGNMENT TO THE DECEMBER AUCTION!
We will be accepting consignments during the December auction. If you plan on attending and have an item you would like to consign, it will save you the trip!
Call 800-238-8022 for more details or to make an appointment.
Address: 4507 49th Avenue
Moline, IL 61265-7578
United States of America Phone: 1-800-238-8022
Fax: 309-797-1655
Email:
[email protected]
About:
Rock Island Auction Company has been solely owned and operated by Patrick Hogan. This company was conceived on the idea that both the sellers and buyers should be completely informed and provided a professional venue for a true auction. After working with two other auction companies, Mr. Hogan began Rock Island Auction in 1993. Rock Island Auction Company has grown to be one of the top firearms auction houses in the nation. Under Mr. Hogan's guidance the company has experienced growth each and every year; and he is the first to say it is his staff's hard work and determination that have yielded such results.