Beretta Introduces Its New Model 92A1 And 96A1 Handguns At 2010 Shot Show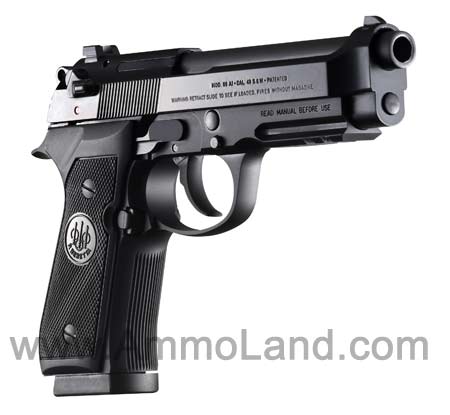 ACCOKEEK, MD –-(AmmoLand.com)- Beretta's new Model 92A1 and 96A1 pistols representing the evolution and integration of the world famous 92FS pistol and the Beretta 90-Two, will be launched at the 2010 SHOT Show in Las Vegas, Nevada.
"The 92A1 and 96A1 pistols improve upon an already remarkable and combat-proven design", said Gabriele de Plano, Vice President of Tactical Marketing at Beretta USA Corp. "The M9 (military designation of the 92FS pistol) has now been in our country's military service since 1985, and these new configurations will join the already extensive Beretta line of pistols".
Combining the best elements of the 92FS and the 90-Two, these pistols have been designed to improve upon the already legendary performance of the 92FS in terms of durability, capacity, ergonomics, ease of accessorizing, and maintenance.
Both models feature high capacity magazines,17 rounds in 9mm in the 92A1 and 12 rounds in 40 S&W in the 96A1, and are completely interchangeable with other 92 family magazines. An internal recoil buffer increases service life by reducing stress on the receiver created by the more powerful .40 S&W caliber ammunition. Each pistol includes three magazines.
The frame of the 92 and 96A1's have an integral MIL-STD-1913 rail for rapid attachment of tactical lights and laser aiming devices, removable front sight allows the user to easily replace a damaged sight or replace it with an accessory sight.
Also found on these two models is a captive recoil spring assembly. The single-piece design simplifies the assembly and disassembly process and minimizes the possibility of spring loss. The rounded trigger guard reflects updated styling to conform with current pistol gripping practices.
"2010 marks the 25th anniversary of the introduction of the remarkable 92FS. We will continue to invest significant resources to ensure Beretta is always leading the industry and providing our customers with exceptional products', said Gary Ramey, Vice President Sales and Marketing for Beretta USA Corp.
Beretta, established in 1526, is the oldest industrial dynasty in the world tracing its roots through 16 generations of continuous family ownership. Firearms bearing the Beretta name have been sold for almost 500 years. Beretta USA Corp. was founded in 1977 and supplies the standard sidearm to the U.S. Armed Forces. Today, Beretta manufactures, distributes and markets a complete line of firearms, accessories and apparel. Beretta also owns and operates six retail Beretta Gallery stores worldwide. For additional information, visit www.berettausa.com.