The Mako Group Now Offers The Ultimate Shooter's Kit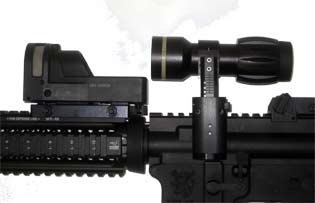 FARMINGDALE, NY –-(AmmoLand.com)- The Mako Group ("Mako"), a leader in manufacturing, marketing and distributing weapons accessories, now offers shooters the ultimate shooter's kit (USK3 and USK5).
This kit consist of three products: (1) a self-powered day/night reflex sight with dust cover, (2) Mako's very popular 3X or 5X magnifier, depending on which kit is purchased and (3) Mako's new smart mount, known as the micro adjustable pop-up mount. These three products are packaged in a single hard shell case for protection and ease of transport.
Self-Powered Day/Night Reflex Sight with dust cover (SPRS). The SPRS is a MIL-SPEC, durable, self-illuminated, maintenance-free, reflex sight that provides instant light aiming without batteries or switches. It uses a fiber optic collector system by day, and a miniature self-powered tritium light source at night. It delivers a bright, red-orange, dependable bulls eye reticle. The SPRS has 1X magnification and comes with a 30mm lens.
The user can look through the sight with two eyes open for quick shooting and rapid target acquisition or the user can use one eye to look through the sight while the other eye retains full peripheral vision. Included with the SPRS is a MIL-SPEC quick-release mounting system that fits a Picatinny rail and offers a 10-year illumination warranty to the original purchaser.
Lastly, the Israeli Defense Forces (i.e. the Israeli military) has standardized on the SPRS for all its personnel. The SPRS is manufactured for The Mako Group by Meprolight in Israel.
3X or 5X Magnifier (MD-3XMGNF or MD-5XMGNF). These magnifiers were developed to work with most red dot/reflex sights. They have a retail price point which is significantly less than the price of any other magnifier on the market. Specifications include: a 30mm diameter which allows maximum light, 1.65″ (42mm) of eye relief, a 6° field of view; 4.5" length, only 6 oz. in weight, fog-proof internal optics, and a non-reflective hard-coated finish.
Micro Adjustable Pop-up Mount (MAM30). The MAM30, the only smart mount on the market today for AR15/M4/M16 rifles, is considered a much better alternative than a 'flip-to-the-side' mount because it offers superior capabilities not found in any other mount. The MAM30 not only pops up and down like a periscope, but the up/down adjustment can be fine-tuned in 11 steps to fit all red dot/reflex sights. These capabilities also allow the user to switch focus within a split second from a longer range to CQB (Close Quarters Battle) because the MAM30 pops-up out of the way. Since the MAM30 does not flip-to- the-side when not in use, the weapon's center of balance is maintained.
"After carefully reviewing input from both the American and Israeli military about modern battlefield needs, we carefully selected three battle-essential, carbine products for our high-end, sighting system kits," says Addy Sandler, The Mako Group's CEO.

"Each ultimate shooter's kit includes a target acquiring reflex sight suitable for CQB as well as longer distances, a medium-powered magnifier to extend the effective engagement range, and a mount that offers quick magnifier disengagement in order to instantly adjust to CQB conditions. We expect the USK3 and USK5 to be heavily adopted by military forces and law enforcement agencies which require the best tools for their personnel, as well as the civilian hunting and general shooter markets looking for the ultimate shooter's kit. By buying these three products as a kit, retail purchasers will save 11% over buying these products individually."
USK3 retail pricing is $816.55. Additional information and pictures
USK5 retail pricing is $840.05. Additional information and pictures
More details about each product in the kit can be found at:
SPRS:
MD-3XMGNF:
MD-5XMGNF:
MAM30:
To find your nearest dealer, call (631) 880-3396 or send an e-mail to [email protected]
From January 19 – 22, 2010, the Mako Group will be exhibiting its Ultimate Shooter's Kits (USK3 and USK5) at the 2010 Shot Show, at the Sands Expo & Convention Center in Las Vegas, Nevada in booth number 20354.
About The Mako Group
The Mako Group manufactures, markets, and distributes innovative security products for law enforcement, the military, and the outdoors market. The company is headquartered in Farmingdale, New York and has offices in Atlanta, Georgia, Nixa, Missouri, and Anchorage, Alaska. The Mako Group is the sole source North American marketer for three Israeli security products companies – FAB Defense weapon accessories, Front Line holsters, and Sansolo EOD & Breaching devices. The Mako Group also manufactures and distributes Mako Defense weapons accessories products and exclusively markets Global Military Gear weapons accessories and tactical gear. Additional company and product information is available at www.themakogroup.com, or call (631) 880-3396 or send e-mail to [email protected]