Second Amendment March List Of Scheduled Speakers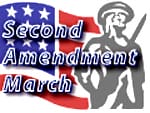 Washington, DC –-(AmmoLand.com)- We have quite an impressive lineup of speakers scheduled so far and more are on the way!
Here is a sampling:
GOA's Larry Pratt
Larry Pratt has been Executive Director of Gun Owners of America for 26 years. GOA is a national membership organization of 300,000 Americans dedicated to promoting their Second Amendment freedom to keep and bear arms.
GOA lobbies for the pro-gun position in Washington, D.C. and is involved in firearm issues in the states. GOA's work includes providing legal assistance to those involved in lawsuits with the Bureau of Alcohol, Tobacco, and Firearms, the federal firearms law enforcement agency.
Pratt has appeared on numerous national radio and TV programs such as NBC's Today Show, CBS' Good Morning America, CNN's Crossfire and Larry King Live, Fox's Hannity and Colmes and many others. He has debated Congressman James Traficant, Jr. (D-OH), Charles Rangel (D-NY), Rep. Carolyn McCarthy (D-NY), Senator Frank Lautenberg (D-NJ), and Vice President Al Gore, among others. His columns have appeared in newspapers across the country.
He published a book, Armed People Victorious, in 1990 and was editor of a book, Safeguarding Liberty: The Constitution & Militias, 1995. His latest book, On the Firing Line: Essays in the Defense of Liberty was published in 2001.
Pratt has held elective office in the state legislature of Virginia, serving in the House of Delegates. Pratt directs a number of other public interest organizations and serves as the Vice-Chairman of the American Institute for Cancer Research.
Lt. Colonel Dave Grossman
Col. Grossman is an Airborne Ranger infantry officer, and a prior-service sergeant and paratrooper, with a total of over 23 years experience in leading U.S. soldiers worldwide. He retired from the Army in February 1998 and has devoted himself to teaching, writing, speaking, and research. Today he is the director of the Killology Research Group, and in the wake of the 9/11 terrorist attacks he is on the road almost 300 days a year, training elite military and law enforcement organizations worldwide about the reality of combat.
Kenn Blanchard
Kenn Blanchard is a former Marine Security Guard who has worked protective details for international celebrities and US diplomats. Later after becoming a federal police officer, he was detailed to protect a couple of families which morphed into another career path where he worked or taught firearms, tactics and protection. He is also a D.C.-area pastor who runs blackmanwithagun.com. Kenn has been involved in the struggle for the Second Amendment since the state of Virginia reformed its conceal carry law in the early nineties. He founded the Tenth Cavalry Gun Club, a national pro-gun organization for African Americans, and worked around the country after that to promote safe and responsible firearms ownership. He was involved in concealed carry reforms in Texas, South Carolina, Michigan and Wisconsin and has testified in the US Congress and in Maryland on bills or acts designed to prevent law abiding Americans from legal firearm ownership or concealed carry.
Suzanna G. Hupp
Suzanna G. Hupp is a former Republican member of the Texas House of Representatives and a recognized public advocate for the Second Amendment and an individual's right to carry a concealed weapon.
A Friendswood, Texas, native, Suzanna Gratia (married name Hupp) was born on January 1, 1959. After she received a doctor of chiropractic degree from the Texas Chiropractic College in Pasadena, Texas, she owned and operated Cove Physical Rehab Clinic in Copperas Cove, Texas from 1987 until she sold the practice in 2000.
On Wednesday, October 16, 1991, Suzanna and her parents were having lunch at Luby's Cafeteria in Killeen, when a man drove his truck into the restaurant and opened fire on the patrons. Suzanna instinctively reached into her purse for her handgun, but realized it was in her vehicle, as a new law was passed in Texas banning the carry of a concealed weapon. Suzanna escaped out of a broken window, but 23 unarmed others, including Suzanna's mother and father, were killed at the hands of the gunman.
As a survivor of the Luby's massacre, Suzanna has been quoted in U.S. News & World Report, The Wall Street Journal, Texas Monthly, Time and People magazines, in addition to appearing on CNN, 48 Hours, Today Show and World News Tonight, to name a few.
Hupp has since authored a memoir recounting her experiences in the massacre, entitled From Luby's to the Legislature: One Woman's Fight Against Gun Control, available October 2009.
Richard Mack
Richard Mack held office as Sheriff in Graham County, Arizona, and is a long-time crusader for freedom and individual rights as well as an author of several books on those topics. In 1994, Sheriff Mack also challenged the Brady Bill in the Supreme Court of the United States.
Michael Bane
Michael Bane is the host of Shooting Gallery, a show on the Outdoor Channel that every week explores a different facet of the very wide world of shooting, from competition to law enforcement to self-defense to the men and women at arms who are defending this country.
From Michael's bio:
"I've been involved with guns and shooting literally my entire life. Most recently, I conceived and still manage the five-year-old NSSF Media Education Program, which has had a profound effect on the relationship between the firearms industry and the media. It also bought together the perhaps greatest group of firearms instructors of all stripes ever. That "critical mass" of instructors has been redefining handgun instruction, and I'm proud to have had a small part in that. I was part of the 3-person team who handled national media during the Maryland sniper crisis, which as emerged as a textbook example for the industry in dealing with flashfires. I've also handled crisis stuff for IPSC and USPSA. we're currently working directly with major companies on setting up their own media events and training their people to deal with media crises."
Nikki Goeser
Nikki Goeser In April 2009, Nikki's husband, Ben, was killed by a gunman in a Tennessee sports bar. The gunman did not have a carry permit, and it was illegal at that time to bring a firearm into the establishment. Had she been able to carry her firearm into that bar, Nikki feels she may have been able to save her husband. In June 2009, the Tennessee legislature passed house bill number 962, which amended Tennessee's law that prohibited firearms in establishments that serve alcohol. Since that time a rogue judge overturned that decision. Nikki continues to fight for the right of Tennesseeans to protect themselves.
You can listen to Nikki's interview on Armed American Radio at https://uscca-downloads.s3.amazonaws.com/podcasts/AAR-11-30-2009-3.mp3 .
Nicole "Nicki" Stallard
Nicole "Nicki" Stallard is a unique person, a publically open post-op MTF transexual gun rights activists. Nicki grew up in New York, served in the US Navy from 1978 thru 1985. Nicole has been involved in various Libertarian and Republican political activities since 1989. Nicole took over the San Jose Chapter of the Pink Pistols in 2006 as the coordinator. She has been Northern Ca Pink Pistols spokesperson and has testified for California CCW reform bills. She has represented the Pink Pistols at the SAF GRPC in 2007 and 2008 and is currently building bridges with both gun rights and gay rights organizations.
The Pink Pistols is a LBGT (Lesbain, Bisexual, Gay and Transgendered) rights group that advocates armed self defense to deal with hate crimes. The Pink Pistols views the individual right of armed self defense as a basic human right and looks forward to getting "shall issue" CCW laws in all 50 states.
Nicole Stallard is working to find common ground and build alliances in both the gun and gay community.She is a Ron Paul Republican and views herself as a pragmatic Libertarian Republican.
Mark Walters
Mark Walters has been penning The Ordinary Guy column as a regular contributor to Concealed Carry Magazine for almost 5 years. An original "charter member" of the USCCA, Mark was one of the first 500 members to join the organization when it was first founded by Tim Schmidt. As a freelance writer for a local industrial trade publication and a vocal second amendment activist in Tampa, Florida, Mark had a few op-eds printed in the Tampa Tribune and was given "guest column" status on more than one occasion to print his views on a wide array of topics including the right to keep and bear arms. His book, Lessons From Armed America written with co-author Kathy Jackson and forward by Massad Ayoob will be available nationwide on October 1st from Whitefeather Press.
Since a near-hijacking event in 2002, Mark writes about ordinary folks like you and I who have used a weapon to defend themselves as well as interviewing some of the nations biggest news makers and activists. The list includes Ted Nugent, Dick Heller, politicians, internationally recognized trainers, weapons experts, criminal psychologists, television hosts, authors, real people who have used a firearm to defend themselves against violent attack and regular, ordinary folks who make a difference.
Mr. Walters is a member of the NRA, an NRA Certified Instructor in three disciplines, a member of the National Shooting Sports Foundation as well as a card carrying member of Georgiacarry.org and a vocal 2nd amendment activist in his home town. In the spare time of his "real life"he ran his own successful business for over 13 years and now works full time on the nations airwaves as the host of Armed American Radio.
Stewart Rhodes
Stewart Rhodes is the founder and Director of Oath Keepers. He served as a U.S. Army paratrooper until disabled in a rough terrain parachuting accident during a night jump.
He is a former firearms instructor and former member of Rep. Ron Paul's DC staff.
Stewart currently writes the monthly Enemy at the Gates column for S.W.A.T. Magazine.
Stewart graduated from Yale Law School in 2004, where his paper "Solving the Puzzle of Enemy Combatant Status" won Yale's Miller prize for best paper on the Bill of Rights. He assisted teaching U.S. military history at Yale, was a Yale Research Scholar, and is writing a book on the dangers of applying the laws of war to the American people.
David Burnett
David Burnett is a graduate of the University of Kentucky and 1L candidate for law school in 2010. He is the Director of Public Relations with Students for Concealed Carry on Campus, and also runs the civilian defensive gun use blog at TheArmedCitizen.com. He has written multiple editorials and articles in support of the Second Amendment, including a cover story on the NRA's "America's First Freedom" and appeared on radio programs such as the NRA's Cam & Company and Armed American Radio.
All the best! Skip Coryell
Founder, Second Amendment March
About:
The mission of the Second Amendment March is to galvanize the courage and resolve of Americans; to petition our elected officials against establishing anti-gun legislation; and to remind America that the Second Amendment is necessary to maintain our right to self defense. Visit: www.secondamendmentmarch.com